The storybook-like spires and bric-a-brac gables of the Victorian-Italianate buildings at The Village at Grand Traverse Commons were enough to convince Elle and Chris that Kirkbride Hall was their dream wedding venue.
A Christmastime Kirkbride Hall Wedding … 
Elle Bodnar & Chris Burgess // December 22, 2018
When Elle and Chris Burgess started dating, she was fresh out of Traverse City Central High School and heading to college in Kalamazoo. While most long-distance relationships at this age end up college casualties, these two made it work. Elle graduated and moved back up to Traverse City for awhile, then moved away again as her career as a high school counselor evolved, and the two commuted faithfully, as they had for years.
On a snowy December night, Chris proposed.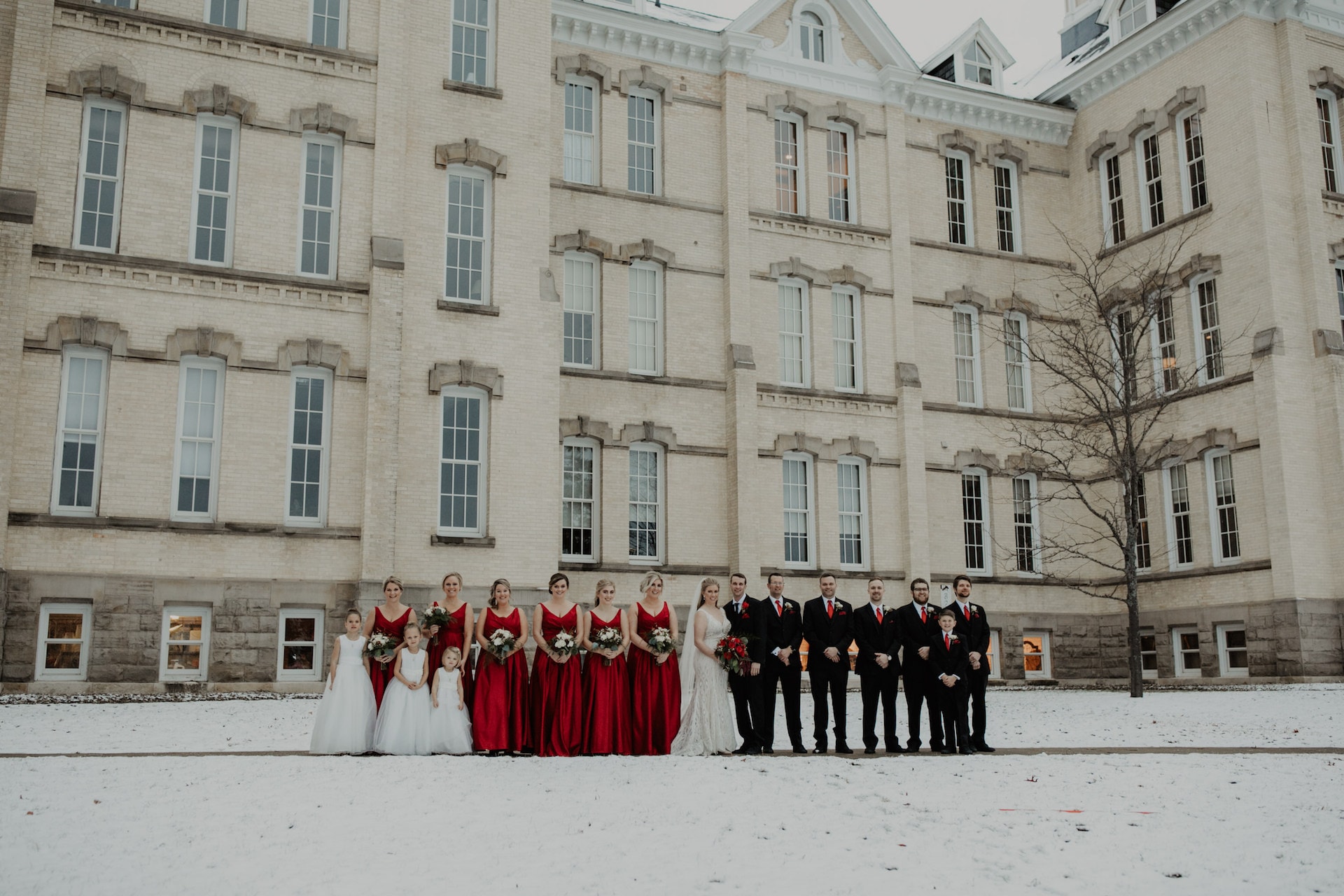 One year to the day later, on December 22, 2018, Elle and Chris gathered with friends and family at Kirkbride Hall to exchange vows.
"I've always wanted a wedding around Christmas, I just think it's so romantic," Elle says. "One of my cousins had a winter wedding and it was beautiful—the lights, the fresh snow. Just the spirit of Christmas, it's such an exciting time."
The pair wanted an elegant but relaxed celebration. At first, Elle considered other options, but they landed on Kirkbride Hall at The Village at Grand Traverse Commons. "A friend had been married there in the summer," Elle says. "I'd seen her photos and thought, oh my gosh, it's architecturally just really beautiful."
The pair worked with Meg Gutowski, event manager at Kirkbride Hall. "Right off the bat her personality was so soothing and organized. Once we found the dates were available, it was a no-brainer."
Kirkbride Hall, formerly known as the Chapel, once hosted services, socials, dances and concerts for state hospital patients. Its soaring ceilings and stained glass windows were part of the philosophy of mental health treatment pioneered by Joseph Kirkbride in the 19th century, who believed architecture and design that facilitated beauty, fresh air and sunlight were healing forces.
Now an events space, Kirkbride Hall is once again a gathering place for celebrations, and to the Burgesses it was perfect, offering a blank slate for their Christmas vision. Elle found ruby red ("Christmas red," she says) dresses for her bridesmaids to illuminate the space, and hints of red from potted poinsettias lined the aisle. Friend and florist Lindsey Kukla of Cherryland Floral and Gifts added bouquets of red and white roses with pepperberry and eucalyptus. Sheer curtains framed the ceremony space, while white pillar candles and a fairy-lit Christmas tree provided warmth and sparkle.
After the ceremony, while the guests mingled in the lobby over cocktails and Shorts Local Light and Bellaire Brown beers (a gift from a friend who worked at the brewery) the crew flipped the space for the reception, catered by Grandview Catering.
For dessert, the vanilla cake and a slew of cupcakes were ordered from Sam's Club— the bride loves their buttercream—and gussied up by Kukla with floral elements inspired by the bouquets. Elle used a favorite cake stand for the cake, and borrowed cupcake stands from a friend's wedding.
"That's just us—simple and not too crazy," Elle says. "It ended up being the perfect day and it set a good tone for our marriage." She adds: "Our family did a lot for us and they helped us keep perspective: what truly matters are the vows."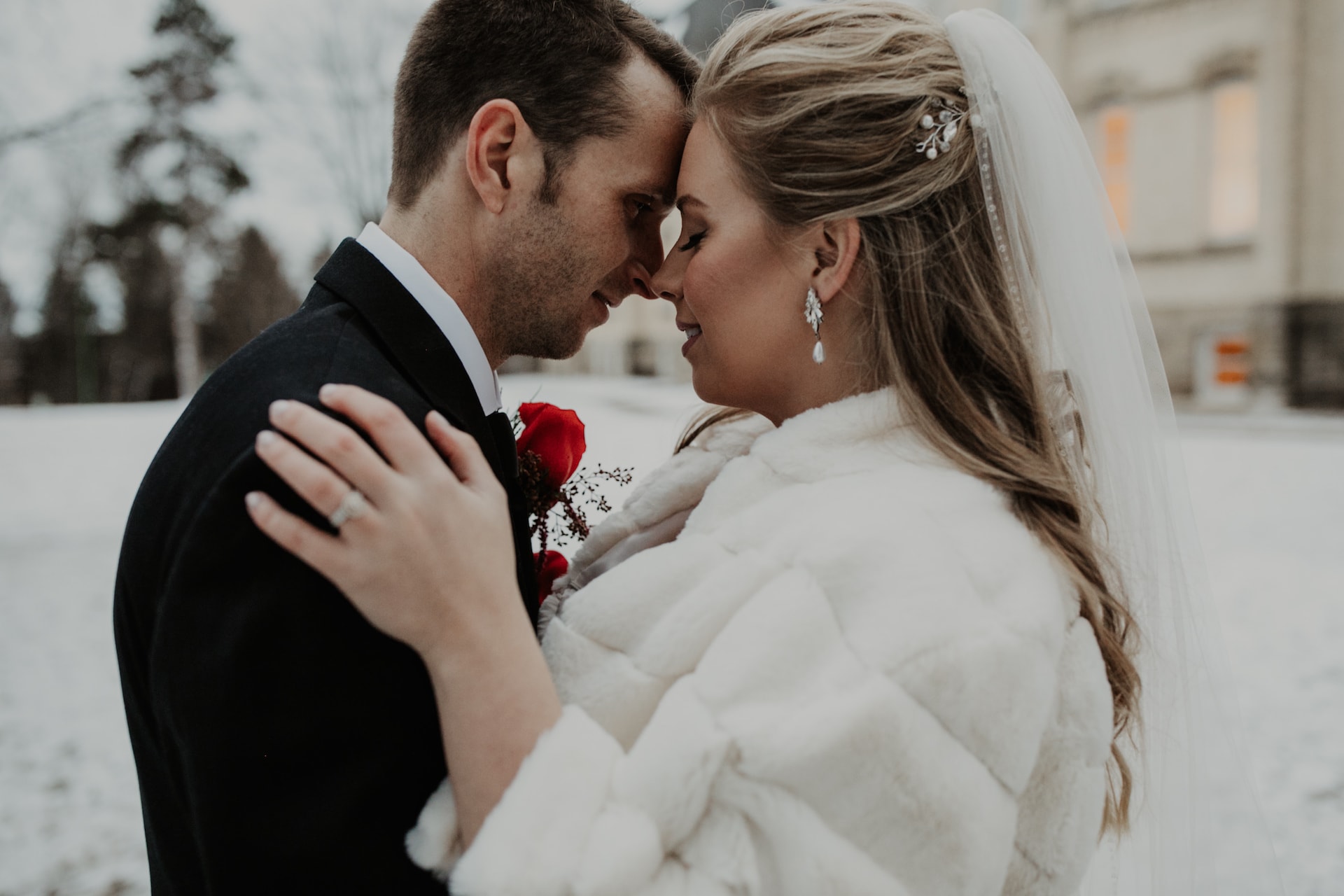 More photos from this stunning Kirkbride Hall wedding …