We serve up a look back at some of the decade's most incredible Northern Michigan kitchens. Cheers to the best room in the house! 
Kitchen 1 // Photo by Todd Zawistowski 
This Victorian in downtown Petoskey had been divided into three separate apartments (which meant three kitchens) when a young family purchased it back in 2015. Working with Woods and Waters Construction they painstakingly brought a new rendition of the original kitchen back to life, restoring original trim and pocket doors, among other feats. The wife worked with Dawn Whyte, now of Petoskey Kitchens, to preserve the feel but ensure the kitchen functioned for her modern family. Renee Guthrie of Lake Street Studios gets credit for the interior, including a fabulous banquette cover.
What we love: An original door in the home re-hung with barn-door hardware leads into the pantry.
KITCHEN DESIGN // Dawn Whyte (now with) Petoskey Kitchens
INTERIOR DESIGN // Lake Street Design Studio
CONTRACTOR // Woods and Waters Construction
ELECTRICAL // Bear River Electric
WINDOWS, DOORS, MATERIALS // Preston Feather
Kitchen 2 // Photo by Exposures by Rah
Ah, what to do with the outdated condo kitchen? The homeowners told kitchen designer Liz Jerore of @Home Cabinetry & Interiors simply that they wanted it to "feel like a warm hug." Jerore got the message, delivering this complete kitchen makeover that makes us feel as much like we fell into a bowl of gingerbread dough as we do hugged. That gingery look comes from the copper strips in the hood range, the range knobs, apron-sink and faucet—small elements that pop big against this black and white kitchen. All of that creamy custom cabinetry conceals clever storage in every available space.
What we love: The simple crisscrossed mullions in the glass cabinet faces pack a big design punch.
KITCHEN DESIGN AND CARPENTRY // @Home Cabinetry & Interiors
RANGE // Big Chill through @Home Cabinetry & Interiors
APPLIANCES // Max's Service
TILE // Tilecraft
ELECTRICAL // Panoramic Electric Contractors
Kitchen 3 // Photo by Jenna Roland
Fresh white cabinets, marble countertops and bold blue, Euro-patterned tile breathe new life into this authentic Craftsman home in Charlevoix renovated by MPN builders. The white beadboard ceiling, white oak floor, furniture-style cabinets and old-timey pulls keep the room feeling vintage. Touches of brass in the custom-designed hood (thanks, Jana Phillips Interiors) and pendant lights add more vintage class.
What we love: The paned window to the right of the stove is original. Some things are just too good to change!
CONTRACTOR // MPN (Miller, Poineau and Naumes)
INTERIOR DESIGN // Jana Phillips Interiors
APPLIANCES // Witbeck
COUNTERTOPS // Capital Granite
WOOD FLOORS // LeGrand Wood Floors
TILE // Great Lakes Tile & Contracting
WINDOWS // Old Mission Windows
Kitchen 4 // Photo by Todd Zawistowski
Located up the hill from hopping downtown Traverse City, this seamless and symmetrical kitchen spells serenity. Credit the team of MAC Custom Homes and Kitchen Choreography for this room's strong architectural details (cathedral ceiling, clerestory windows, powerful beam) and surface material shades of tan and brown that flow together like syrup. The tried-and-always-true work triangle and organic materials make this room timeless.
What we love: The range backsplash and hood trim (encasing stacked stone) look like metal but are actually tile.
CONTRACTOR // MAC Custom Homes
KITCHEN DESIGN // Kitchen Choreography
HOME DESIGN // Lankford Design Group
Read Next: Four White Kitchens, Four Looks for Your Northern Michigan Home
Kitchen 5 // Photo by Dave Speckman
The homeowners worked with designer Marty Rhein of Bay Area Contracting to renovate a 1960s kitchen to accommodate a modern family of four. Counter-to-ceiling subway tiles, shiplap paneling and floating shelves give it a contemporary accent, while custom cabinetry by Wooden Hammer ground the style in timelessness. The fabulous 39-by-95-inch island, topped with a 3-inch quartz countertop is big enough for family craft projects—and tough enough to hold up to them. A prep sink located a cutting board's-length away from the stove is a cook's dream. And a refrigerator tucked next to the entrance streamlines bringing in the groceries.
What we love: The wooden shelves add a warm, vintage touch while well-loved objects stay in view.
KITCHEN AND BATH // Marty Rhein, Bay Area Contracting
CONTRACTOR // New Frontier Construction
CABINETRY // Wooden Hammer, LTD
FLOORING // Floor Covering Brokers
APPLIANCES // Max's Service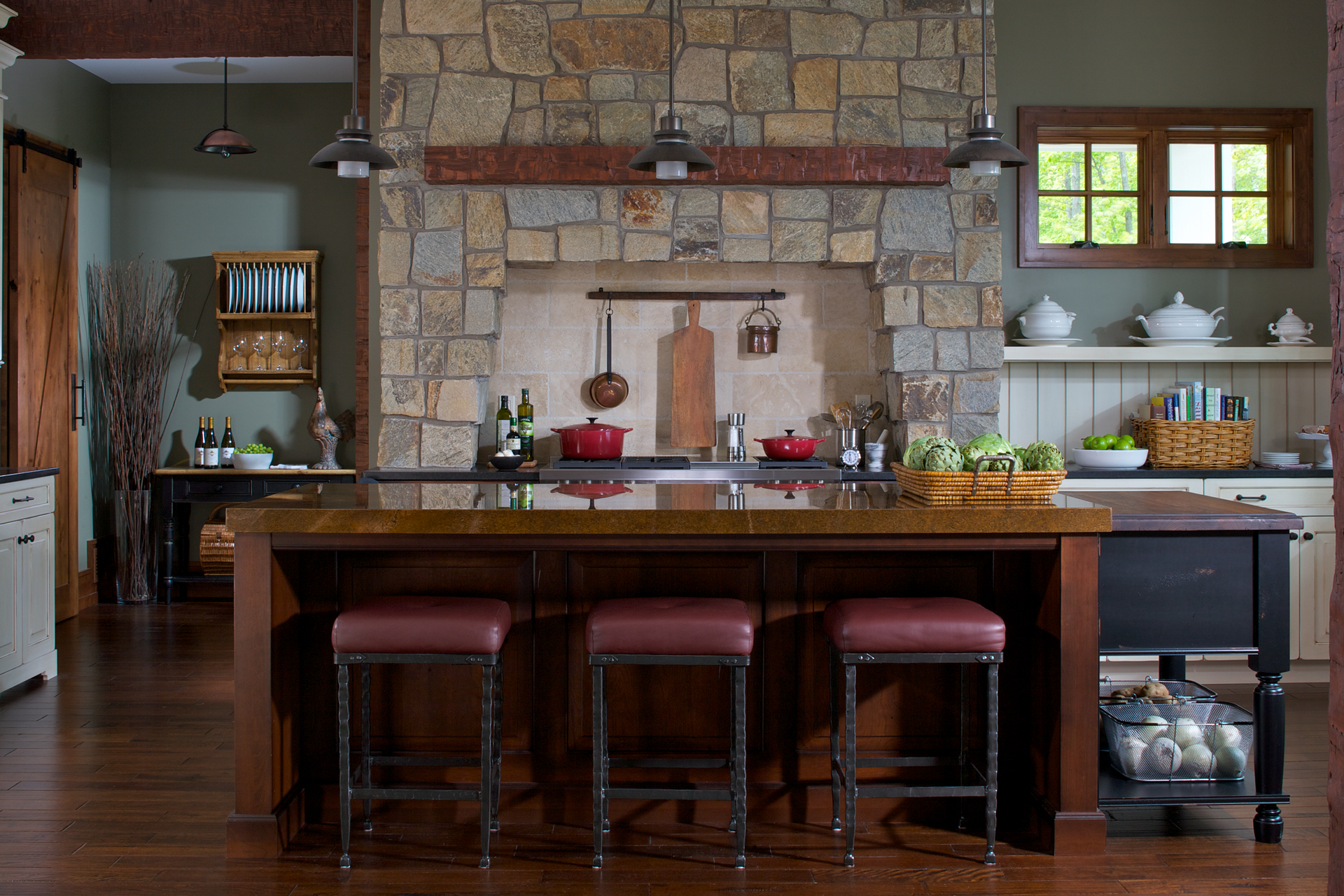 Kitchen 6 // Photo by James Yochum and Alan Leese
The homeowners of this distinctive kitchen define themselves as winter people—they love snow and love to ski, so they wanted a home that felt as rustic as a mountain lodge. Jill Brecheisen of Kitchens by Design helped them solidify their ideas with this standout kitchen that evokes home and hearth sentiments. The feel is created by touches like the furniture piece at the end of the counter, the cordovan-colored granite (the designer calls it "cowboy leather"), the natural-wood framed and paned windows, copper apron sink, antique-white furniture-footed cabinetry and the perfectly period CCC-era blue-green wall color.
What we love: The stone range hood with the wood mantle is a true soul-warmer.
DESIGNER // Jill Rowley with Glennwood Custom Builders
KITCHEN DESIGNER // Jill Brecheisen with Kitchens by Design
CONTRACTOR // Harbor View Custom Builders
Kitchen 7 // Photo by Cottage Company
We never tire of cottage-style kitchens with their glossy-white molding, beadboard and cabinetry—a style that the Cottage Company in Harbor Springs does particularly perfectly. Cottage Company was the creative force behind this rendition that feels so in charge of its mission that folks pulling up a barstool can't help but take the "Relax" sign seriously. The nautical pendant lights and navy walls set a shore-side feel that is echoed in the view of Walloon Lake out the window.
What we love: The brass and white-enamel La Cornue stove with a matching brass pot filler makes our heart ache with joy.
KITCHEN DESIGNER // Cottage Company
Read Next: Northern Michigan Kitchen Designers Share Tips for Vintage Homes
Kitchen 8 // Photo by Todd Zawistowski
The genius of architect Bob Holdeman and designer Scott Lankford is clear in this Asian-inspired kitchen renovation. A large entertaining kitchen was important to the couple; each of them loves to cook. To achieve the desired openness but also maintain a neat, welcoming space, Holdeman drew an open kitchen with an adjacent "working kitchen" where messes are easily concealed. Lankford outfitted the entertaining space with his signature clever efficiency, using custom mahogany cabinetry and a stone-slab backsplash.
What we love: The simply genius shelf cut-out in the stone backsplash for storing cooking oils and spices.
CONTRACTOR // David Webster Construction
INTERIOR DESIGN // Lankford Design Group
STONE TOPS AND BACKSPLASH // Capital Granite
METALWORK // North Shore Iron Works
CABINETRY // Dovetail Custom Cabinetry
STAINLESS FABRICATION // Great Lakes Stainless
PLUMBING, HEATING, COOLING // Precision Plumbing & Heating
LIGHTING, SOUND, HOME SYSTEMS // Waara Technologies
Kitchen 9 // Photo by Dave Speckman
Kitchens in Brady Bunch-era kitchens can be a challenge to renovate for the simple reason that they are usually as bland as, well, that television show. That said, we love Northwood Kitchens' renovation solution. They began by removing the drop ceiling in the kitchen and widening the passage to the living room. They also altered the original window pattern to make space for much needed countertops, all without losing the leafy view of the backyard. Up came the old linoleum floor and down went cork. Out went the old cabinets and in came fresh, clean bamboo cabinetry. In an unexpectedly luxurious touch for a small kitchen, the island's quartz countertop has a waterfall side (not shown).
What we love: The walnut countertop inset that doubles as a casual meal spot and serving space. Brilliant!
KITCHEN DESIGN AND INSTALLATION // Northwood Kitchens
Kitchen 10 // Photo by Todd Zawistowski
This kitchen design is a lesson in how to make a small, open kitchen the hub of the living/entertaining space. Like the control center it is, the kitchen sits at the far end of the great room, fronted by the dining area and bar and flanked by a breakfast nook on one side and pantry/mudroom area on the other. Hiding mess and fuss is easy and nothing impedes the entertaining flow. The style, which is spot-on for a sophisticated but relaxed beach house, brings in a cottage feel with a beadboard ceiling and two white columns subtly marking the kitchen space.
What we love: There is plenty to fixate on here, including the beadboard, octagonal ceiling in the breakfast nook and the handmade glass cabinet fronts on the bar by artisan Guido Kuhl of kühl doors. But it's the Ann Sacks-tile backsplash that makes us swoon.
KITCHEN DESIGN // Kitchen Choreography
ARCHITECT // Cornwell Architects
CONTRACTOR // Paul Maurer General Contracting
CUSTOM CABINET WINDOWS // kuhl doors
MECHANICAL // D & W Mechanical
WINDOWS // Old Mission Windows
INTERIOR DESIGN // Kim Abbott, Kristin Lutz Interiors, Cedar Creek Interiors
Kitchen 11 // Photo by Dave Speckman
What do you do when you love the location of your downtown Traverse City home but not its 19th-century-sized kitchen? One solution is to hire architect Michael Fitzhugh to reconfigure the space and kitchen designer Liz Firebaugh of Signature Kitchens to trick it out for cooking and entertaining. Fitzhugh's design removed a wall to open up the kitchen to the dining/living space and extended the outside wall 10 feet. A wall-sized glass slider system that looks out onto a covered grilling area helps the kitchen feel even larger. A sage-colored glass-tile backsplash and walnut island countertop are perfect transitional materials that bridge the home's old soul and contemporary renovation.
What we love: The way-cool, poured concrete dining addition that Ts at the island, kicks up this efficient kitchen's dining and entertaining quotient.
ARCHITECT // Michael Fitzhugh Architect
KITCHEN DESIGN // Liz Firebaugh, Signature Kitchens
GRANITE AND TILE // Stratus Marble and Granite
WINDOWS AND DOORS // Access, Window, Door & Hardware
Kitchen 12 // Photo by Todd Zawistowski
These homeowners raised their family in a cramped, true farmhouse kitchen that had seen its last remodel in the 1940s. The mother of the family of five washed a lot of dishes over the years—all in a sink that didn't even have a window over it, depriving her of a view of the family's orchard. When they were ready to remodel they turned to Marty Rhein (now with Bay Area Contracting) for help with layout and surface elements. Since the wife—the main cook—loves visitors in her kitchen, but not underfoot, Rhein created two passageways from the adjoining dining/living area, one leading to the galley side of the kitchen and the other to the eating/hanging-out side. He also used some gorgeous oak that the husband had milled years before for old-style molding, a touch that marries the new kitchen with rest of the vintage farmhouse.
What we love: The fabulous retro-tile backsplash. The homeowners had stored the tile for years (decades?) waiting for the time they renovated, because they really wanted to use them. Working in black accents throughout the kitchen to pick up on their black background, Marty Rhein made them pop.
KITCHEN DESIGN // Marty Rhein, now with Bay Area Contracting
CONTRACTING // Jeff Aprill, now Earthworks Excavating, 231.941.8692
APPLIANCES // Max's Service
COUNTERTOPS // Nature's Edge
HARDWARE // Allen Supply