Call 'em Hobo Pies (it's a Michigan thing!) Pudgy Pies, Campfire Pies, Mountain Pies or Toasties…campers everywhere just call them delicious. We asked the team at Jay's Sporting Goods in Clare for their best hobo pie recipes to make summer in Northern Michigan even more irresistible.
Twilight descends, the fire crackles. Time to pull out the pie irons! An Up North camping trip is not complete without at least one melty, gooey hobo pie. We went straight to Michigan's original outdoor superstore, Jay's Sporting Goods, for their best cooking-'round-the-campfire advice. Turns out Matt Poet, Marketing Director and grandson of Jay's founders Jay and Arlene Poet—shares a hobo pies tradition with his family almost every summer weekend. Yep, they are dedicated to their craft! Stop in at either Jay's location, in Clare or Gaylord, and you'll find what you need to camp and cookout in comfort, and they'll probably share their family's favorite hobo pie recipe…
Says Matt, "These are the very basic designs. Get creative and make them your own. There are some pretty elaborate recipes out there…"
Cherry Chocolate Hobo Pies 
Jay's Sporting Goods Shipping and Receiving Manager, Sharon, shares her irresistible Cherry Chocolate Campfire Pies…
2 triangles Pillsbury Original Crescent dough
3 tablespoons cherry pie filling
1 tablespoon (or more!) mini semisweet chocolate chips
powdered sugar, optional
Liberally grease both sides of pie iron—use either lots of real butter or real oil. (PAM makes a non-aerosol spray pump canola oil that packs well for camping.) Press a piece of crescent roll dough in one side of the greased iron. Spoon in pie filling; sprinkle with mini chocolate chips. Press second crescent roll dough triangle on top, making sure the dough forms a seal. Clamp iron closed. // Cook over the indirect heat of the campfire until golden brown, warm and melty, around 5-6 minutes, turning occasionally. Carefully pop out of pie iron and sprinkle with powdered sugar if desired. Devour!
Fact: Hobo pies taste even better when they're heart-shaped. Get the pie iron.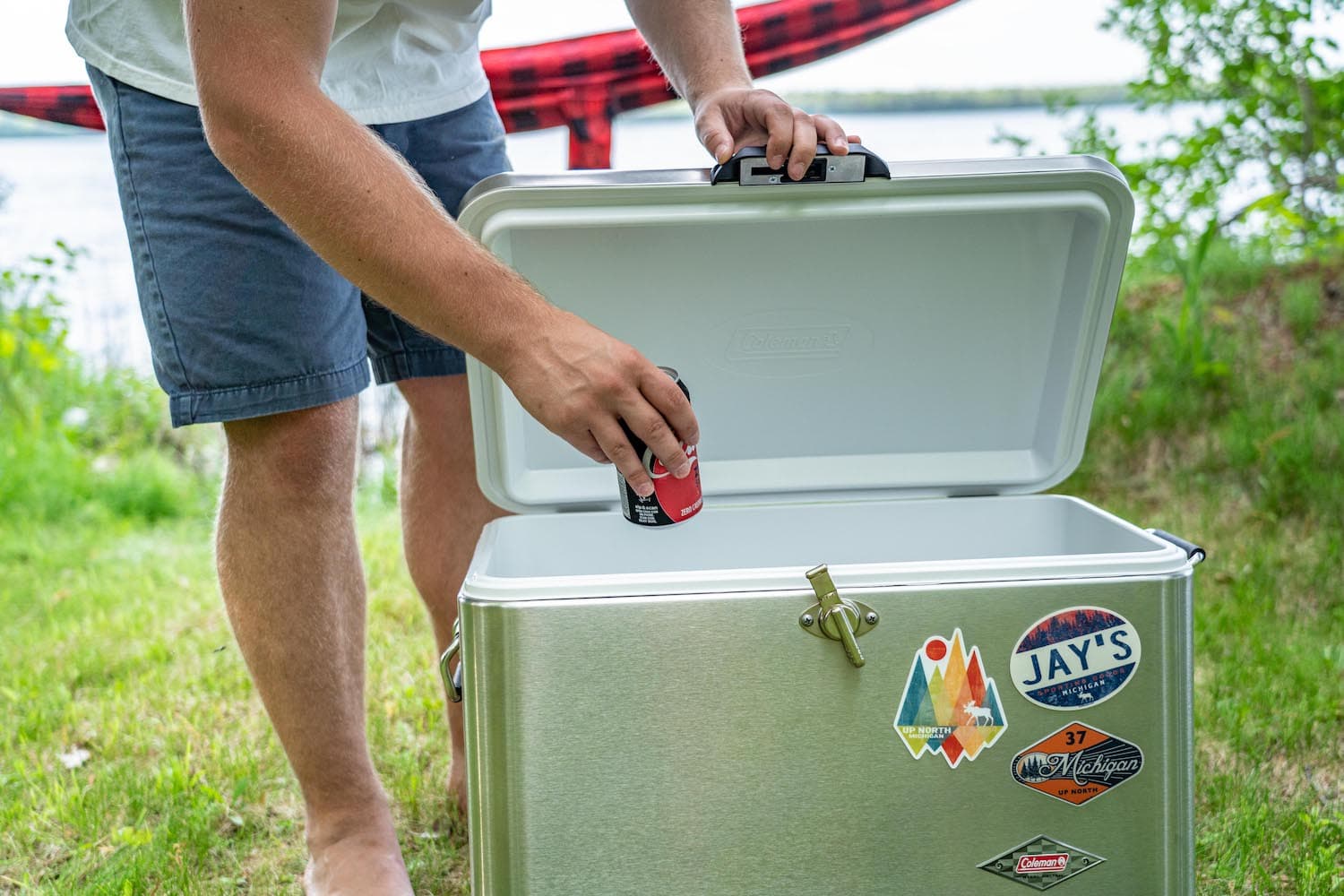 Pizza Sandwich Hobo Pies
Matt Poet, Jay's marketing director, has perfected the art of hobo pies. The order of ingredients is everything. 
Bread (Sara Lee Artesano bread to be specific… ), pepperoni, pizza sauce, ham cubes, mozzarella cheese—in that order. The sauce holds the ham in place, and when the cheese melts it holds everything together so it doesn't spill out of the bread (because I typically always overfill it)!
Never made or eaten a hobo pie? Start the tradition! Craving a summer night under the stars? Go camping! When you need time-tested camping gear, Jay's has all the goods—from hammocks to hobo pie irons.
Jay's Sporting Goods was started back in 1971 in a one-car garage by Jay and Arlene Poet. Jay Poet was an outdoorsman and a firm believer in the tradition of family, and treating customers as part of the family. From its simple beginnings, the store is now a 90,000-square-foot destination in Clare, with a second location in Gaylord. It's run today by his sons Jeff and J.J., along with Jay's widow Arlene, and is now onto the fourth generation working at the store. And like any big family, staffers you meet at Jay's offer up free advice. Expert advice, actually, because when they're not outfitting and guiding customers, they're spending quality time outdoors in Michigan's woods, rivers, lakes and campgrounds. Shop the team's favorite camping classics.
4 More Hobo Pie Combos for Your Summer Up North
What are your all-time favorite hobo pie recipes? (Tell us in the comments below!) Enjoy a few more classics from the staff at Jay's Sporting Goods. 
"The CBP" Hobo Pie // Quinn – Camping Department Associate
Potato Bread, Hershey's Chocolate, Jiffy Peanut Butter
S'mores Hobo Pie // Emily – Camping Department Manager
Potato Bread, Hershey's Chocolate, Jumbo Marshmallows
Breakfast Sandwich Hobo Pie // Brian – Shipping Department Associate
Potato Bread, Egg (scramble the eggs first) cheese, desired veggies, and ham
Apple Pie Hobo Pie // Lyndsay – Gun Sales Associate
Bread, Apple Pie Filling … Voila