Try Mundos Roasting & Co., a Family-Run Coffee Shop in Northern Michigan
Photo(s) by Ben Law Photography
Established in in 2016, Mundos Roasting & Co. has quickly become a local coffee hub. In addition to the Traverse City shop, the team recently celebrated the grand opening of a second location in Suttons Bay.
The new location in Suttons Bay has an industrial feel with exposed concrete block walls, Edison lightbulbs and metal barstools. Shelves of thriving greenery balance out the shop, creating a comfortable environment. 
Within the former office space, the Mundos team roasts small batches of specialty coffee for the slow bar and serves espresso beverages, batch brew, cold brew, small batch loose teas, chai lattes and matcha lattes. Homemade pastries baked at Mundos' Traverse City location are available every day as well as bags of coffee for purchase.
We spoke with Dan Clark, owner of Mundos Roasting & Co. to learn more about their story. 
How did the original idea for Mundos come about? 
I was 15 years old when the dream of opening a coffee shop first hit me. Granted, I didn't even like coffee until five years ago. Initially, it was all about the ambiance and community of a coffee shop. But then I tried a very well made Rwanda pour over at a specialty coffee shop, and it kinda blew my mind! I never realized coffee could taste so good.
After that, it was inevitable that I pursue the dream I had so many years ago.  I could not stop until I knew how to create a cup of coffee that insanely delicious. Not long after, I took my family on a 6-month road trip around the country exploring many specialty coffee bars and meeting amazing coffee roasters. Everyone was so welcoming and willing to share. The knowledge I gained on that trip was incredible, but the bond I built with my family was even more valuable. We began to catch a vision for serving great coffee together.
Three of my kids and my wife are a huge part of Mundos Roasting & Co. None of this would be possible without them. After that trip, we spent years perfecting our roasting skills and brewing methods. We pursued relationships with importers and coffee farmers to find the best coffees from all over the world. We met some incredible people along the way.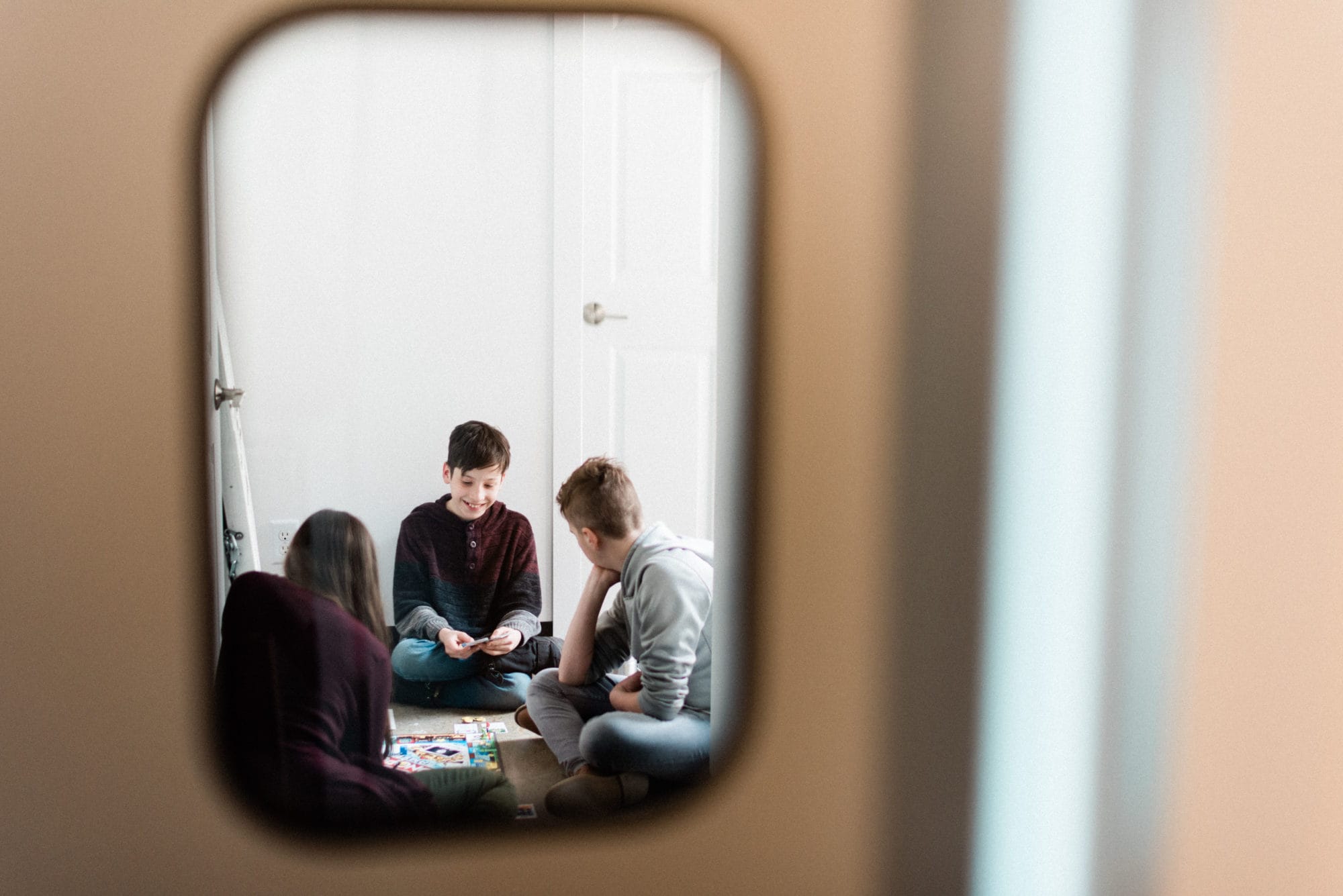 As we honed in our vision for Mundos, it was clear it was all about the people we have the opportunity to serve and interact with every day. We have made it our number one goal to love people well. Many times that starts with a friendly greeting and an excellent cup of coffee.
Back when I was 15, my friend Jeremy and I dreamed together about owning a coffee shop. My Dad called him Jeremundo or Mister Mundo, and sometimes even Mundo. At one point, I mentioned naming the coffee shop Mundos. Jeremundo and I are still great friends, and though careers took us down different paths, 25 years later, I named the business Mundos just like we had talked about.
And why Suttons Bay for your second location?
Suttons Bay is so beautiful. The town, the bay, the people. We have always loved the community. When my wife and I first moved to Northern Michigan from Tennessee in 1997, our first apartment was in Suttons Bay. It will always be a special place for us. One of our regulars owned the building in Suttons Bay and asked us to come with him to "just take a look at it." With a bit of work, it seemed like the perfect space for Mundos North. After a 5-month buildout, the space came to life, and we have received such a warm welcome from the awesome people in the area.
What can our audience expect when stepping into either Mundos location? 
Mundos Roasting & Co. has a high standard for excellent products and customer service. It is so important to us to create a flourishing community and share our knowledge and passion for specialty coffee with our guests. So, both locations have an established aesthetic that is welcoming and comfortable either to work or to meet with friends. However, the Suttons Bay location has more of an industrial feel balanced with a lot of greenery and warm lighting. There are many "cozy corners" to enjoy as well. We will have a large outdoor patio right off the front sidewalk. Also, we will be roasting and serving exclusive micro-lots of coffee on our slow bar in Suttons Bay that we will not be serving in our Traverse City location. But for the most part, our drink and pastry options will be the same.
What's the must-try?
Our most popular item varies day to day, but currently, our house-made chai latte is a huge favorite with our guests. Our mint matcha was a big winner for our Mundos barista drink competition and has also been very popular. The vanilla bean latte is a favorite as well. We also highlight different single origin coffees weekly on our Slow Bar menu. Also, we have many off-menu items that we would love to share with you!
As an avid coffee enthusiast, I'm always curious to ask the experts my favorite question: What makes the perfect cup of coffee?
When it comes down to it, every little detail matters, from the coffee farmer to the processing, transportation, roasting, storage, grinding, the water, brewing method and presentation. Thankfully, were are detail people! Honestly, if we get an excellent green coffee, our job is to not screw it up. We want to pass that excellence along to you in all its glory.
Is there anything else you'd like to share with our readers?
We have been overwhelmed with the support and encouragement over the past year and a half that we have been open. Mundos Roasting & Co. is so much more than coffee to us. Our favorite part of owning a coffee shop is all of you. We love this community we have created and will continue striving to give you the best possible coffees, pastries and friendships we can possibly give.
Stop in to one of the Mundos Roasting & Co Locations:
Traverse City:
708 Boon Street
Traverse City, MI
Suttons Bay:
206 N St. Joseph Street, Suite B
Suttons Bay, MI