From rumpled camping clothes to Cinderella at Castle Farms, a fairytale venue in Charlevoix.
Chad's plan was to propose to Jordyn as they watched the sunrise over Lake Superior at a scenic spot a short hike away from where the couple was camping in the Apostle Islands. But he slept through his alarm. There was still time though, to catch the sunrise at a small beach behind their campsite. It was dark, and Jordyn was still half asleep. She didn't notice him grab the GoPro and lean it against a rock near where they settled. A few minutes later Jordyn was saying, "Yes!" and the GoPro was catching it, sunrise and all.
Flash forward one year later, almost to the day, to Castle Farms, a fairytale setting in Charlevoix, where Chad and Jordyn were wed. View the full version of this wedding feature including photos, plus complete venue information!
Jordyn exchanged her rumpled camping clothes for a bridal gown. From the bejeweled bodice right down to her glittering Badgley Mischka heels, Jordyn sparkled.
The couple's decision to be married across Lake Michigan from their Wisconsin home was based on their shared love of Northern Michigan. Both Jordyn and Chad grew up in the mitten state, and Chad's parents have a home in Elk Rapids. "We wanted a destination wedding but also didn't want our families who live downstate to have to travel too far, so Up North felt like the best of both worlds," Jordyn says. After exploring a number of venues, the couple was sold on Castle Farms for the staff's attention to detail and the fact that each couple is assigned their own wedding coordinator. Another winning point: "Castle Farms is so organically beautiful it doesn't need a lot of decorations," Jordyn says.
Indeed, Castle Farms is an architectural jewel, built in 1918 by the then vice-president of Sears, Albert Loeb, as a state-of-the-art dairy farm. Working with local masons who used local stone, Loeb modeled the buildings after European castles and barns. The venue now houses five stunning wedding areas. Chad and Jordyn chose an area of the venue called the Knight's Castle, as it could accommodate their 200 guests. They also loved its cobblestone walls, wood-beamed ceilings and the fact that the room is separate from the rest of the castle and connected to a private courtyard with a stone chapel nestled within.
In perfect keeping with the rustic stone building theme, the wedding party stayed in a Charlevoix landmark known as the Thatch House (for its genuine thatch roof ), which was constructed of stone by legendary builder Earl Young in the early 1900s (see photos of the Thatch House). Chad and Jordyn stayed in the separate but attached chalet. Besides being picturesque, the lodging is just off Charlevoix's sweet downtown, tucked between Lake Michigan and Round Lake/Lake Charlevoix.
The rehearsal dinner at Tapawingo, an elegant venue near Charlevoix that is set on the bank of a small, serene lake, was followed by an after-party and meet-and-greet at East Park Tavern in downtown Charlevoix. In the early afternoon of wedding day, the couple did their "first look" in the intimate setting of the Thatch House. Bridal party photos in the beautiful waterside park across the street immediately followed, and the session was wrapped up in time for the couple to enjoy pre-ceremony cocktails with their guests in the Knight's Castle. Jordyn and Chad were married on the steps of the stone chapel. Chad's three young nephews, driving a toy pickup truck, delivered the couple their rings. "Since we didn't have flower girls we wanted to make the boys more prominent," says Jordyn. Needless to say, the trio almost drove away with the show.
After the ceremony it was a short walk across the Knight's Courtyard to the plated dinner. Dessert was Traverse City's mega-popular Moomers Homemade Ice Cream, served in a cup or a cone. After that, the wedding party rocked the cobblestone walls to tunes courtesy of D.J. Ryan Rousseau. As the reception wound down, the newlyweds and their friends headed back to the Thatch House to continue the celebration into the wee hours.
Castle Farms Wedding Vendors
Venue | Castle Farms, Charlevoix
Photography | Michael Murphy IV Photography, Charlevoix
Catering | A Matter of Taste at Tapawingo, Ellsworth
Flowers | Thyme Hill Designs, Charlevoix
Ice Cream | Moomers Homemade Ice Cream, Traverse City
Rentals | Serradella, Charlevoix
Music | D.J. Ryan Rousseau
Hair & Makeup | Bliss Salon and Spa, Boyne City
Jordyn's Badgley Mishka heels.
Flowers by Thyme Hill Designs.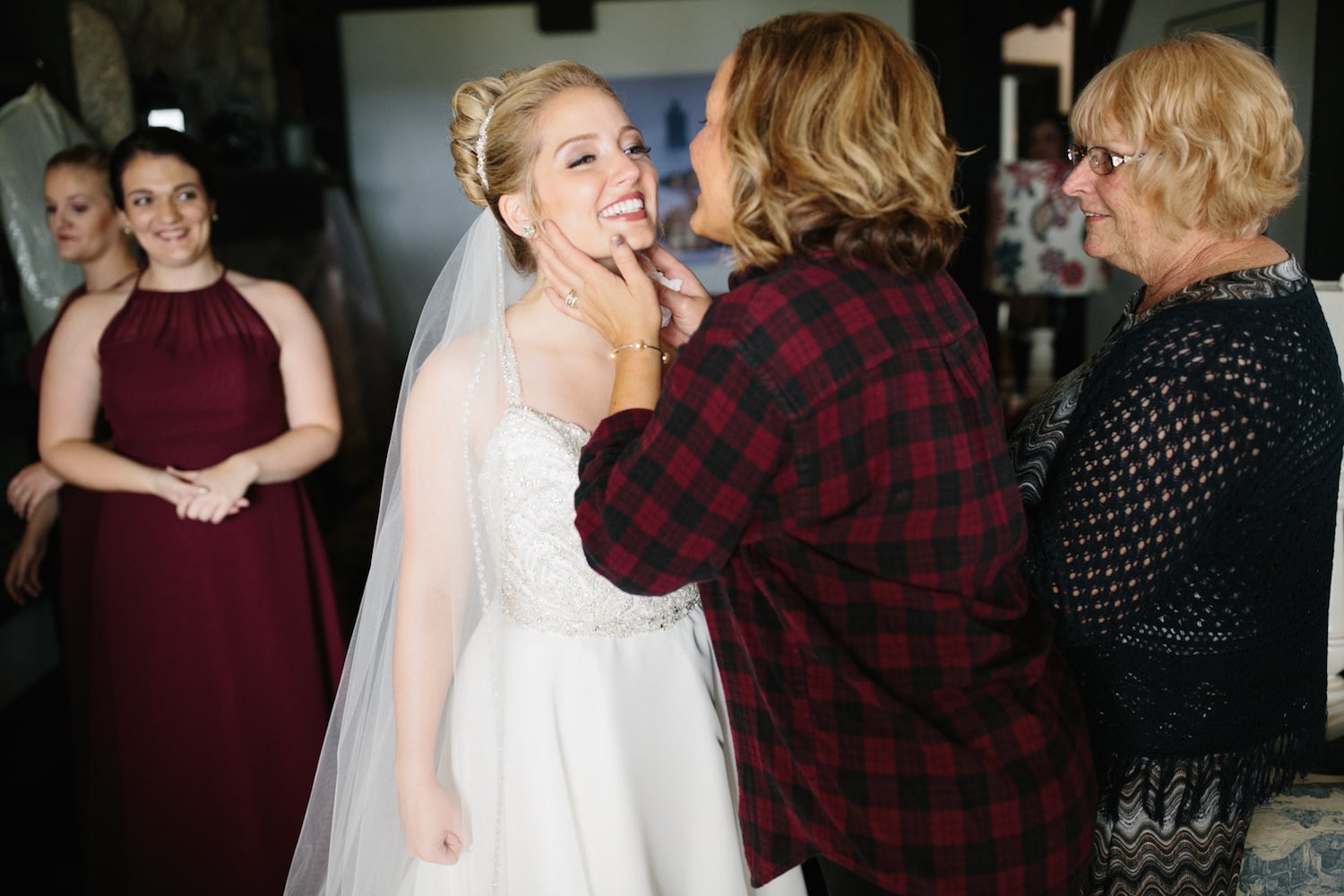 Jordyn's hair and makeup were done by Bliss Salon and Spa in nearby Boyne City.
Bridesmaids: Brittany Shami, Jordan Sparks, Kira Petherick, Angel Gagin, Tess Dudley, Jessica Somerville. Groomsmen: Andrew Blank, Hunter King, Jon Ciani, Valant Jaddou, Tyler Gradolph, Tom Menas.
Jordyn rented vintage furniture, including the love seat she and Chad sat on at dinner, from Serradella in Charlevoix.
Guests toasted the couple with glasses of rosé rimmed in gold sugar and a blackberry garnish.
The newlyweds kicked off the dancing to "Wanted," by Hunter Hayes.
Click the cover to read the latest issue of MyNorth Wedding.
[publication mode="thumb" name="weddings" align="center" link="viewnow"]