Italian Recipes for Winter from Chef John Piombo at Nonna's Ristorante
Photo by Courtney Kent
We asked Chef John Piombo at Nonna's Ristorante to mine his Italian heritage and cook up a hearty meal for snow-loving families in search of sustenance and comfort.
Enjoy these online-exclusive Italian recipes, and get the February issue of Traverse, Northern Michigan's Magazine for Chef Piombo's story. Visit Nonna's at the Homestead Resort in Glen Arbor to try Chef Piombo's fabulous cooking for yourself.
The Menu
Caciocavallo Fonduta
Sweet Potato Gnocchi + Bolognese Sauce
Easy "No Knead" Bread
Ossobuco Di Vitello with Gremolata & Saffron-Scented Spaghetti Squash
Profiterole (Pâte à Choux)
Limoncello
---

Caciocavallo Fonduta
Serves 2–4
This is one of my favorite icebreaker appetizers. Communal. Fun. Very easy to make. There's nothing like sitting around the table with friends or family in the winter and dipping into something warm and satisfying. Caciocavallo is sweet and delicate, with a slight pungency, and it melts like a dream. Pair it with an Italian white wine like Greco di Tufo or Fiano d'Avellino to get your evening off to a great start. —Chef Piombo
8 ounces caciocavallo cheese, cut into 1/4″ cubes
1½ cups whole milk
1 small yellow onion, finely chopped
1 tablespoon unsalted butter
Salt and pepper to taste
2 each sprigs rosemary, sage, thyme
Shaved black truffles (optional)
Place cubed cheese in a bowl and cover with milk. Allow to soften overnight in the refrigerator.
Sweat onions in butter (do not allow to brown). In a double boiler, combine milk, cheese and onions and stir continuously until smooth. Add salt and pepper and herb sprigs and transfer mixture to fondue pot or heat-retaining serving dish. Add truffle shavings, if using.
Serve with cubed Easy Bread (see recipe below), your favorite winter vegetables, apples, pears, etc.
---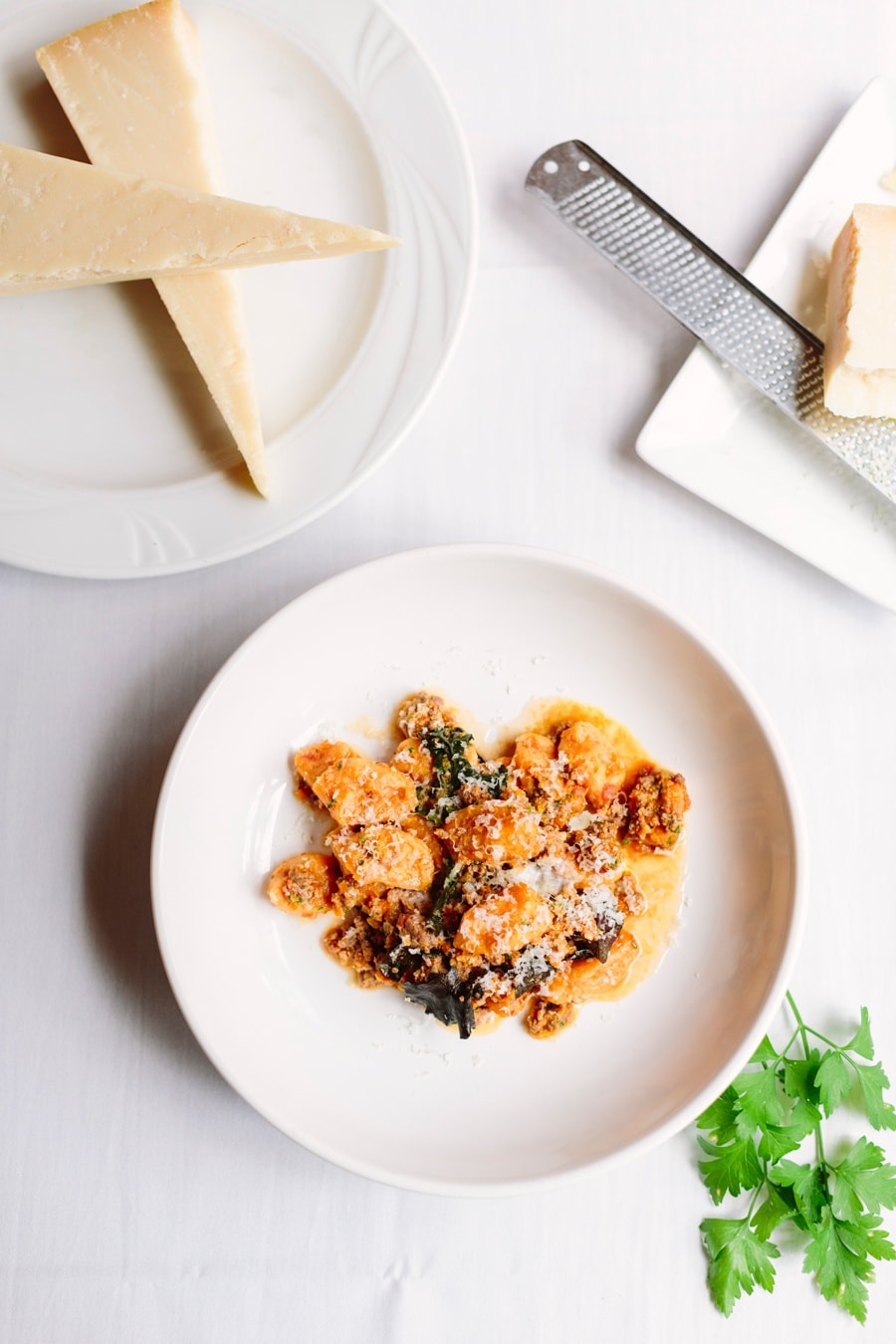 Sweet Potato Gnocchi + Bolognese Sauce
Serves 4
Making gnocchi is very easy. The key is to not to overwork the mixture, because if you do, it will render them tough. Standing in our kitchen as a little boy and helping my mom roll out gnocchi is a memory that always comes to me when I make them. My daughters love to roll them out as well. I anticipate that tradition will go on. Here we are pairing them with a classic Bolognese sauce. —Chef Piombo
Gnocchi
3 pounds sweet potatoes, skin on
3 cups all-purpose flour, sifted
Salt to taste
Preheat oven to 350 degrees. Boil sweet potatoes in salted water for 20 minutes. Drain, and when slightly cooled, cut into ½" rounds and remove skin. Transfer potato rounds to a rimmed, parchment-lined baking sheet and roast 30 minutes. (Note: This process serves two purposes. It cooks the potato and removes moisture from it.)
Remove potatoes from oven, and while still warm, press through a ricer and combine with sifted flour. Continue to work potatoes and flour with hands until combined, but do not overwork the mixture. Form into a ball and cover with a dishtowel. Allow to rest for 5–10 minutes.
Now comes the fun part. Cut out a section from the ball, and on a lightly floured workspace, roll out into a rope shape about 1½" in diameter. (Note: When training new cooks how to do this, I always say, "Remember when you were little and you made snakes with play-doh?") Cut each rope into ¾"-long pieces and lightly flour so that they do not stick together. Repeat with remaining dough. Gently roll each piece onto the back of a fork to create a ridged look, or create an indentation with your index finger as you roll back. The latter is my favorite, as this is how my mom taught me to do it. Set gnocchi aside.*
To cook, bring salted water to a boil and, working in batches, add gnocchi. When they begin to float to the top, they are ready. Serve with Bolognese sauce (recipe follows).
Bolognese Sauce
Every time I make this recipe, I can hear my mentor Chef Raimondo walking me through the steps as a young culinarian. Gives me a very Zen feeling. We are using it here with gnocchi, but it can of course also be used with any hearty pasta. —Chef Piombo
¼ pound pancetta ground
1 small yellow onion, finely diced
1 celery rib, finely diced
1 small carrot, peeled, finely diced
¾ pound ground pork loin
½ pound ground skirt steak
½ pound ground sirloin
5 tablespoons tomato paste (Note: This is not part of the original recipe, but was accepted in 1982 by The Italian Culinary Academy)
½ cup dry white wine
1 cup milk
1 cup beef stock
Salt and freshly ground pepper to taste
¼ cup heavy cream
2 tablespoons unsalted butter
Pinch freshly grated nutmeg
In a large skillet over medium heat, add pancetta (the rendered fat will be used to sauté the vegetables.) Add finely diced vegetables and cook until softened. Add pork and beef (since these are lean cuts of meat, there is no need to drain fat) and break apart with a wooden spoon while cooking and mixing with other ingredients. Add tomato paste and stir.
Deglaze with white wine and reduce by half (until you no longer smell the alcohol). Stir in milk and stock. Lower heat and simmer 1½ hours). Adjust seasoning with salt and pepper. Prior to serving, stir in heavy cream, butter and nutmeg.
*Gnocchi can also be frozen before cooking. Once they are rolled out and formed, transfer them to a rimmed sheet pan and place in freezer. Once they are frozen, divide them among Ziploc bags, label and return them to the freezer for a future meal. They can be cooked directly from frozen, although they make take a bit longer to float to the top.
---
Easy "No Knead" Bread
Makes one loaf
This is a very simple bread recipe. You can add aromatics if you like, but I just love plain bread. It doesn't compromise other aspects of its use, such as in sandwiches or la scarpetta (mopping up extra sauce on a plate). My daughters are all about this. I'll hear, "Hey, dad, do we need bread?" They make the dough before going to bed so that it's ready to pop in the oven first thing in the morning before they head out to school. It has become an evening ritual, like brushing their teeth. There's nothing better than fresh bread in the morning, and when we're baking at 6 a.m., it feels like we are paying homage and respect to all the bakers out there. —Chef Piombo
1½ cups water
½ teaspoon active dry yeast
3 cups all-purpose flour, plus more for dusting
1¾ teaspoons salt
Add water to a large mixing bowl, sprinkle in yeast, mix it together and allow it to activate. Add flour and salt. Mix with a wooden spoon to incorporate all ingredients (dough will be sticky). Cover and let rise 12 hours.
Preheat oven to 450 degrees. Put a pan with water on the bottom baking rack to create humidity/moisture.
Lightly flour a large rimmed sheet pan, place dough on the pan, and lightly dust with more flour. Bake between 30 and 45 minutes (if your oven bakes unevenly, turn sheet pan midway through the baking process). Remove bread from pan and allow to cool on a wire rack.
---
Ossobuco Di Vitello with Gremolata and Spaghetti Squash
Serves 4
Ossobuco (braised veal shanks) was one of my first true gastronomic dishes that I remember as a child. Living in Genoa, Italy as a young boy, my parents would pack us into the family Fiat and drive to a favorite restaurant in the mountains of the Piemonte region, where ossobuco was one of their specialties. I also liked going there because they had a bocce court, and while the adults acted like gourmands, we kids got to play. It occurs to me now that they probably picked this place to get the kids out of their hair…
It seemed like we always went in late fall or winter, and the smells and colors have always stayed with me. Sitting at the table waiting for the ossobuco to come out was always exciting—they served it family style, and it was always an event. The veal shanks were all lined up for the taking, with little forks sticking out of the bones so that you could get that wonderful marrow. Of course, being a kid, I would just suck it out, much to the chagrin of my parents. —Chef Piombo
4 veal hind shanks, center cut 1½" to 2″ thick
Salt and freshly ground pepper to taste
¼ cup olive oil
Flour for dredging
1 yellow onion, chopped
1 medium carrot, chopped
2 celery stalks, chopped
4 tablespoons tomato paste
1 cup dry red wine
4 cups beef stock
2 bay leaves
2 sprigs fresh rosemary
2 sprigs fresh thyme
Special equipment: Butcher's twine
Preheat oven to 350 degrees. Tie veal shanks around the circumference with butcher's twine so that the meat doesn't separate from the bone. Season with salt and pepper. Heat a cast-iron casserole to medium heat and add olive oil. Dredge shanks in flour, shaking off excess, and sear on all sides to secure an even crust. Set aside.
In the same pot, add vegetables and cook for 5 minutes, mixing well. Add tomato paste and allow to caramelize. Deglaze with wine and reduce by half.
Return shanks to the pot and add beef stock, bay leaves and herbs (you can tie them or make a sachet bag for easy removal). Adjust seasoning. Cover and place in oven for approximately 3 to 4 hours. Check every hour for tenderness. When tender, remove shanks from pot, set aside and keep warm. Remove herbs and bay leaves. With a stick blender, pulse braising liquid slowly to create the sauce. Be very careful when doing this step, as hot liquids can spatter. 
Gremolata
1 bunch parsley, finely chopped
Zest of one lemon
Combine parsley and lemon zest and reserve.
Saffron-Scented Spaghetti Squash
Serves 4
Ossobuco is traditionally served with saffron risotto, but we are going to put a twist on it by serving spaghetti squash. —Chef Piombo
1 spaghetti squash, cut in half lengthwise
Olive oil
Salt and freshly ground pepper to taste
4 ounces unsalted butter
1 pinch saffron (about 24 threads)
½ yellow onion, small dice
¼ cup dry white wine
1 cup beef stock (keep warm)
½ cup Parmigiano Reggiano
Preheat oven to 425 degrees. Brush squash flesh with olive oil, season with salt and pepper, place cut side down on a rimmed baking sheet, and roast for 45 minutes to an hour, until tender. Allow squash to cool to a manageable temperature, then shred into spaghetti-like strands. (Note: This can be done ahead of time.)
In a sauté pan, melt butter, add saffron and onions, and cook until onions are translucent. Deglaze pan with white wine and reduce by half. Add spaghetti squash and fold in gently. Add warm stock a little at a time until desired consistency is achieved. Add cheese, toss and adjust seasoning.
Assembly:
Spoon spaghetti squash onto serving dish, arrange ossobuco beside it, add braising sauce, and sprinkle generously with gremolata. Don't forget the cocktail fork to access the marrow, or you can suck it out just like a kid!
---
Profiterole (Pâte à Choux)
Varied servings
This is one of the first classical desserts I learned to make. The simplicity of the ingredients coupled with precise culinary techniques made me feel like I was a chef, when I was really still just a commis (trainee). The versatility of the choux paste and its neutrality allow for many usages. Be creative! —Chef Piombo
1 cup water
4 ounces unsalted butter (1 stick), cut into ½-inch pieces
Pinch salt
1 cup all purpose flour, sifted
4 whole eggs, room temperature
Preheat oven to 425 degrees. In a saucepan, combine water, butter and a pinch of salt and bring to a boil. Once the water is boiling, add sifted flour all at once, and mix vigorously with a wooden spoon.
Lower heat and continue to mix until you see a small patina forming on the side of the pan.
What you are trying to achieve is to cook out as much moisture as possible. When you can pinch the dough and nothing sticks to your fingers, you have achieved this step.
Remove pan from heat and transfer dough to the bowl of a stand mixer. With the dough hook attachment, begin mixing. This will help in cooling the dough down. (Note: You do not need to cool it completely, just enough so that when you add your eggs, they will not curdle.) Once the dough is cooled somewhat, add one egg at a time and allow to incorporate fully until adding the next. Continue this process until all eggs are incorporated and your batter is silky and shining.
Using a 1 fluid-ounce (#32) ice cream scoop, drop balls of dough onto a greased baking sheet, spacing about 2 inches apart. Bake for about 20 minutes. Rotate pan at the 10-minute mark. The completed product will be puffed, light and golden brown. Allow profiteroles to cool on a wire rack.
Custard (Crema Pasticcera)
1 vanilla bean pod
2 cups whole milk
4 egg yolks (room temperature)
¾ cup granulated sugar
5½ tablespoons cornstarch
(Note: You will be using two vessels, a saucepan for milk and a mixing bowl for eggs.)
Remove vanilla beans from pod by making an incision lengthwise. Scrape out the beans and add to mixing bowl. The pod itself will be placed into the saucepan.
In the saucepan, add milk along with the vanilla pod and bring nearly to the boiling point.
In the mixing bowl, add egg yolks, vanilla beans and sugar. Whip vigorously so as to not allow the sugar and the egg yolks to react to each other, as this would allow the protein in the egg to crystallize and become insoluble. Once well whipped, sift cornstarch into the egg mixture and combine.
Remove vanilla pod from milk and slowly add ½ cup of milk to the egg mixture (this is called "tempering"). Whisk well and then add mixture back into the saucepan. Continue to whisk over low heat until custard becomes denser.
Pour custard into a metal bowl and continue whisking to allow cooling. Ideally, you would want your pan to sit in an ice bath so that the cooling process is expedited.
Once cool, place a layer of plastic film directly on custard, so it doesn't crust over, and place in refrigerator until ready to use.
Easy Chocolate Sauce
2½ cups granulated sugar
1¾ cups water
1 cup cocoa powder
1 teaspoon vanilla extract
Combine sugar and water in a saucepan and bring to slow boil. Add cocoa powder and whisk well. Add vanilla extract. Allow to cool.
Assembly:
With pastry tip attached, fill a pastry bag with custard and fill profiteroles from the bottom.
Arrange on a plate, drizzle with chocolate sauce, and enjoy. A dollop of whipped cream on the side is always a nice touch.
---
Limoncello
Makes 2 liters
I love serving this after dinner digestive or poured over fresh-cut fruit for an adult fruit cocktail. Plus, it's cool to be able to say, I made this! (Hint: A bottle of homemade limoncello makes a great holiday gift.) —Chef Piombo
12 large lemons (look for the most vibrant in color)
1 liter 100 proof vodka (glass bottle, wash and keep for bottling)
1 liter filtered water (glass bottle—I use Panna—wash and keep for bottling)
3½ cups granulated sugar
Step 1:
Begin by washing the lemons and drying them well.
Carefully peel lemons, paying attention not to get into the pith (white part)
Place lemon peels in a glass container and add vodka.
Seal well and place in a dark, cool area for at least a week. Every day or so, give the mixture a subtle shake. (Note: If you cannot find a dark place, cover with a black trash liner. The longer it macerates, the more intense the flavor)
Step 2:
Once maceration period is of your liking (patience is a virtue) bring water and sugar to a boil.
Once all the sugar has melted, allow the mixture to cool completely.
Add water to alcohol and gently mix.
Strain mixture into glass bottles.
Seal glass bottles and store in refrigerator or freezer for at least 1 month before serving.
---
More Winter Recipes