A Glamorous Winter Wedding in Michigan on New Year's Eve
Photo by This is Feeling Photography
Summer weddings are picture perfect. But a winter wedding in Northern Michigan? It has a sparkle all its own. Especially when it's on New Year's Eve near the shores of Lake Michigan. (Scroll down for a chance to win a trip Up North to plan your own wedding!)
Want more ideas for a Northern Michigan wedding? You'll want a copy of the 2018 issue of MyNorth Wedding! 
Tara Kay and Adam Stichter didn't set out to get married on New Year's Eve. It's just that they both love snow, and the holiday fit well with the vacation schedules of many of their loved ones. Add to that, that Adam proposed on a January day in 2016, (on a footbridge outside of Café Brauer, at Chicago's Lincoln Park Zoo, down on a knee beside a pond with the skyline in the background and a star-struck Tara in the foreground). And beyond all of that, holidays are just good karma for the pair—their first date was on Valentine's Day, Adam's birthday is on Fourth of July …
To guarantee themselves a snowy wedding, this couple knew they were going to have to head farther north than their Chicago home. Tara was raised in Michigan, so exploring venues in the northern reaches of the mitten seemed wise. That summer, on a trip with Tara's parents, the couple discovered The Homestead, in Glen Arbor.
The couple loved the venue for its mix of a masculine Northwoods feel and feminine elegance. "We felt that it was really infused with both of our personalities," Tara says. Moreover, the resort offered all on-campus amenities from lodging, to hair and makeup (Lily Jade Salon), dining, ceremony, and reception.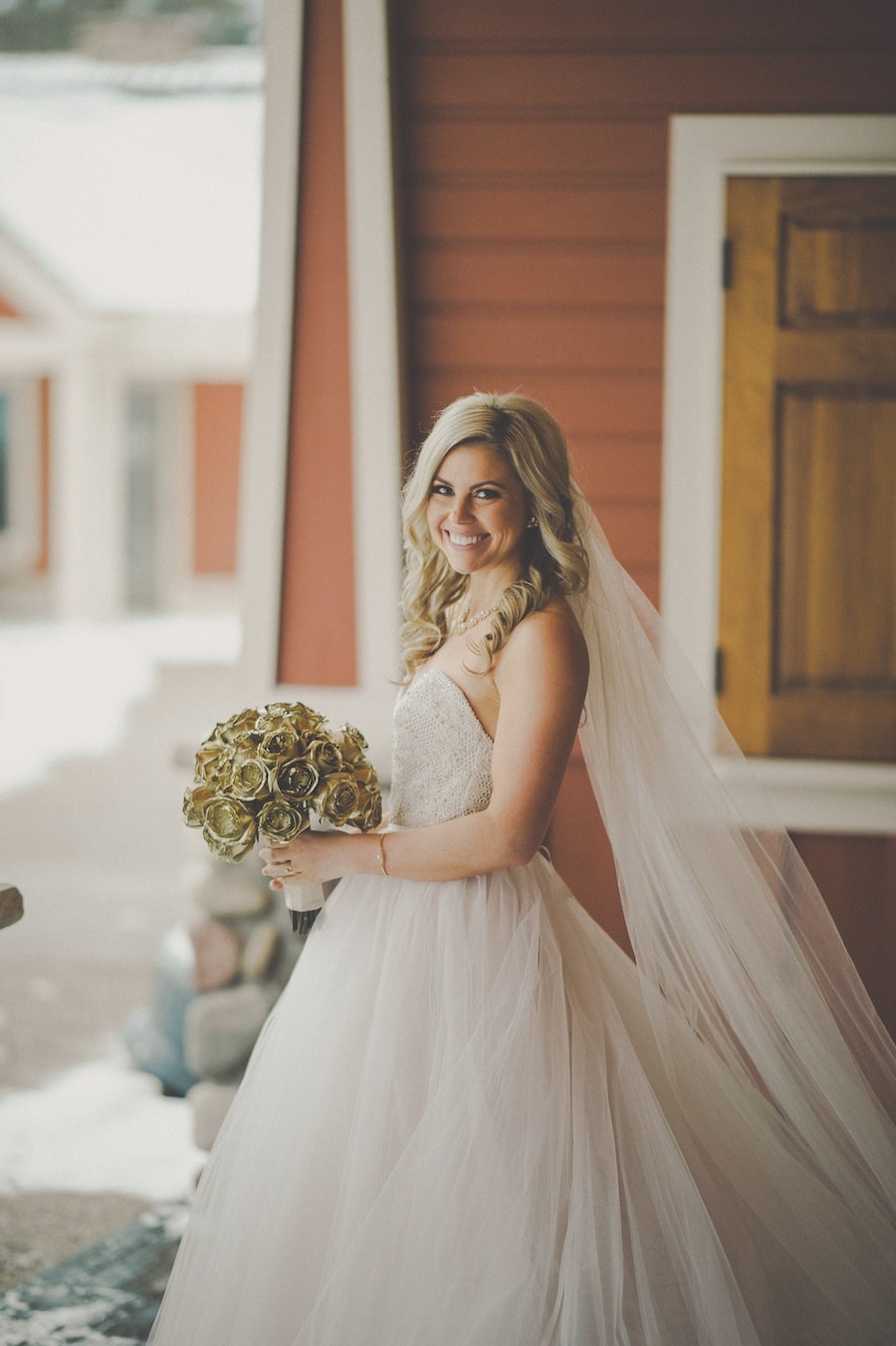 Tara, whose busy schedule includes work as an account manager for Spotify and as a fitness instructor, laid out her vision, then, like any skilled manager, she set up a team and left the implementation to them. The color theme would be gold—because she had always envisioned a gold wedding, and well, nothing goes better with New Year's Eve.
The team included a Detroit-based florist whom Tara charged with the alchemy of turning roses to gold. She had seen the idea on Pinterest and knew it would be perfect for the occasion. When the florist hesitated she politely asked them to go to the drawing table. They got back to her several weeks later, mission accomplished. Tara still has her splendid bouquet of gold roses—and she can attest that the gold paint the florist used on them never smudged her gown.
Lynzie Gotshall, The Homestead's Wedding Sales Associate, working with the couple's friends and family, headed up the on-the-ground logistics the weekend of the wedding. Indeed, Tara and Adam made great use of the venue, holding the ceremony at the rustic Camp Firefly, which is set up on a ridge at the resort, and hosting the reception at the Mountain Flowers Lodge, just off a plaza aglow with white lights for the winter.
Adam was adamant that he didn't want a first-look-sneak-peek of his bride. He wanted to see her for the first time on this special day as she walked down the aisle. That meant an early ceremony, so there would be time for photos before the sunset on the snowy, wavy splendor of The Homestead's Sleeping Bear Bay beach.
The reception moved through a plated dinner to crazy-fun dancing—which went until 1 a.m. While Tara wanted to make sure theirs was a wedding that happened to be on New Year's Eve rather than being a New Year's Eve wedding, the couple was ready with noisemakers for their guests. At the stroke of midnight, the newlyweds rang in the New Year and their new life with their closest family and friends.
All photos by This is Feeling Photography
More Fabulous Winter Wedding Venues in Northern Michigan
Bay Harbor Hotel & Conference Center, Bay Harbor
Boyne Mountain, Boyne Falls
Boyne Highlands, Harbor Springs
City Opera House, Traverse City
Crystal Mountain, Thompsonville
Grand Traverse Resort, Acme
Hotel Indigo, Traverse City
Inn at Bay Harbor, Bay Harbor
Park Place Hotel, Traverse City
Peninsula Room, Traverse City
Stafford's Perry Hotel, Petoskey
Shanty Creek Resort, Bellaire
MyNorth Wine & Weddings | April 21, 2018 
Brides, grooms, friends, and families are invited to explore Leelanau and Old Mission wineries and meet vendors including photographers, bridal gown shops, wedding cake bakers, and florists. Did we mention everyone gets a wine taste at each winery? Get your tickets at MyNorthTickets.com.
---
Win a weekend Up North to plan your wedding! 
The getaway includes …
Two nights' lodging in glamorous camping— king size bed, luxurious sheets, down pillows—at Nature Michigan Retreat
$2,500 credit for a dress at One Oak Bride
Event planning services from Revel Rose, Wedding Revelry & Etc.
$100 dining certificate at La Bécasse, Authentic French Country Cuisine
Make-up, hair & nails package by Pavlova, European Salon & Day Spa