They abandoned the notion of job security and answered the call to serve.
Our taste buds are grateful to the soldiers of food truck nation.
---
It happens even before you see the converted bread trucks. The overwhelming aroma of warm pastries and smoked meat derails your day. What just happened? An odor molecule has just connected with cilia (microscopic, vibrating, hairlike structures) in the back of your nose. That is, your inner caveman (or woman) brain just took over. Your stomach growls, and your resolve disappears. What errands? It's time to step up, read the menu and give in to primal urges. Few can resist a cafe on wheels.
But who are these people who seem able to manipulate us so easily? Their trucks are everywhere. At the Grand Traverse Commons and The Little Fleet, on Eighth Street, at summer resorts and winery tours, they've become an integral part of Grand Traverse's already very active food scene.
Photos by Jesse Green
My unscientific (and highly caloric) "study" of four local food trucks makes it clear that this is an undertaking for hardy souls, entrepreneurs willing to invest their precious money, time and labor on a simple bet: that they can pull in customers off the street.
The owners of the Daily Blend, Happy's Taco Shop, Cordwood BBG and MMMM Food Truck come from different backgrounds but share a passion for food. And they like being around people.
Success in this business seems to require a blend of idealism—why else would you quit your day job?—and practicality, the mundane work of prepping food, cleaning equipment every day and balancing the books. Without a doubt, living this sort of dream is hard work.
This article is featured in the June 2017 issue of Traverse, Northern Michigan's Magazine. Subscribe to fresh flavors. 
For some, running a food truck is part of a bigger mission. That's the case with Whitney Daily, a local yoga teacher who with her husband, Troy Daily, runs the bright yellow Daily Blend, which is parked during the summer months alongside eight other food trucks in front of the Little Fleet bar on East Front Street in Traverse City. The Daily Blend looks just like a VW bus. But it's actually a custom-built trailer that is towed.
Whitney is a devotee of healthful food. A graduate of Michigan State's nutrition program, she decided the town needed a food truck for vegetarians. By her own admission, she's not a born risk-taker. "But we saw a need, and being around Troy has made me more entrepreneurial minded."
He grew up around it: his parents, Brian and Mary Daily, have sold chocolate, ice cream and fudge at Kilwin's since 1992. Troy introduced Whitney to the food business early in their marriage. They ran a Kilwin's store in Colonial Williamsburg for three years.
Whitney believes vegetarian food can be just as exciting as meat-based menus. An example of that is the Daily Bowl, one of her most popular dishes. It's made with black beans, tomato, avocados, olives, Irish cheddar cheese, sour cream and a secret sauce. Seasoned with garlic lemon, this mountain of goodness sits astride a foundation of brown rice. The Dailys are particularly happy with the location. Little Fleet has become a go-to spot for beer and outdoor dining. It has a waitlist of would-be food truck owners who want to be part of the scene.
Whitney's passion for vegetarian cuisine has paid off. Daily Blend has a strong following, especially during the lunch hour. That has encouraged Whitney and Doug to start working on a second truck.
Like other food truck owners, they believe in local sourcing. They rely on the Cheese Lady, a local store, for Irish cheddar and feta. The cold-brewed coffee comes from Roaster Jack. And the fruit for Daily Blend's signature smoothies comes from Goodwill's Farm to Freezer program, which processes crops from area farms. To keep things interesting for customers, she has a chef who often devises new hummus dishes.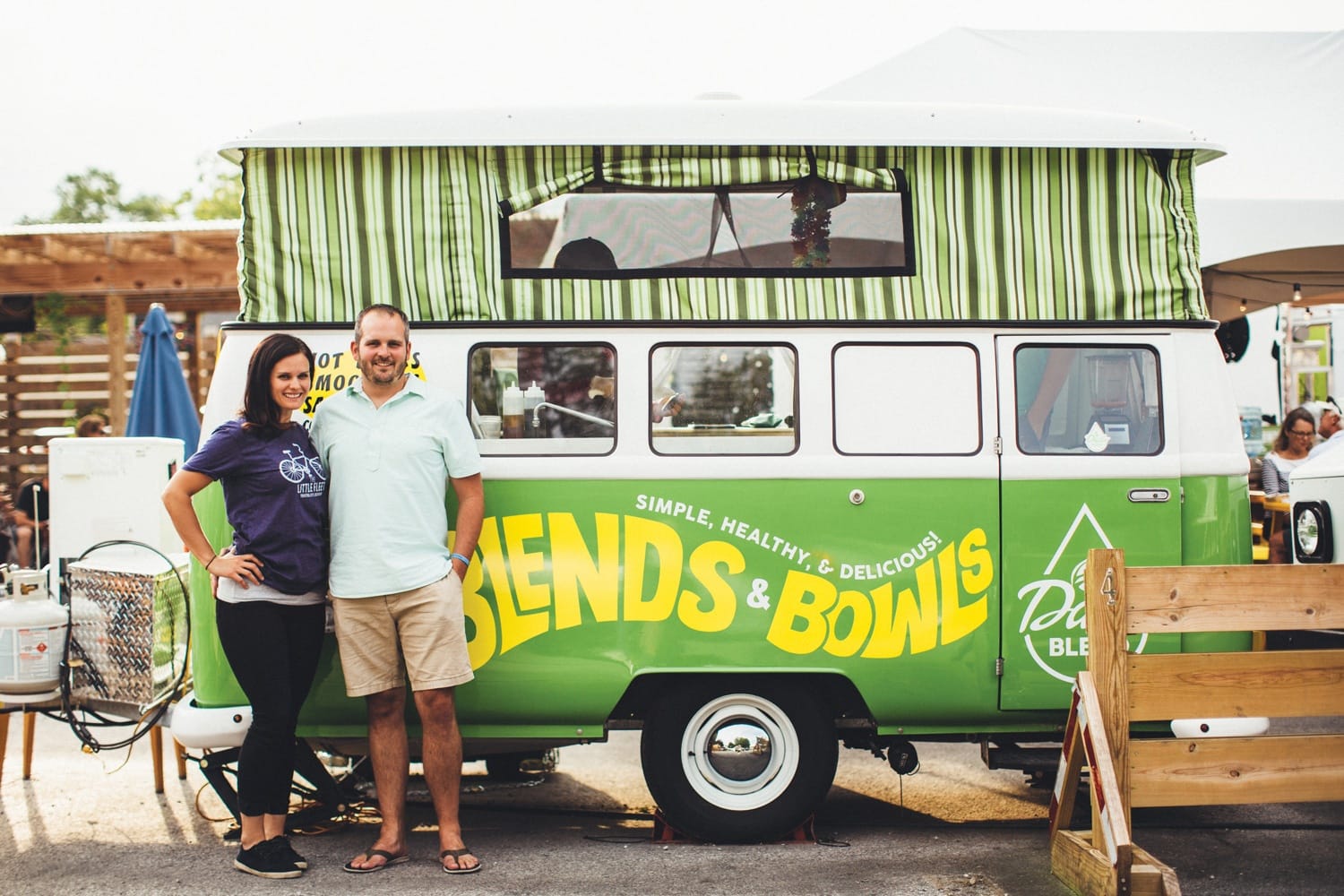 Whitney knows many folks dream of running a food truck, so what's her advice for anyone just starting out?
"Choose your location carefully, that's the most important thing. You need a built-in flow of customers. Then create something unique. And hire good staff, people you trust, because you can't do it all by yourself."
---
It's not by chance that one of the most established food truck operations around—Happy's Taco Shop—has staked its future on these traditional little tortillas and all the wonders they can hold. Happy's has plenty of options for vegetarians as well as meat eaters.
"Tacos allow for a lot of creativity," says Drue Wright, co-owner of Happy's, with his old college friend, Drake Nagel. "They're a trendy food right now. If you want to succeed, you have to stay up with the times."
The two started Happy's in 2013, and it helps that the two partners have complementary skill sets. Drue studied business. So he balances the books, manages staff and can be found most days manning the truck at Little Fleet. Drake, on the other hand, is a chef and graphic designer, who has developed recipes, works with local farmers, conceptualized the pop-ups and hand painted and designed all the menus and runs the prep kitchen, which is located in Boyne City. While most of the trucks at Little Fleet share storage space in the back of the building, Drue and Drake, say that having their own off-site kitchen and storage facility has helped them expand. In the past year, they've hired more employees and bought a second truck.
Drake gives Drue much of the credit for the original vision.
He grew up around Boyne Mountain. His family was in the resort trade. "I wanted to have a food truck before I really knew what it was," he says. "My dream was to have a bus at Boyne on the side of the hill and offer skiers an affordable meal outside. I wanted something fast, affordable and high quality. That's where the food truck idea came from."
Many food trucks in Northern Michigan operate during the summer months only. Not so with Happy's. When fall arrives, they head to Boyne Mountain. Drue's dream has come true. Like most food truck owners, the partners started with a tight budget. They bought an empty van for $4,000, outfitted it with used equipment—some of it borrowed from home—and secured the proper inspections. In all, their initial investment totaled $10,000.
Drake and Drue affirm it took creativity and hard work to get started. Mostly they improvised. Now that they have a second truck on the road, they use one for catering work and to serve food at Boyne City Farmers Market twice a week.
"Nobody teaches you how to do these things," Drue says. "We've learned that you can't sacrifice on quality. That's why we stay involved in everything we do."
[Check out this Q&A with Drue and Drake]
---
Two things inspired Greg Hart to buy a food truck: his experiences working on an organic farm and a visit to Austin, Texas, generally considered the nation's food truck capital.
The trip to Texas not only showed him the viability of the food truck business model, but also convinced him what to cook. He decided it was time to bring Texas barbecue to Northern Michigan.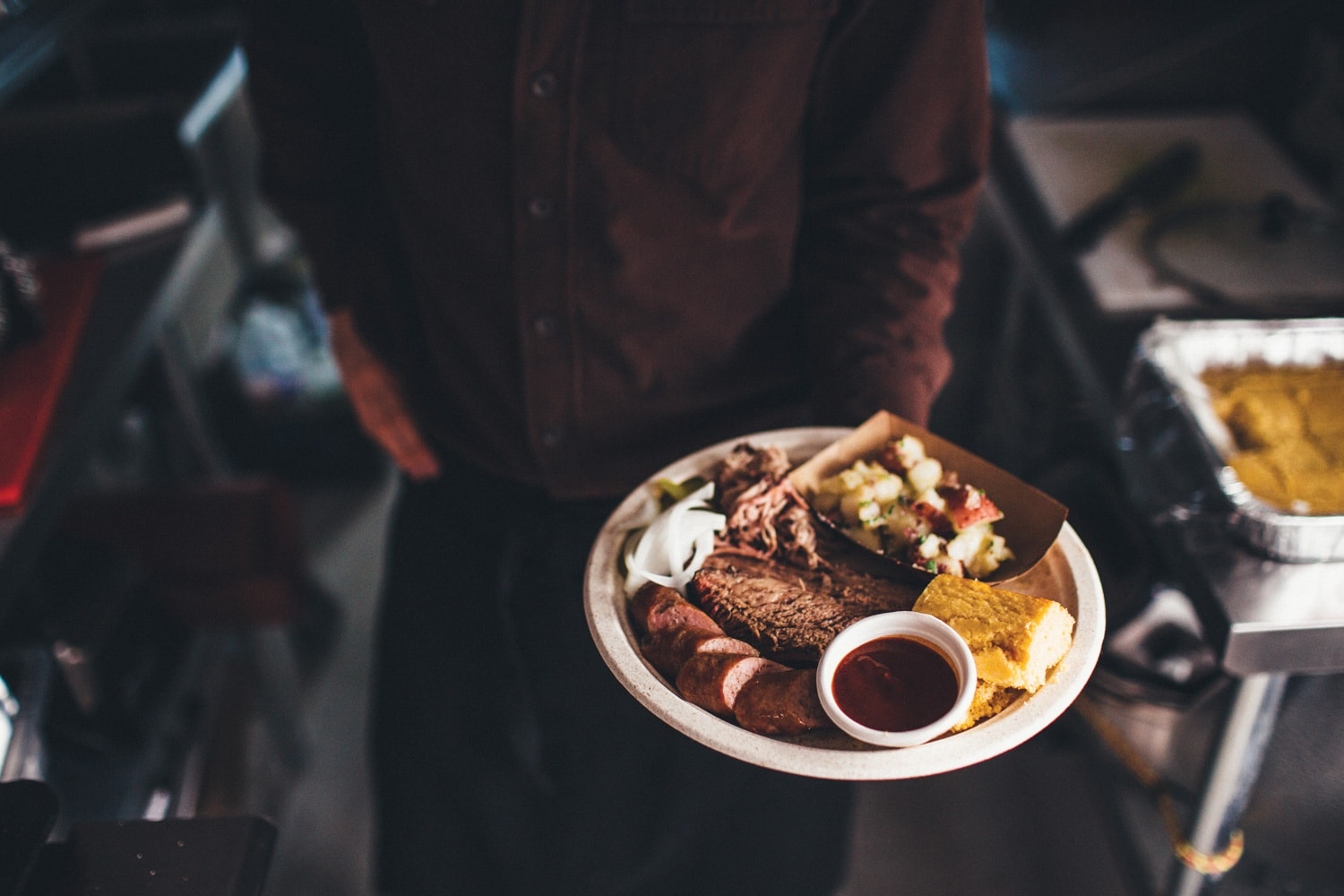 When Hart parks at his usual spot in front of the Left Foot Charley winery and Higher Grounds coffee shop, the smell of smoked chicken, sausage and beef pours out of his big van. It's a wonder every dog in town isn't circling. Last summer a very large male bear was spotted not far off. Maybe the word is out.
Cordwood's is very much a Texas-style menu. Choose your meat. Pick two sides, all of which are also typical Southwestern fare—redskin potatoes, black beans and fried plantains. Non-carnivores can choose the veggie option.
Being the owner, operator and sole employee means hard work for Hart, especially because of the type of food he cooks. He rises early to fire the custom-built smoker. It's a daily process that can't be hurried. On weeks when he has an additional catering gig, it's common for him to work 80 hours or more. That doesn't leave a lot of time for one of his favorite things—a quick afternoon sail on West Grand Traverse Bay. On the other hand, he is his own boss. "My dream has always been to have a creative outlet."
Like his competitors, Hart faced unexpected challenges while starting out.
"The fire suppression unit was a big deal, and the licensing fees can put a strain on you," he says. He's also simplified the menu and reorganized the equipment layout so that everything can be easily cleaned.
"Those are the kinds of things you discover as you go along," he says. The trick is to be willing to experiment and make changes. "You might have to readjust your business plan, for instance. So I'm taking it slowly. Lots of people think because food trucks are popular around the country they will take flight where they live, but I've learned it's a marathon, not a sprint."
---
MMMM Food Truck
The MMMM Food Truck (yes, MMMM, as in yummmmy), run by husband-and-wife team Joanna and Jeff Miller, is a relative newcomer on the Up North scene. They're a happy couple, always joking and gently ribbing one another. She's the food expert with 20 years of experience in the field. Jeff, like most of his family, is an engineer by training. He has learned how to do some of the baking, but his main contribution is to keep the van and kitchen equipment running.
"When I met Jeff, he didn't really think much about food except for buttered pasta, hamburgers and shakes," Joanna says.
Joanna, on the other hand, learned about cooking early and has thought about food ever since. That's because she is the third oldest of 10 kids. In her oversized, Upper Penninsula (Polish) family, food prep, meals and cleanup were never ending.
When she turned 16 she started working in a restaurant. She later studied hospitality management at Northern Michigan University and has worked in restaurants ever since, including a stint as a line cook and later a job as general manager at Red Ginger in Traverse City, where she still works in the fall and winter. Along the way, she gained experience organizing menus, keeping up with the paperwork and ordering food. Those skills allow Jeff to keep his day job as a real estate appraiser. He works with her when he can. At this point, they have a steady location, Fountain Point Resort, on Lake Leelanau, where they spent six months last year serving breakfast to guests every day. MMMM Food Truck is also making the rounds at corporate parties, weddings and other special events.
For a food truck, the menu is fairly complex. Among the breakfast choices for vegetarians, for example, is a quiche with tomato, spinach, caramelized onions and raclette cheese. Meat dishes include citrus pork tacos and scratch-made biscuits smothered in a slow-cooked brisket gravy. Later in the day, there's a hearty vegetarian pasta salad with asparagus, corn, feta, and red peppers, topped off with a lemon-dill vinaigrette. Meat eaters can enjoy Joanna's citrus-and-pepper-braised tacos or fried chicken salad. The menu is apt to change almost daily based on availability of local products.
Joanna understands better than most the dream of owning and running a food truck.
"This is probably what I was heading for all my life," she says. "I like seeing people trying out and enjoying my dishes, and I thrive in an environment with lots of people. I was used to working nights, sometimes until two in the morning, then sleeping during the day," she says. "Now I get up at five a.m. … I see a lot of sunrises."
And that MMMM? It stands for Multiple Millers Making Meals.
Clark Miller is a veteran freelance writer based in Northern Michigan. clark@clarkmillercommunications.com | Jesse Green is a wedding, commercial and editorial photographer who splits his time between Traverse City and Detroit. jesse@jessedavidgreen.com
---
More Food Truck Finds: