When you're zipping along Northern Michigan's Highway 204 between Suttons Bay and Leland, there's a bright new sign encouraging one to stop for coffee, lunch or breakfast in the spot where Kejara's Bridge used to be.
The Redheads restaurant, Kejara's Bridge is now Fig's. Brian Figueroa, having been the chef for Kejara's Bridge for years, would presumably know the kitchen well. He and his wife have taken over the space with their own flair and Fig's is open for breakfast and lunch, serving everything from breakfast burritos to crepes to a gourmet burger.
Fans of Kejara's Bridge will recognize the mosaic pillars and bright colors. Motown plays at a comfortable level, inside. Overall the atmosphere is bright, clean and crisp, nodding to country kitchens with fresh- squeezed lemonade in Ball jar glasses, blue and white striped china and tables worn smooth with time.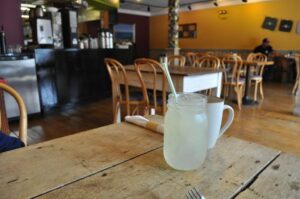 Most of the menu is around $10. Breakfast and lunch entrees start at $7 for two chicken tacos and run to $12 for a turkey burger and $15 for blue fries: Great Lakes bluegill with dill, lemon zest, panko crust and the house tartar sauce. It's served with a seasonal veggie, as well.
On the day MyNorth dropped in, the special was a sweet quesadilla. Inside a crispy tortilla, Chef Fig put goat cheese with balsamic strawberry rhubarb and fresh bananas. He dusted the top with cinnamon and sugar, garnishing the dish with sliced strawberries, blueberries and candied walnuts. The tortilla was caramelized to delicate perfection, balancing the tart flavors of the balsamic and rhubarb stuffing with the softer sweet banana and cheese. The serving size was handsome and could easily be enjoyed by two looking for a sweet bite with a cup of coffee.

Double L Farms provides the tender chicken in the tacos, which are dressed with cilantro, onion, pickled peppers, hot sauce and queso fresco on a corn tortilla.
We also tried some side dishes. Chef Fig serves a robust bowl of humble Yukon Gold potatoes, baked, diced and then fried. They are crispy outside, and creamy inside with just the right amount of salt and pepper to give it zip. The bacon is heartily sliced, from Jake's Country Bacon in Cassopolis, Michigan.
If you're lucky, you might stop by on a day when Chef Fig has made his special, signature Reuben sandwich, with orange Michigan beef brisket, bribery sauerkraut, Gruyere cheese and housemade thousand island dressing on Bay Bread seeded rye. And we've heard that there's a killer hash that makes it on the specials board when Chef Fig can find enough time to prepare it.
The service is as cheerful as the decor. Coffee cups never want for a warm up. The staff was thoughtful in making suggestions and generous with attention. One may sit inside or outside under the pergola, surrounded by barrels of pansies.
So slow down just west of the Lake Leelanau narrows and make time for a stop at Fig's.
Click the cover for travel tips, best restaurants, beaches & more in the FREE Leelanau County Vacation Guide!
[publication mode="thumb" name="vg-leelanau" align="center" link="viewnow"]
---
More Northern Michigan Food Finds: