The standup paddle board craze has taken hold in the Great Lakes and Northern Michigan is doing its part to fuel the passion. Here's all you need to enjoy a vertical day on the bay; a quick tutorial from the women's SUP group to best spots to paddleboard and the equipment you will need.
---
The paddle is light, the board is not, so Stephanie carries it for me, from the back of her truck to the shore, handling the awkward size and girth with ease. The board is only 25 pounds, but the length says bigger and badder. I try to focus on the badder. I am, after all, about to float atop the waters of East Grand Traverse Bay for the first time on nothing more than a piece of epoxy and a prayer, and I want to know my board has some attitude.
Stephanie promises me that standup paddle boarding will be easy, simple, fun. Small words for a big sport, I think to myself. But, as I discover right away, she tells the truth. Paddle boarding is heavenly. And quiet. And serene. And beautiful. Yet thrilling. As I float, I feel the water connect with my board, my feet, my legs and, finally, my mind. I thought the goal was staying dry. But as I sway with the nuances of the bay, with my toes splayed over a fine sheen of water on the board, with my balance getting dialed in and paddle in hand, I see that, in reality, getting wet is the point.
I have been welcomed to the fastest growing sport in Northern Michigan waters: I am SUP'ing.
They look like warriors, standing tall, weapon in hand, skirting the shoreline, Egyptian-like silhouettes. To see a standup paddle boarder go by is to stop and stare.
What was once, in these parts, viewed as an alternative to traditional surfing on the rough Lake Michigan shore has now become a quiet, accessible sport in calmer waters. A sport that can be as little or as much as you'd like on any given outing.
"Once your body figures out the balancing part, it's like riding a bike," says local SUP guru Stephanie Zalucha. "At the most basic level, anyone can glide around on a SUP in calm water and paddle a few relaxing miles. But the sport can also lead to racing, downwinders, and SUP surfing and now even SUP yoga and SUP Pilates."
Zalucha discovered the sport through a friend in Argentina a few years ago, then started Women's SUP Nights in Traverse City to spread the word among area women. The group hosts weekly summer outings ranging from a half dozen bikini-clad gals to co-ed group paddles of 30 to just a small group of all-weather women bundled up in wetsuits. Every outing ends with a gathering of some sort, often a BBQ on the beach. They meet in Suttons Bay, Glen Arbor, Acme and lakeshores in between.
"SUP'ing basically became my go-to activity when I couldn't get out to kiteboard," Zalucha says. "More recently, I've started using SUP in place of running because it's low impact and has better views. And, of course, it's a great way to be with friends."
Zalucha's favorite place to SUP is along stretches of Lake Michigan shoreline that aren't easily accessible by foot, such as around Sleeping Bear Point. "The steep drops in the dunes are dramatic from the point of view of the water," she says. "Being out on the water offers a new perspective, and if there are waves, it's even better."
The sport also offers something that kayaking or canoeing can't—the perspective gained from standing on the water instead of sitting in a watercraft. The view from above has less water-surface glare, so SUP'ers can see sandy bottoms rippled by waves, watch the flash of trout, bass and bluegill and spy the shipwreck at Haserot Beach near Old Mission.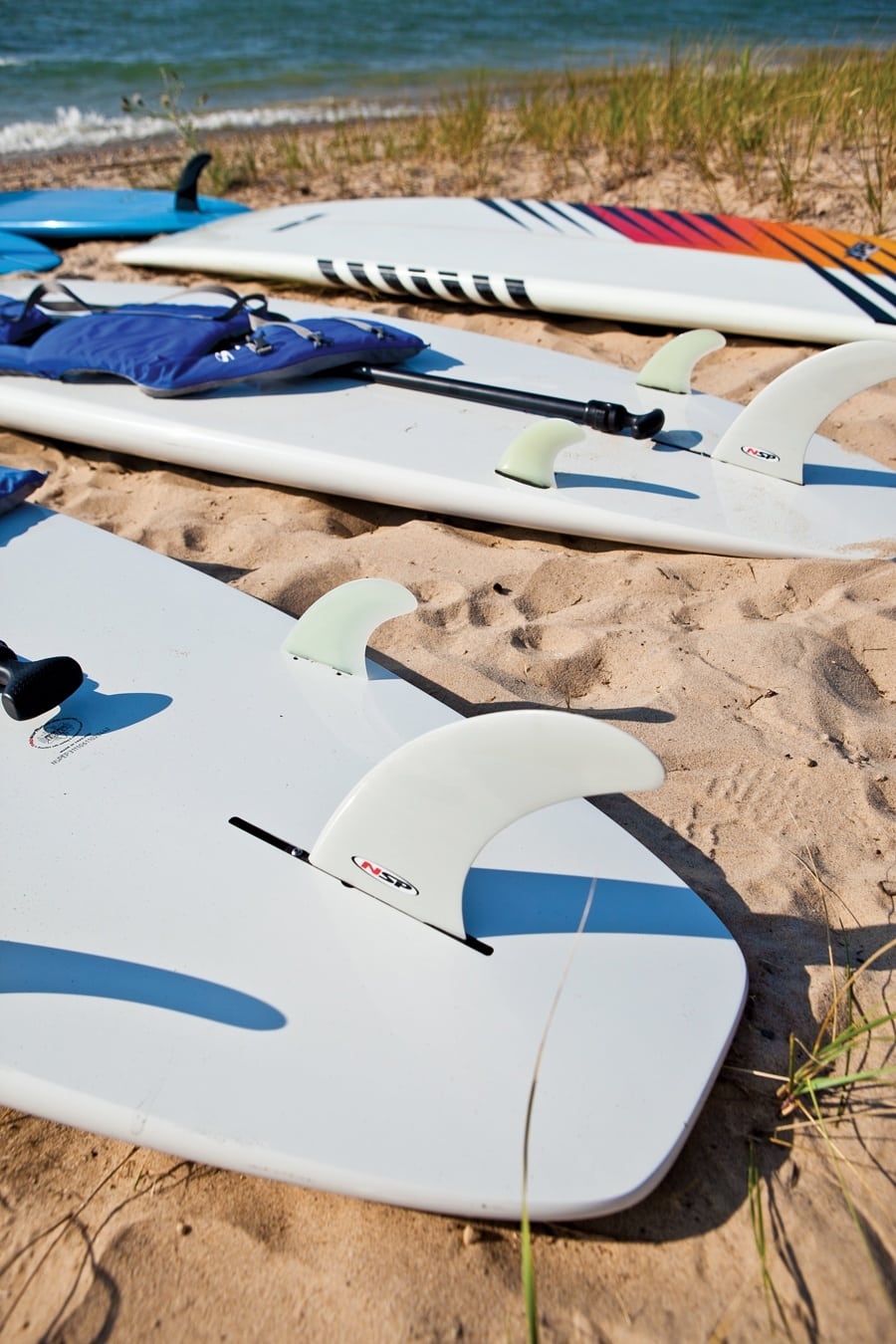 Heather Gillow of Traverse City is part of the Women's SUP Nights and enjoys the sport for the workout it offers. After years of being a runner, she, too, has turned to the lower impact of SUP.
"Depending on the water conditions, the level of workout will vary," she said. "When the waves pick up, it's so much fun and really works every muscle in your body trying to stay up. Mostly though, I love being on the water. It's so peaceful."
Kandace Chapple is a freelance writer and publisher of Grand Traverse Woman Magazine, kandacechapple.com. Information on Women's SUP Nights at facebook.com/womenssup.
Where to Rent or Buy Standup Paddle Boards
Three years ago two shops sold SUP's in Northern Michigan; today nearly 25 SU vendors are here. Expect rental fees of about $50 a day for board and paddle. Delivery fees increase with distance from the shop, so pick a shop close to your launch point if you can't haul it yourself. Most shops rent and sell. Here's a sampler:
Crystal Lake Adventure Sports
214 South Benzie Blvd., Beulah, 231.882.2527
Get your gear at the shop or stop by the rental kiosk one block from Lake Michigan in downtown Frankfort.
Crystal River Outfitters
6249 W. River Road (M22), Glen Arbor, 231.334.4420
Take a 2–3 hour Fisher Lake trip out to Big Glen Lake for $59. (Note: SUPs are not available for use on the Crystal due to the river's shallow depths.)
The River Outfitters 
221 W. Grandview Parkway, Traverse City, 231.883.1413 
Find board rentals, lessons and paddle fit classes.
Sailsport Marine
13988 S. Robinson Road, Traverse City, 231.929.2330
Check out their SUP page for a great Buyer's Guide for help in choosing the right board and paddle for your needs.
Sleeping Bear Surf and Kayak
10228 W. Front Street, Empire, 231.326.9283
One of the first SUP shops in the North, SBSK hosts an annual Used Board Swap & Sale each spring. Check out their online wave cam at Empire Beach to check conditions.
Where to Standup Paddle Board in Northern Michigan
SUP's can take you anywhere the water is at least knee-deep. Watch for rocks or logs that might scuff your board or chip and break a fin, and take note: swimmers like their space. Travel outside areas marked by swim buoys.
Here are SUP places to try:
The all-time favorite here? Grand Traverse Bay, of course. Any public beach will offer easy access and sandy-bottomed starts. Most include a picnic area for an after-paddle gathering. Additionally, you won't have to carry your board far from the parking lot. Favorites include:
Acme Township Park on East Grand Traverse Bay
Bryant Park in Traverse City near Northwestern Michigan College
Haserot Beach near Old Mission
The Lake Michigan shoreline offers a great put-in for some 1,600 miles all told. But the one mellow beach that keeps coming up in SUP shops? Good Harbor Beach halfway between Leland and Glen Arbor on M-22. Lap the waters of the Sleeping Bear Dunes National Lakeshore and take in the view of North Manitou Island in the distance.
Inland lakes can offer the calmest waters for beginners. Follow the winding shore of Long Lake just west of Traverse City. On hot summer weekends expect traffic from jetskiers and waterskiers and keep closer to shore. Finish with dinner on the deck at Boone's Long Lake Inn.
Or let a river set your pace. The biggest obstacle will be sweeping branches overhanging the water. While kayakers can slip underneath, SUP paddlers have to beware. Consider lazy rivers or rivers wide enough to navigate side to side: Sleepy current, few obstructions, Victoria Creek in Cedar offers hundreds of acres of quiet in the Pere Marquette Forest. The Platte River near Honor is wide and slow, perfect for a cruise. The mouth of the Platte dumps out into Lake Michigan near a picnic area. A bit swift and with obstacles upstream, the Boardman River empties into West Grand Traverse Bay in downtown Traverse City. Ride the current back into town for dinner and a drink.
Standup Paddle Boarding Gear 
Todd Mackey, the guru behind the TC Waterman Challenge and Expo, knows his gear and offers this breakdown of the three essential pieces of equipment:
The Board
Essentially a stand-up paddle board is nothing more than a large surfboard 10 to14 feet long and 28 to 32 inches wide. They are typically made with a foam core and layers of fiberglass just like a surfboard. They weigh in between 18 and 28 pounds. Prices range from $600 to $1,500.
There are two types of SUP boards:
Planing: A planing SUP is the most widely used and most versatile design. Not only does it look like a surfboard, it has many of the same design features (rail design, fin placement, bottom profile). You can paddle these in flat water one day and surf in waves the next.
Displacement: A displacement board looks more like the profile of a kayak on the bottom. It has a defined bow and tail and is used primarily for flat water and racing as it cuts through the water more efficiently. This style board is gaining popularity as more SUP'ers are now paddling flat water (instead of surfing) and paddling for speed in weekend races. The industry expects the displacement style board to become more popular than the planing style in a few years.
The Paddle
Most paddles come in fiberglass, wood or carbon fiber and have a straight shaft with a teardrop-shaped flat blade. The paddles are usually sized 7 to 12 inches taller than the rider. Prices for a decent paddle start at about $100.
The Leash
A leash connects to the ankle via a quick-release Velcro strap and then fastens to the base of the board. The leash keeps the board with you if you fall in. Prices range from $25 to $30.
Standup Paddle Boarding for Beginners
Stand-up paddle boarding is easy and accessible but that, says SUP enthusiast Stephanie Zalucha, can also be a problem when novices become overconfident and get into dangerous situations. Here are some common-sense tips from the Women's SUP Nights gang on how to stay out of trouble and on your board:
Understand the wind and weather. Check the forecast because storms can pop up, and you need to make sure you can get back to shore.
Paddling back upwind is not easy and can be impossible for some people. Don't go downwind into the water without a plan.
Avoid going out on secluded shorelines alone and be sure to let someone know your plans before you head out.
If not wearing a leash or life preserver, be aware of how far you can swim should you get separated from your board. (SUP'er Rebecca Mann Kass got separated from her board once. But it gets worse: Her puggle Henry was on it and floating away from her. "It took me a while to retrieve my board and my dog," she said. "He looked pretty funny staring at me all by himself on the board!" Her advice? Always wear a leash!)
Realize that your board can hurt you and others. If you go into the surf or chop and fall off your board, be aware that a 25-pound board could come hurling at your head or at swimmers and surfers even when you wear a leash. Stay far away from swimmers, and give both swimmers and surfers the right of way.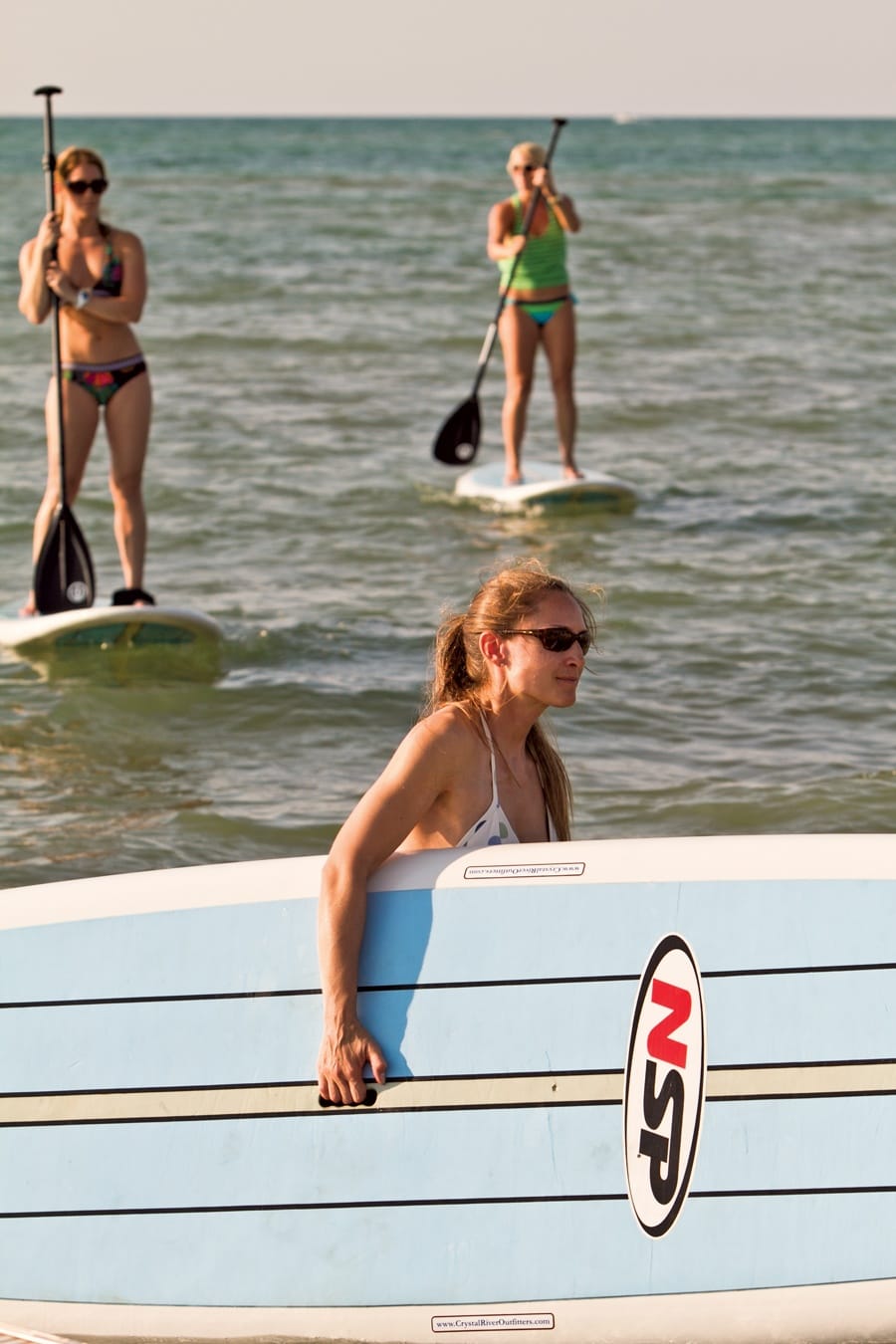 Aside from the cautions, here are some technique tips to get you moving:
Have confidence in your balance. Don't look down at the board, keep a wide stance, knees soft, and away you go.
Be patient. You may start off slowly but with practice soon you will get faster and more comfortable.
Find someone who has SUP'ed before to give you pointers. Lessons aren't always necessary and it can be easy to learn on your own in calm water.
Don't give up! You will fall the first few times as your legs get used to it. Falling is not a big deal, and getting back on your board is as easy as getting out of a pool.
---
[publication mode="thumb" name="vg-leelanau" align="left" link="viewnow"]
More Paddle Boarding in Michigan: