Northern Michigan's Tunnel of Trees on M-119 is one of the state's most iconic attractions, never more so than on a fall color tour. The scenic road winds from Harbor Springs, north of Petoskey, to Cross Village.
Ranked among the most scenic roads in the nation, the Tunnel of Trees is especially breathtaking in spring tour when trilliums carpet the forest floor bordering the road and on an autumn tour when the hardwoods are aflame in brilliant fall leaves colors.
M-119 begins at the north end of Petoskey, but it doesn't officially become The Tunnel of Trees until north of Harbor Springs. From there, the state highway becomes very narrow, running 20 miles along a spectacular bluff overlooking Lake Michigan. Watch for especially sharp twists at Devil's Elbow (said to be haunted by an evil spirit after dark) and Horseshoe Curve. Along the way, you'll find fun shops, must-try local restaurants, spectacular scenery and fascinating historical pit spots.
Sit back and enjoy the drive.
Want to drive the Tunnel of Trees in fall? Check the Northern Michigan Fall Color Map for the best days to go. 
Photo by Rachel Haggerty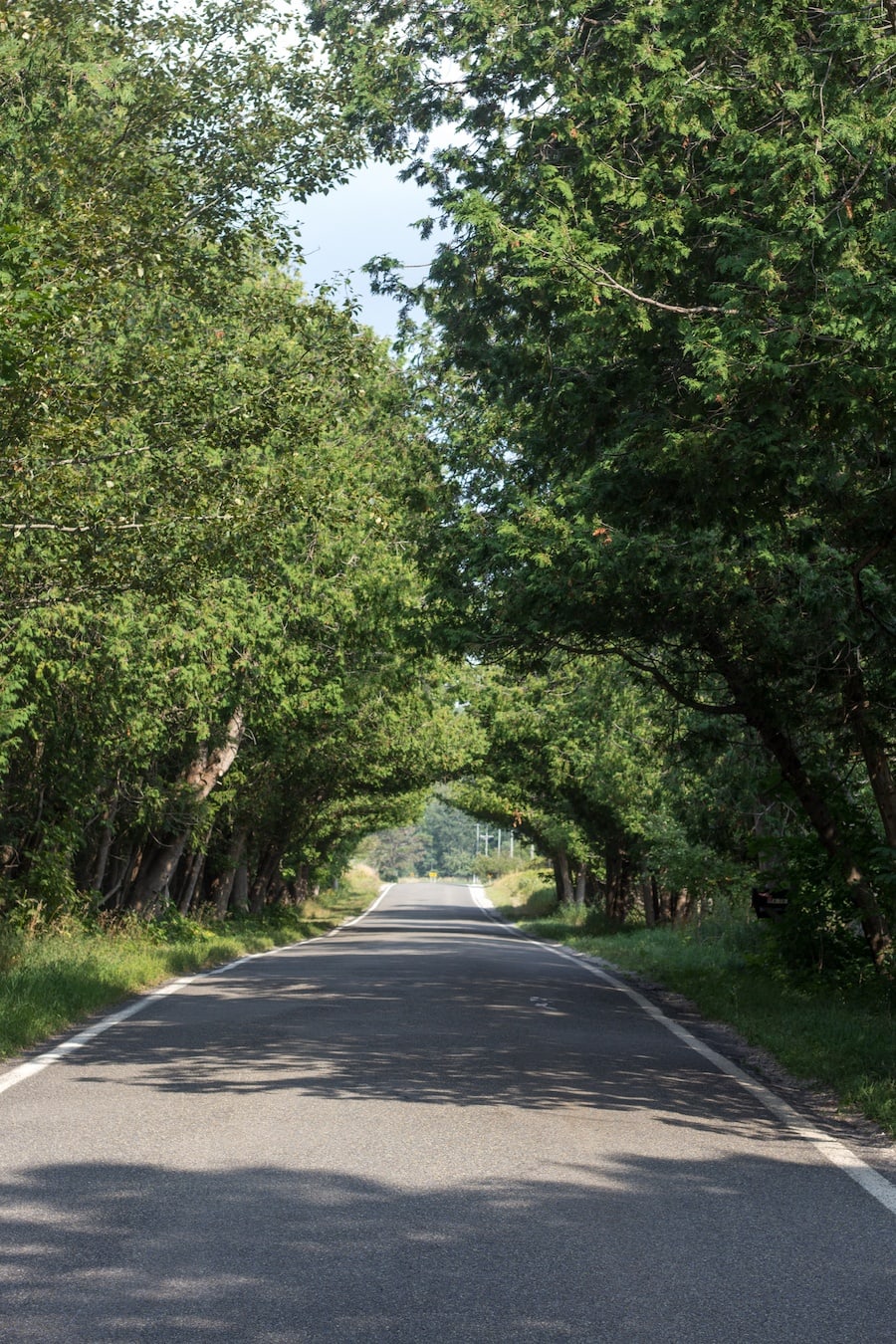 Photo by Rachel Haggerty
Cross Village
M-119 continues north for seven miles before ending at Cross Village and county road C-77, also known as State Road. Take State about a block to the corner of Levering Road to find Three Pines Studio. This art gallery features the work of more than 40 Northern Michigan artists and offers classes and workshops. Outside is a beautiful sculpture garden.
Back on the main street is the iconic Legs Inn where you'll find authentic Polish food. The historic restaurant sits on a bluff overlooking Lake Michigan—catch a sunset and visit the garden.
Travel Tip: The first Saturday of October, Three Pines hosts Great Lakes Pumpkin Patch Day. The studio is aglow with hundreds of handblown glass pumpkins.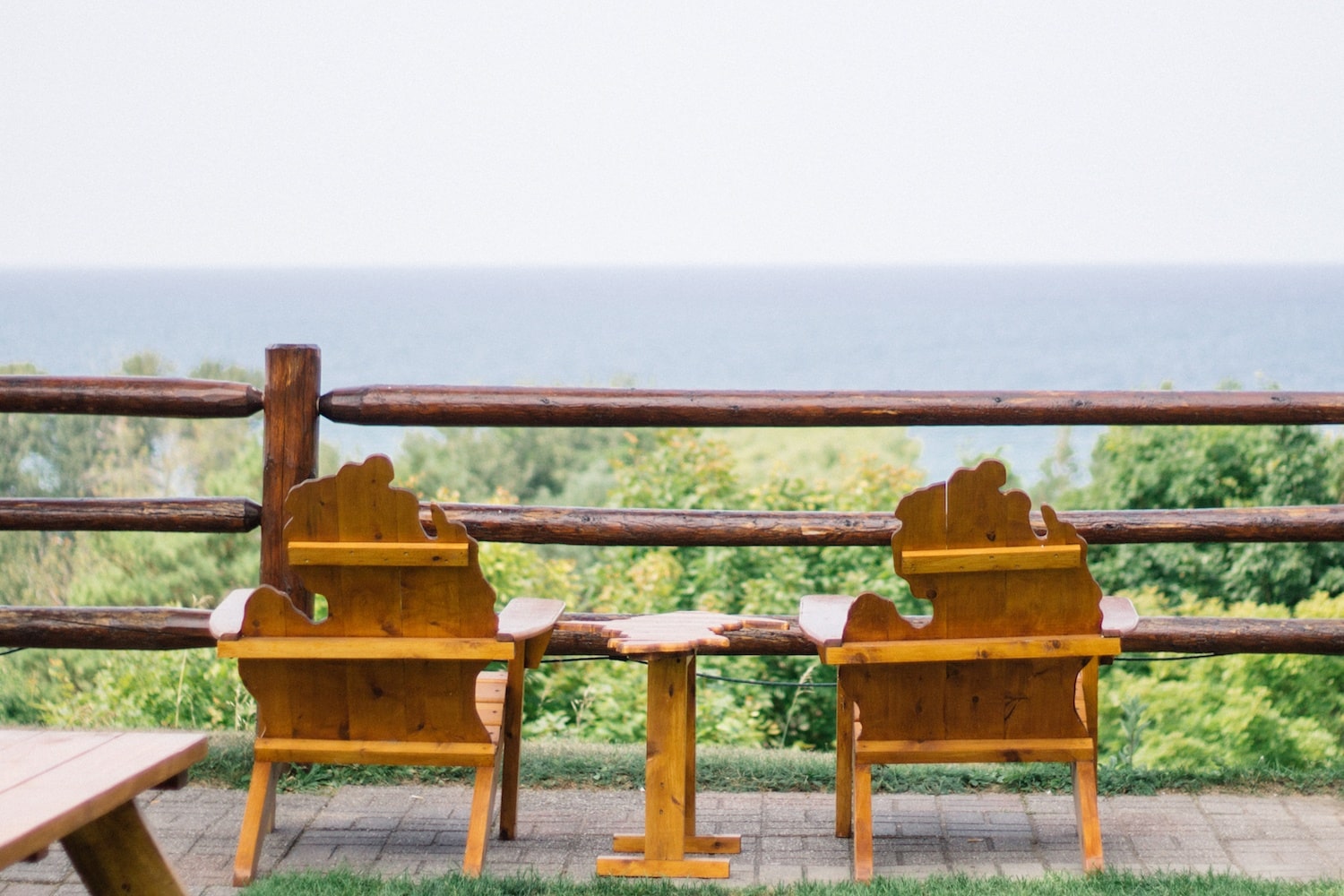 Photo by Rachel Haggerty
North of Cross Village
If you have time, continue on the same road about three miles north and, when it ends, turn left toward Lake Michigan. This takes you into parks along Sturgeon Bay. The pristine beach is great for walking and wading. Parking is available and beach access is free. The main entrance to Wilderness State Park is about 16 miles away (903 Wilderness Park Dr., Carp Lake). The park covers nearly 10,500 acres, has 26 miles of Lake Michigan shoreline and includes hiking trails, campsites and nine rental cabins. You'll need a recreation passport.
Travel Tip: Find a room in MyNorth's Hotel Directory
Photo by Rachel Haggerty
After the beach, retrace your route south to Cross Village. You can drive back to Harbor Springs through the Tunnel of Trees, maybe switching drivers so the previous one can rubberneck this time. Or you can take State Road (C-77), which is a shorter and faster route preferred by locals. About 1.5 miles south of Cross Village on the right is a roadhouse-style family restaurant called the Crow's Nest, where pan-fried perch is a favorite.
Stay the Night: Dinner and Lodging in Harbor Springs
Head back about 12 miles on State Road to Harbor Springs, where dinner choices include Stafford's Pier; in good weather, you can dine outside overlooking the marina and pick out your dream boat. Other dining choices include The New York and aforementioned Turkey's. Accommodations are available at the Best Western of Harbor Springs and Birchwood Inn.
Travel Tip: Your Guide to Harbor Springs Restaurants