Questions Answered for Red Hot Best of Northern Michigan Nominees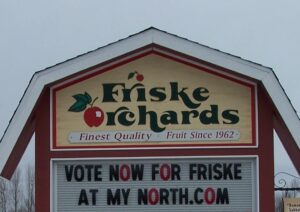 What to do, now that you've been nominated on the Red Hot Best of Northern Michigan ballot …
One of your valued customers or perhaps an enthusiastic employee has nominated your business in a Red Hot Best of Northern Michigan category on the ballot on MyNorth.com. Yippee! Thousands of voters can now choose you! Here are some of the most common questions asked during the Red Hot Best voting.
If we get the most votes, what happens? The top three in each category are listed in the June Red Hot Best issue of Traverse, Northern Michigan's Magazine, with a circulation of 24,000. Quite a coup!
We often post top ten Red Hot Best lists on MyNorth.com. When we do, the top three winners from the June magazine issue article are covered at the top, and the rest (7 through 10) are listed alphabetically. MyNorth.com gets more than 135,000 visitors per month, so that's also a very big deal.
Can Mom vote for me? What about Mom's friends? Absolutely! We encourage you to let people know you've been nominated. We allow one vote per email address. There are some security measures in place on the ballot to keep the vote honest.
What's the best way to share our news? By far, sending an email to all your customers, vendors, friends and family works the best. Put the link to vote right in the email. That makes it easy for folks to vote. Posting on Facebook is good, but only a few of your network will see it.
Here are some other things we've seen businesses do:
• Email is the best way to reach your fans. You might even do a "last chance" reminder when the voting is about to end to make sure everyone gets a chance to vote for you.
• Make up a little flyer to put in customer bags.
• Twitter, Instagram, Facebook, Snapchat.
• Put it on your chalkboard.
• Put a note inside menus, on table tents, or wherever you communicate with your customers.
• Change your sign outside to say, "Nominated for Red Hot Best on MyNorth.com."
• Put up a poster by your cash register.
• Put a notice inside statements or invoices when you mail them out.
• Change your voicemail or "on hold" message to say that you'd be honored to have customers vote for you in the Red Hot Best voting on MyNorth.
• Put a message and a link in your email signature.
• Tell your Mom … Moms are great at getting the word out!
When does voting end? March 15th, Wednesday at 5 p.m.
If thousands of people vote, is it worth it to campaign? Many of the categories are close races—we even have ties. So your friends and family could be the difference between not getting mentioned, getting on the top ten list or being first versus second.
Plus, being nominated is good. Sharing that message with your customers might remind them to use your services.
What do I do if there's an error in my information on the ballot? Please let us know, using our Contact Us form. https://mynorth.com/contact-us/ It may take us a business day to update the ballot. And if there's a duplication, we add the votes together.
Wait, I'm not on the ballot, how do I get nominated? Anyone can write in a nomination. Be sure to include all the information that the ballot requests, like the town where your business is located. Your nomination won't appear immediately. We review every nomination, so give us a business day to approve your nomination. If others also write you in, those votes will get counted, too.
What if there isn't a category that fits my business? We change up several categories every year, trying to reach all the facets of Northern Michigan life over time. We try to keep the ballot lively. We try to consider categories that would be interesting from a Petoskey, Traverse City or a Benzie point of view. And we hope to appeal to different personalities. If you'd like to recommend a category for consideration, let us know with the Contact Us form. https://mynorth.com/contact-us/