A week before Valentine's Day, USA Today has named Traverse City's Trattoria Stella the most romantic restaurant in the state. If you can't get a reservation, light a candle, read on and savor these hearty winter recipes by Stella's chef, Myles Anton, featured in the February issue of Traverse, Northern Michigan's Magazine.
[Click here to get a copy for your kitchen]
The sensory landscape of Chef Myles Anton's kitchen quiets in this moment. While fat snowflakes pile onto spruce boughs outside the kitchen, blue fingers of flame quietly dance under the heavy base of a cast iron Dutch oven enameled in Ferrari red. A stockpot gently percolates mirepoix and roasted pork bones, humidifying the dry winter air with a promise of warm umami. Myles reaches for a plate of cross-cut pork shanks, dusts them with sea salt and ends the fleeting stillness with a fierce sizzle as meat and marrow land in hot oil. Onions, garlic, sage leaves and shiitake mushroom caps join the fracas, hissing, popping and plying every corner of the room with a geyser of savory steam. As sweet Marsala wine reduces, Myles ladles warm pork stock over the bed of caramelized meat and vegetables, puts on the lid and slides the ossobuco into the oven for a long, slow braise.
Hands clear mise en place off the counter and a broom sweeps herb flecks and onion skin from the floor. The work, for now, is done, and it's time to go play in the snow while heat, moisture and time collude to turn a tough cut of pork into a meltingly tender masterpiece. With winter fully settled over the North, we team up with Myles Anton, gastronome-in-chief at both Trattoria Stella and The Franklin, to learn the art of braising.
"To braise is classically defined as taking a cut of meat that's seasoned, seared, partially submerged in liquid and cooked, covered, in a low oven for a long time," Myles expounds, as he preps a pair of sinewy red lamb shanks for an extended simmer with carrots, onions and marjoram in homemade stock. Myles is quick to point out that this isn't an endeavor for daintily trimmed prime cuts, however, "the best meats for braising are the tough ones. Bones, fat, collagen and connective tissue give these dishes serious flavor. They may not look as pretty as a perfectly seared filet but they smell and taste even better."
The act of properly searing and caramelizing the surface of the meat is, however, as vital to a pedestrian pork shank as it is to a prime dry-aged rib-eye. "You can do it with or without flour, but searing the outside kind of locks in the fat and creates a textural difference," Myles notes as he flours the lamb and sets it in a hot pan to brown. "Getting it to that deep golden brown stage with three to four minutes of searing caramelizes sugars, which build flavor in the dish."
Chef Myles shows us how to make fettucini with asparagus and spinach.
Apart from the tantalizing maillard given off by searing meat, the sublimely effusive smells from a pot of short ribs, shanks or shoulder roast braising over the duration of an afternoon are driven by the complementary base of herbs, vegetables and aromatics that Myles maintains is critical to the method.
"Almost all braising recipes call for the classic mirepoix mixture of onion, celery and carrots. The size of your chop, or whether the vegetables are left whole will differentiate how they contribute to the final dish." Mirepoix heavily caramelized over medium-high stove heat might completely meld into the sauce in a dish like ossobuco, whereas a dice sweated over low heat will maintain shape and texture. The whole carrots and halved shallots cooked in Myles's braised cauliflower recipe will even stand as individual components. Fresh herbs bring another dimension of nuance to the winter braising equation, and Myles finds that each meat plays best with specific herbs. "I really like rosemary with lamb, thyme and fennel with pork, and thyme or basil with chicken. For cauliflower or mixed vegetable braises, a mix of all of them will work."
Recipe: Braised Chicken Thighs
With the meat seared and nested in a perfect mélange of sautéed vegetables, herbs and aromatics, only a dousing of stock—1⁄2 to 3⁄4 inch deep—stands between Myles's braise and its two-hour-long session with the oven. Before we get into stock, however, Chef Myles is sure to stress that a well-braised cut of meat needs a proper vessel. While it will work to use any large ovenproof pot with a lid or even well-sealed tin foil, Myles prefers the 5.5- or 7.25-quart brightly enameled cast iron Dutch ovens made by companies like Le Creuset. "Cast iron distributes heat very well. The heavy lids seal in the moisture, and the pots are just plain sexy when you pull them out of the oven, and the smell hits you, and the inside edges are all browned."
Less sexy though equally important is braising with good stock, which, Myles tells us, can be as simple or complex as the home cook wants to make it. "At Stella and The Franklin we break down whole animals and use the bones to make all of our stocks," Myles says. He concedes he and his team are lucky that stock creation is integrated into their everyday process, but anyone cooking at home can likewise get bones from their butcher, roast them, add water and mirepoix and give the stock the time it needs to develop. Beef or veal stock should typically simmer for 12 hours, chicken stock for 4 to 6 hours and vegetable stock for about 2 hours.
Doubtless a long-simmered stock will compound your braise with extra depths of deliciousness, but if that seems inconvenient or overwhelming, Myles advocates hitting the grocery aisle. "It's pretty easy now to go to the store and buy organic vegetable stocks that are high quality, just stay away from bouillon or MSG-based products."
When Myles braises at home on a winter weekend, he might spend the two hours of oven time chasing his 7- and 4-year-old around in the snow, but whether at home or at work, he cherishes returning to a kitchen fragrant with braising. Removing the Le Creuset from the Stella oven and sliding off the lid, Myles reveals stark white lamb bones amid a savory caramelized sauce. He stresses the importance of letting the braise rest uncovered for at least 15 minutes before serving, and further suggests that for maximum flavor integration, these dishes should be made the day before, chilled overnight and reheated.
With a practiced palate, Myles tastes the sauce to adjust for seasoning and then portions the lamb shanks, garnishing them with peppery fresh mustard greens and a simple gremolata of chopped parsley and lemon zest to lend a bright acid contrast to the braise's richness. Chef Myles finishes this winter's dish with a drizzle of bright, extra virgin Italian olive oil and a side of soft polenta. Dinner, we're told, is served.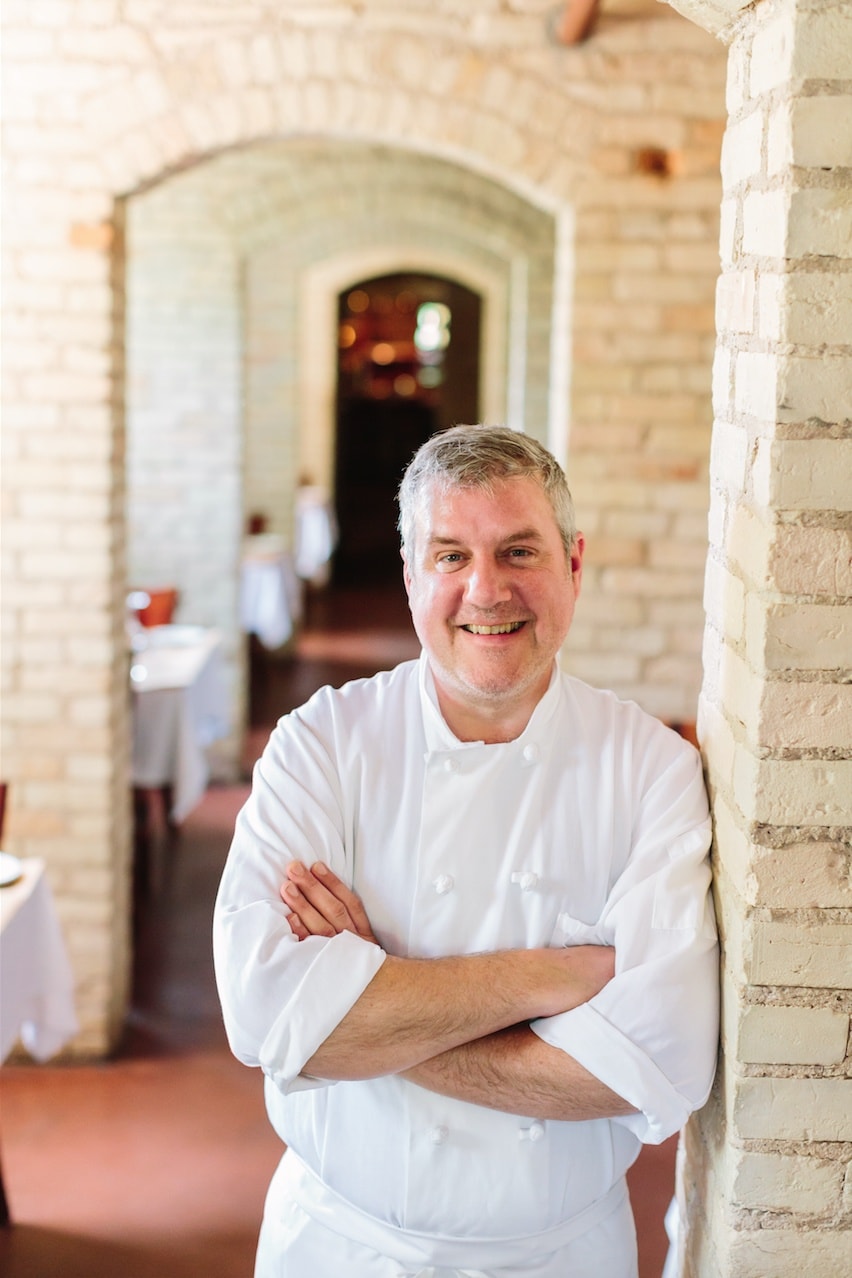 ---