Like Kiss before them, Here Come the Mummies is a costumed group whose identities are unknown. While the Starchild and the Demon eventually became well known as Paul Stanley and Gene Simmons sans makeup, the Mummies remain wrapped in gauze, tape and the kind of secrecy usually reserved for the witness protection program. This anonymity is both schtick and necessity, as some of the band members are reportedly bound by contract to studio work only. Among them are rumored to be several Grammy winners, who have played alongside some of the leading lights in the music world.
The group's raw, Memphis-style funk and R&B is meant to get hips shaking and feet dancing, while the lyrical imagery is full of double entendres. After all, this is a band that released a CD entitled Carnal Carnival. The group has performed at the National Cherry Festival twice, as well as Streeters in Traverse City. Its upcoming October 21 show is the first tour date for the Nashville-based funk outfit at Little River Casino Resort in Manistee.
The eight-piece band, a full rhythm section plus horns, calls its music "terrifying funk from beyond the grave." Members go by such names as Mummy Cass(anova), Eddie Mummy, KW TuT and Spazzy Mummy. Though reluctant to do any phone interviews except for radio, the band is happy to do email exchanges, such as the following. The band's PR contact says, "All the guys chimed in, and Spaz took dictation."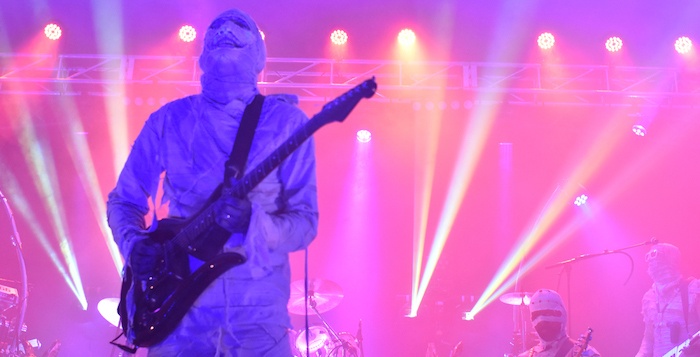 MyNorth: Why the mummy suits?
Mummies: Suits? Our fetid rags are fused to our flesh with the funk of five millennia, baby. Think of them as onions baked into a "people jerky" casserole. There's no separating that mess now.
MyNorth: Living dead? Undead? Which are you, or is there a better term to use? After all, I'm sure you don't want to be confused with zombies or vampires.
Mummies: We prefer the term "half-dead," but "undead" is also accepted.
MyNorth: Why the mystery about who's in the band?
Mummies: When we were cursed by the Pharaoh, we kinda lost ourselves. We were mortal men once, with lives and families, not the half-dead (albeit super-talented) husks we are today. In any case, ladies like mystery. So, 'nuff said.
MyNorth: Who is in the band these days? Who is the longest-tenured mummy?
Mummies: Mummy Cass, Midnight, Ra, Eddie Mummy, KW TuT, Spaz, The Pole, The Flu and Will Pharaoh. We all go way back together.
MyNorth: How has the band changed this millennium, stylistically and personnel-wise?
Mummies: Well, we always have liked to explore different styles, even since the beginning. So in a way, the more things change, the more they stay the same. On our latest record, Underground, we did do quite a bit of sonic experimentation—with fun results. We think it is our best yet.
MyNorth: What's the best gig you've done recently? What's the best gig you've done ever?
Mummies: This will sound crazy but it is actually quite true. Every gig is the best one we have ever done when we are playing. It don't matter if it's hot, cold, big city, tiny burg or there's a swarm of locusts descending. And we hope that that feeling gets across to our fans every time.
MyNorth: Why do you only do email interviews?
Mummies: That's just the way the devil taught us. That, and how else is Spaz supposed to become a good typist? Once in a great while, we do go on the radio, and that's cool, too.
MyNorth: Who are some of the musical artists who have influenced the band? Any non-musical performers who are inspirations?
Mummies: Earth, Wind, and Fire, Parliament, Stevie Wonder, Otis Redding, The Meters, Sly and the Family Stone, James Brown, Ray Charles, Smokey Robinson, George Jefferson, Booker T, Dick Van Dyke, Van Dyke Parks and Charlie-Parker-Posey.
MyNorth: How many members in the touring band? The recording band?
Mummies: Usually eight or ten of us show up for gigs, but that can be somewhat problematic—like when K.W. TuT and The Pole both show up and they have to play Rochambeau to decide who plays bass that night.
Tickets for the 9 p.m. show October 21 start at $20, though it's reportedly sold out. Check with the box office at lrcr.com, or check Craigslist or Stubhub.
---
[publication mode="thumb" name="vg-benzie" align="left" link="viewnow"]
#2016 #Manistee #Events #Stage #Music_&_Art