Event Supports the Preservation of Elk Rapids Area Historical Museum
Photo(s) by Elk Rapids Area Historical Society
Pearl's New Orleans Kitchen in Elk Rapids is hosting Happy Hour for a Cause Tuesday, October 25 from 5 to 7 p.m. The event will support the Elk Rapids Area Historical Society and Museum in its effort to restore the original, early 1900s stained glass windows in the museum.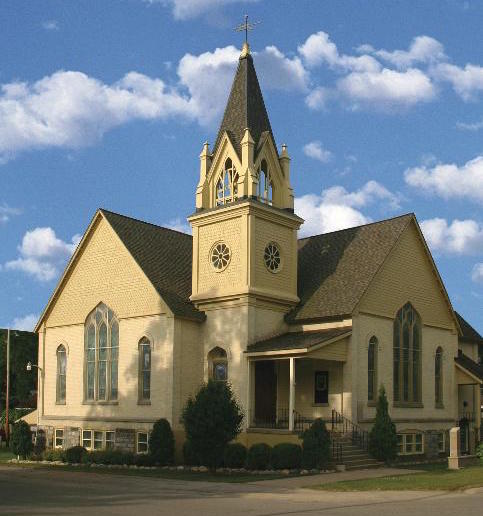 During Happy Hour for a Cause, there will be complimentary hors d'oeuvres and drinks at happy hour prices. Tickets cost $10. If you would like to make a donation but cannot attend the event, please call 231.264.0530.
"Our building and land were donated to us by the congregation of the former First Methodist Episcopal Church of Elk Rapids," says Dan LeBlond, president of the Elk Rapids Area Historical Society. "We accepted it with the mutual understanding we would preserve this 115-year-old structure."
This year, the Elk Rapids Area Historical Museum has replaced the plumbing, installed a lift and updated two bathrooms. The next project is to repair 13 stained glass windows, which will cost $22,000.
"The character of the museum building is largely defined by its Gothic-arch windows in a variety of shapes and sizes," Dan says. "The windows include 13 filled with stained glass, of which all but five were put in during the original construction in 1902. Eight of the oldest windows were made by the John J. Kinsella Glass Co., a Chicago firm that was in business from 1872 to 1931.
"The eight windows depict dove, fleur-de-lys, water lily and other flower designs; crowns, crosses, Bibles, oil lamps and other Christian symbols outlined by curvilinear vine forms. The five windows installed later (1948, 1949, 1952, 1977 and 1980) contain more religious depictions, with two having been modeled after paintings done by a well-known German artist, Johann Heinrich Hofmann (1824-1911). All these windows are worthy of preserving for future generations to admire and appreciate."
The Elk Rapids Historical Museum has a wide variety of exhibits including a replica of the Township Hall's old 1883 jail, vintage clothing, antique tools, local artist displays and more.
The Elk Rapids Historical Museum is located at 301 Traverse St.
---