In Northern Michigan, our furry friends love outdoor adventures just as much as we do. Whether you're hiking, running, boating, or paddleboarding, dogs are always down for a tail-wagging good time. But just like us, our dogs need to be properly dressed and nourished, especially when being active. Before you go on your next outdoor adventure with your dog, make sure you're both prepared.
For people who enjoy the Northern Michigan outdoors with their dog, we talked with Gary Albert, the owner of Ruff Life Pet Outfitters in Petoskey, about seven things pet owners need to know to keep their dog healthy and happy this spring.
1. Get your dog outside for as much exercise as possible. Dogs can put on winter weight just like us. Bonus: It also helps you stay active.
2. In the spring, head to the vet for your dog's yearly shots and heartworm test. When it starts getting warm outside, the mosquitoes and ticks come out. Protecting your dog is important.
3. In early spring, there is still some snow in the woods, so it's a good idea for your dog to wear boots. Sticks may be hidden under the snow that your dog can't see, and they could cause injury to your dog's pads.
4. Spring is a good time to start planning your Up North vacation. Do your research and find out which hotels allow dogs. Contacting the local chamber of commerce is a good start. "Ruff Guide to the United States" is another good source of information. It features 365 of the best places to stay and play with your dog in all 50 states.
5. If you're going boating with your dog, a life jacket is essential, even if you're just paddleboarding. Some dogs may be good swimmers, but they get tired just as a human would. And if there is an undercurrent, they can easily be pulled into it and carried away or dragged under water.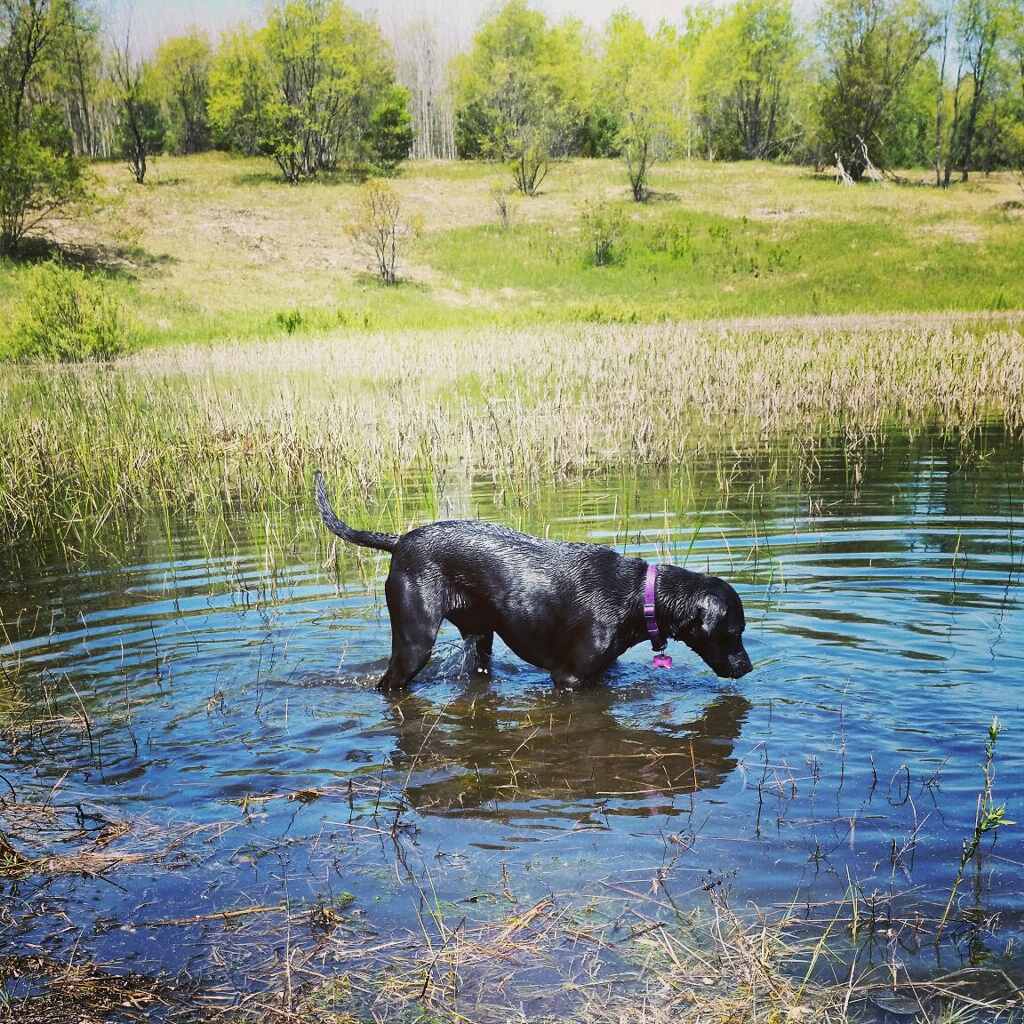 6. One of the top problems vets treat on dogs is corneal abrasions. When your dog is out running in fields, boating, or sticking their head out of the car window, insects can fly into and scratch their eyes. Doggles Eyewear (yes, they make goggles just for dogs!) can help protect your dog's eyes from bugs and UV rays.
7. Make sure to pack water and snacks whenever you're going out for a hike or boat ride. Water alone isn't enough for your dog. If you're going on a day excursion and are packing a granola bar or lunch for yourself, make sure to bring a snack for your pup too. 
Extra tip! Dogs need protection from the sun's rays, too. My Dog Nose It Best is a pet-safe product that can be applied to your dog's nose and exposed skin on thin and short hair dogs. 
You can find all of these dog products at Ruff Life Pet Outfitters located at 309 Howard St. in Petoseky.
---
#2016 #Emmet #Petoskey #Live_Here #Outdoors