Lindsay and Christopher wanted their wedding to be a mini-vacation for their guests. They found the perfect destination complete with gorgeous views, golf, boating, and shopping at the Grand Traverse Resort & Spa in Traverse City. With help from the resort's staff, the couple's Grand Traverse Resort wedding was exactly what they'd envisioned.
Photos: Cory Weber Photography
A weekend trip north for Chicago residents Lindsay Thompson and Christopher Lipari helped them find the ideal location for the Labor Day weekend wedding they envisioned. Naturally the couple sought a venue that would make a lovely stage for their wedding, but the venue would also have to feel like a satisfying mini-vacation for their guests, many of whom would be traveling long distances. Her family is all in California and Chicago. His family is in Detroit.
The couple selected the Grand Traverse Resort and Spa in Acme, just east of Traverse City, in large part because of the connection they made with Liz Brooks, Grand Traverse Resort's special events manager. "She played a huge part—we felt we connected with her on the first day we met her. She had answers to all of our questions, could accommodate all of our guests, and she executed our vision. Every time we talked with her she made us feel we were a priority and she was going to bat for us—and she did," Lindsay says.
The Grand Traverse Resort's numerous offerings and amenities—golf and tennis, on-site spa and pool, boating, shopping—also helped seal the deal. That the resort was re-doing its beautiful Tower rooms was a bonus. "So many of our guests ended up raving about that," Lindsay says.
Celebrating Northern Michigan's landscape and the outdoors was important to the couple. "As far as aesthetics go, I wanted to be outside because Traverse City is so beautiful," Lindsay says. "With weather being a little unpredictable, we wanted a tent … I wanted to bring the outdoors inside the tent. I wanted a romantic, elegant feel."
To achieve that plein air, natural feel, the couple worked with a vendor who decorated the poles of the Grand Traverse Resort's own Plaza reception tent—located near the golf course—to look like towering trees. Lights made the branches sparkle. An altar designed by the couple featured willows. "Her style was on point—it was very classic, very elegant, not over the top. It was the perfect amount of perfect," the resort's Liz Brooks says.
With 250 wedding guests, Lindsay and Christopher realized they'd be hard-pressed to be able to catch up with friends and family as much as they'd like on the day of their wedding. For this reason, they hosted two other gatherings over the weekend, first an "all-white" beach barbecue Friday night and then a Sunday brunch at the resort's gorgeous Tower restaurant, Aerie. "It gave us time to give each guest quality attention," Lindsay says, adding that a post-brunch gathering with the bridal party and family members featured time on the water in rented pontoon boats. "Everyone enjoyed all of our events."
Liz couldn't agree more about the success of the weekend. "They're just a beautiful couple," she says. You can really tell when two people are in love, and they just complement each other well, from their humor to their seriousness. They are a match made in heaven."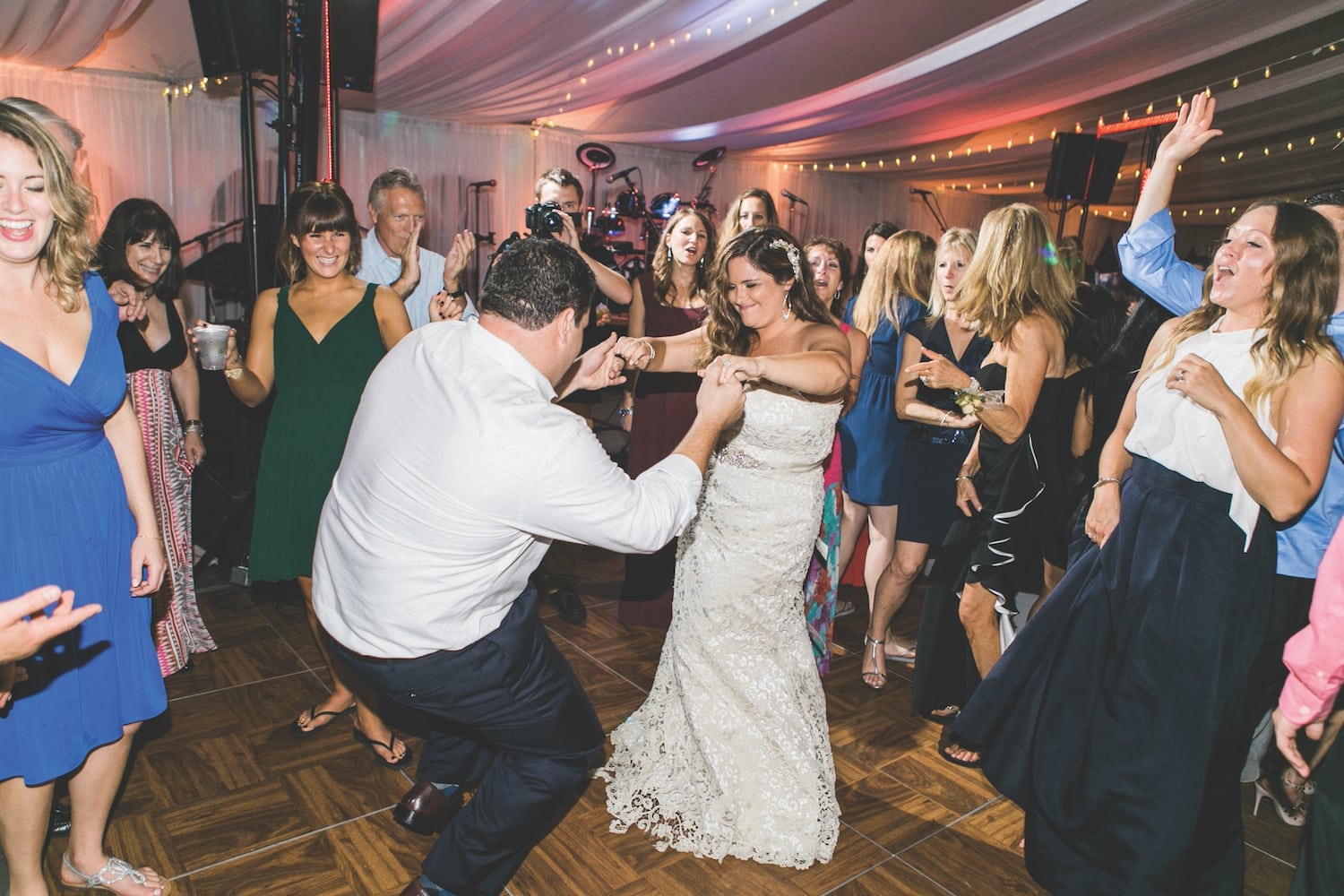 ---
Click the cover to read the latest issue of MyNorth Wedding!
[publication mode="thumb" name="weddings" align="center" link="viewnow"]
---