In the April 2015 issue of Traverse, Northern Michigan's Magazine and Northern Home & Cottage, discover one of Michigan's best features, the abundance of blue hues!
Shore Find
Leelanau Peninsula beaches are dabbled with Leland Blue, the blue-green slag from a Leland iron-smelting factory that operated in the 19th-century. Make a statement with it around your neck. $595. Becky Thatcher Designs 
(stores in Traverse City, Glen Arbor, Harbor Springs and Leland), 231.947.5088, beckythatcherdesigns.com.
Blue 
Hue

Make a bold décor statement for a mere $11 with this fabulous vase. We repeat: $11. Cali's, 242 E Front St. Traverse City, 231.947.0633.
Water Colored

A timeless chair upholstered in soft, glossy leather. The manufacturer calls the color Caribbean. We call it Torch Lake on a Sunday in July. Or Walloon? Glen? Do I hear Lake Charlevoix? Lake Leelanau? The shallows of Lake Michigan anywhere along the northwest Michigan coast. You get the picture. $1,943. The designs on the pillows reminds us of the truss work on a certain bridge we love. $81 each. URDEZIGN LUGAR, 4444 US31 N., Traverse City, 231.518.4148, urdezignlugar.com.

Blue Moo
A well-placed cowhide adds texture and interest to any room setting. But we particularly like the way this one folds back for a powder blue reveal. $564. Find it at Ella's, 209 E Front. St., Traverse City. 231.947.9401, swingbyellas.com.
Morning Michigan
Use this chirpy towel to dry the coffee mugs, then head into the mitten for the kind of adventures we adore on our freshwater peninsula: hike, boat, fish, ski, paddle, beachcomb … $16. Suhm-Thing, 153 E. Front St., Traverse City, 231.941.0150.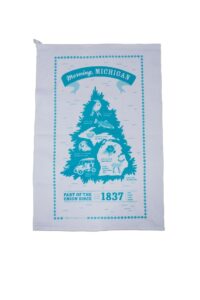 Freshwater Plates
Perfect for a small-plate supper served shoreside. $12 each. 
Cali's, 242 E Front St., Traverse City, 231.947.0633.

Michigan's Masterpiece
Hang this photo-on-canvas of the Mackinac Bridge on your wall and take daily inspiration from its majestic span. 2-by-3-foot photo. $375. My Secret Stash, 122 Cass St., Traverse City, 231.929.0340, mysecretstash.com.
More Northern Michigan Home & Cottage