Rustic elegance underscores Carter and Todd Oosterhouse's new trendsetting winery Bonobo. Already a destination winery, Bonobo's remarkable interior welcomes guests to revel in a space inspired by its sweeping views of Old Mission's rolling vineyards and West Grand Traverse Bay. When you walk into Bonobo, big features catch your curiosity, like the tall sliding doors made with reclaimed barn wood sourced by Carter and Todd, the long lustrous white bar and three chic chandeliers—originally used to decorate Carter and Amy's wedding. With a magnificent tasting room, unique nooks to cozy-up in, a library full of curios, plus an airy gallery where classes will be held, Bonobo's style is vivacious. To learn about the force of nature behind the design, MyNorth's Dani Knoph checked in with interior designer Kim Hooker of Cedar Creek Interiors who filled us in on everything from choosing the palette to finding the right furniture.
---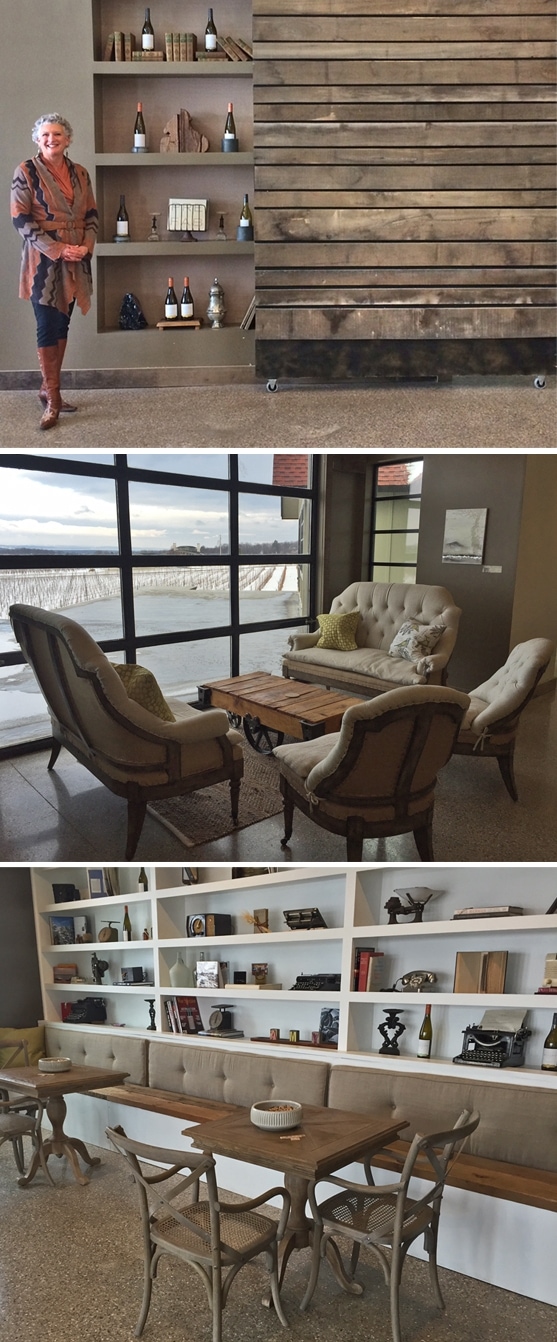 Dani: Kim, when you and Carter established the vision for the space, how'd the project unfold?
Kim: Once Carter conveyed his vision to me, which included natural barn wood, aggregate floors and elegant rustic lighting, I established the palette for paint to be a deep but subtle backdrop for those elements. Then I went directly to the furnishings resource to select the specific groupings for each vignette, as well as barstools, dining tables, chairs, accent mirrors and lighting. All of the elements for the project were compiled and developed on a large concept board. The Bonobo team could then envision what the final picture would be by seeing the layers of shape, texture and color. Once critiqued and tweaked, Cedar Creek went about ordering, expediting and installing the eighty-plus pieces of furniture.
Dani: Color, texture, light—these elements of interior design set the mood for how we experience a place. What inspired your palette?
Kim: The landscape of the property on which Bonobo Winery sits gave me tremendous inspiration for what mood to set throughout the interior. The layered textures of the panoramic views, made up of sweeping rows of vines, rolling orchards and the sprawling body of grey-blue water beyond, were all I needed. The color palette was established by borrowing from earth, bark, cloud-filled sky and the late harvest grapes in the setting sun. I used all natural fabrics that reflected these hues, such as un-dyed linen and hemp, grey-blue wools and velvets, grey-washed oak, white marble and battered brown leather.
Dani: What was the most rewarding part of designing Bonobo's interior?
Kim: The most rewarding part of designing Bonobo's interior was the amazingly positive reaction after installation from Bonobo owners, staff, founders, friends and most importantly, the patrons of Bonobo. I am grateful to Carter, Todd and Heather for their faith in my ability to make this vision a reality.
Dani: Say somebody wants to recreate a similar look in their own home, what Northern Michigan resources do you recommend?
Kim: We anticipated that many patrons would be interested in both specific pieces of furniture, as well as attaining the same ambience in their own homes. Therefore, Cedar Creek Interiors along with Bonobo, has created a marketing package which allows guests to purchase any of the furnishings at discounted retail pricing. Cedar Creek gives back a portion of every sale to Bonobo, in gratitude for having us involved in their magnificent, ground-breaking winery.
---
Big thanks to Kim Hooker for sharing her interior design experience with Bonobo. To find out more about Bonobo, visit the winery on Old Mission Peninsula and check out our interview with Bonobo's Marketing Director and Tasting Room Manager Heather Fortin. You can find out more about Kim Hooker and Cedar Creek Interiors here.