Northern Michigan holds a special place in the hearts of many, so if you're searching for a gift that'll speak to a northern-loving heart, ShopMyNorth has exactly what you're looking for. And you can feel good knowing every ShopMyNorth gift you purchase supports Northern Michigan businesses.
---
Northern Michigan Gifts She'll Adore
ShopMyNorth's jewelry and apparel collections are filled with fun and stylish necklaces, bracelets, earrings, shirts, and more made by talented artisans in Northern Michigan. Whether you're shopping for your mom, girlfriend, sister, or friend—she'll love these gifts!
Frankfort Green Christmas Tree Earrings
Kevin Gauthier, and his gem and jewelry store Korner Gem in Traverse City, is known for beautiful pieces featuring Petoskey stones with indigenous stones and/ or gems. Two of his favorites are Leland Blue and Frankfort Green, which are actually slags, a glassy byproduct left over from the smelting of iron ore, which you can find on beaches in the area. These Christmas tree earrings are accented with sterling silver and gold filled parts to create a great piece for the holidays. View more Korner Gem jewelry!
Keef Company – Pink Baseball Cap
Keefer Edwards founded Keef Company in the summer of 2014 when he was 17. He makes hats, bags, wallets, and apparel using cork, organic cotton, and recycled fabric. Keef also takes pride in making each piece right here in Michigan. She'll look good and feel good wearing this sustainably made hat! View more Keef Company products!
This freeform sterling silver ring is made with sea green chalcedony, which is a variety of quartz. For $24.50, you'll be able to get her a stunning, and affordable, gift. View more pieces in the Lake Street Collection by Pond Feather Jewelry. (We're also loving the beautiful Lake Michigan bar necklace and the Sleeping Bear Dune earrings!)
Smitten Plaid Raglan Tee
She'll want to rock this comfy buffalo plaid smitten tee all winter! Based in downtown Boyne City, Smitten by the Mitten creates original shirt designs and handcrafted jewelry inspired by the Michigan community—we love it all! View more Smitten by the Mitten products, like this matching plaid sweatshirt.
---
Northern Michigan Gifts for Guys
ShopMyNorth also has lots of gifts for the guys in your life. Find apparel, hats, outdoor gear (which gals will also love!), and more. Here are a few of our favorites.
The Original Stormy Kromer Cap
Every northern man needs a sharp hat to stay warm in the winter. This six-panel, hand-stitched beauty is built for comfort, and for 100 plus years, it's been an icon of the great American outdoors. If that's something you identify with, this cap will look great on you. View more Stormy Kromer apparel.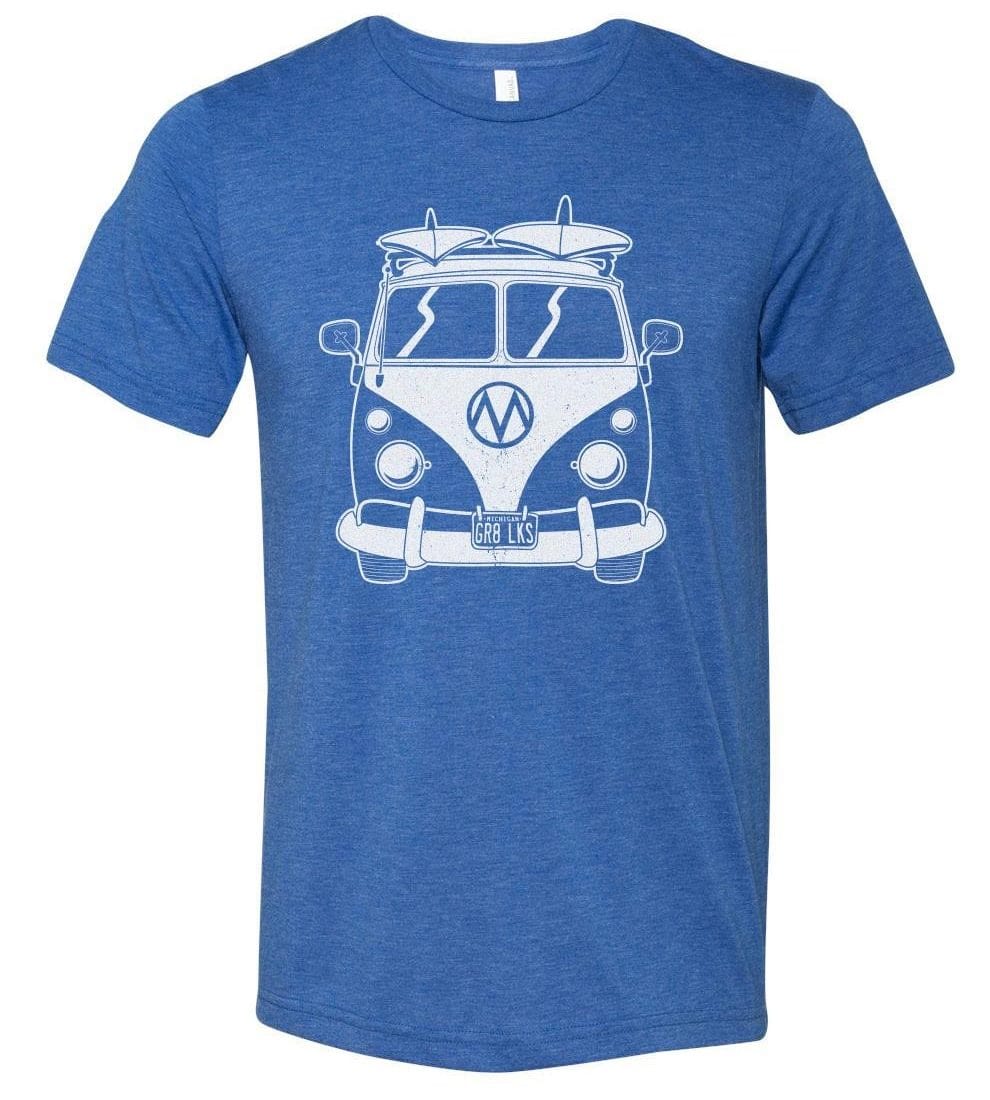 MichiVan Unisex Tee
This Tee See Tee shirt is a classic. Just when you have fallen in love with the totally nostalgic styling of the front of this MichiVan, here comes the back side, bumper stickers and all! Wear it on your next Up North roadtrip. View more awesome designs from Tee See Tee.
This book is the perfect gift for backpackers, campers, and hikers. Jim DuFresne, the author of more than 20 travel and outdoor guidebooks, guides hikers on 50 hikes through the Lower Peninsula's unequaled system of state parks and natural and wilderness areas in the third edition of this classic. They'll enjoy more than 100 photos and 60 highly detailed maps. View more great reads!
---
Northern Michigan Gifts for the Home
These beautiful pieces will remind you of Up North! Find pillows, blankets, artwork, and more on ShopMyNorth.
This beautiful 6×6-inch tile was designed and sculpted by Tonya Lutz of Whistling Frog Tile in Ferndale, Michigan. It's conveniently notched on the reverse side for hanging and is suitable for installation indoors or outdoors. Tonya also has tiles featuring Mackinac Island, Traverse City, Harbor Springs and more of your favorite places Up North. View more tiles by Whistling Frog!
Summer Sail Overboard Ottoman
Practical and pretty! The overboard ottoman can be used to kick up your feet and unwind or to add extra seating during cocktail hour. Don't worry about spilling, the cover is removable and washable. (Ottoman designs also include fancy birch and summer bikes.) View more beautiful pieces for your home by Leland Gal.
Show your state pride with this 18-inch square pillow. It comes on a white or solid colored background with an assortment of patterns and colors for the back. Great for the cottage, porch, or boat! Plus, it's hand printed and sewn right here in Michigan.
---
Classic Northern Michigan Gifts
These gifts are for people who truly love being Up North. The beaches, trails, farms, and food. The sense of place and community. These gifts really are pure Northern Michigan.
Why We Preserve: The Leelanau Conservancy Through the Lens of Ken Scott
The absolutely stunning book features beautiful photographs of Leelanau Conservancy Natural Areas and Preserves taken by local photographer Ken Scott accompanied by essays from Elizabeth Edwards, Carolyn Faught, Deborah Wyatt Fellows, Thomas Nelson, Brian Price, and Martha Teichner.
Heirloom Glass Cherry Ornament
A sweet reminder of Northern Michigan's bountiful fruit country, this ornament adds a quintessential touch of Traverse City to your tree. A great gift for party hosts, co-workers, and friends.
For a gift that arrives nicely packaged and ready to enjoy, send a Benjamin Twiggs gift set. One of many, this Coffee-Chocoholic gift box features dark chocolate coffee beans, dark chocolate cherry coffee toffee, Bavarian Dutch chocolate coffee and an adorable Michigan coffee mug.
Deluxe Traverse Magazine Gift Subscription
With a deluxe Traverse, Northern Michigan's Magazine gift subscription, they'll celebrate Northern Michigan all year long! This affordable and memorable package delivers them a handsome slipcase to organize their collection, plus:
The current issue on newsstands now
A slipcase to keep issues organized
Plus 12 issues of Traverse, Northern Michigan's Magazine
6 issues of Northern Home & Cottage
5 MyNorth Vacation Guides
Northern Real Estate
MyNorth Holidays
Find more great gift ideas organized in easy-to-shop categories like Petoskey stones and cherries at ShopMyNorth.com.