Healthy Halloween Tips for Northern Michigan Kids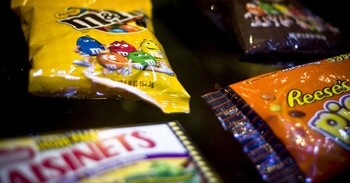 We are only a few weeks shy of Halloween which means an overflowing candy bowl is closer than ever. To battle the sugar goblins, the MyNorth staff put together a few creative ideas and healthy Halloween tips for Northern Michigan kids (and parents too!) See below for our tips & tricks!
Eliza – The Pumpkin King
When I was younger the "Pumpkin King" visited my house on Halloween night. I always found Halloween extra exciting because in exchange for my unwanted candy I got some great Barbie's and books out of the deal. I was never a sugar hound and I was introduced to the Pumpkin King when I was a little bit older after my parents learned about the concept from some family friends. After he was introduced it quickly became a yearly tradition until the trick or treating era of my life ended. The Pumpkin King was a fairly straightforward tradition. My sisters and I would come home after trick or treating, dump the contents of our plastic pumpkins out and sort through it. Our parents gave us a number of pieces we could keep and the rest went to the Pumpkin King. We would bag it all up, put it on the back porch and in the morning, voila! There would be a little something for each of us.
Rachel – The Candy Fairy
At the North household, it was the Candy Fairy who came a few days after Halloween. And in return for the over abundance of candy from the night, she also delivered a toy like one of those Groovy Girl dolls. For older children, books were the prize. As with Eliza's family, children sort out the "keepers" and then send the rest off to be distributed by the Candy Fairy to kids who don't have as much. Her bounty was hung outside from a tree branch and the next morning there would be her gift hanging as well.
Donating Candy to Soldiers
Some Northern Michigan dentists offer Halloween candy buy back programs. Beacon Dental in Charlevoix and Gaylord offers $1 per pound of candy brought in. Candy is then turned over to Operation Gratitude, which will share them with U.S. troops serving overseas, their children left behind and "Wounded Warriors" recovering in transition units. Anyone can donate candy for Operation Gratitude at Beacon Dental, by dropping off candy at the Charlevoix or Gaylord location, whichever one is closer to you! You can drop off at either location from 1–5 pm on Monday, November 3—Friday, November 7. This year they are giving away $150 to the 2 top schools that collect the most candy!
Drop off Locations: 06483 M-66 Highway North, Charlevoix, MI 49720  OR 1723 M-32 West Building B Gaylord, MI 49735
Munson Medical Center
Munson Medical Center's myWellness team and Northern Michigan Diabetes Initiative are again partnering to promote healthy eating habits while giving back to troops this Halloween. Last year, donations for troops overseas filled a large bag.
Children and their parents are invited to bring a portion of their sweet stash collected this Halloween, or leftover treats that were not handed out, to Employee Health at Munson Medical Center or Community Health at Munson Community Health Center from 8 am – 4 pm on Tuesday, Nov. 4 and Wednesday, Nov. 5. The candy will be donated to American Legion Auxiliary Units in Traverse City and Fife Lake to be packaged and sent to Grand Traverse County natives serving overseas.
Parents dropping off candy for their children may enter a drawing for a scooter.
Candy isn't necessarily all bad and evil, but moderation is key. We have compiled a list of eight candies that are "healthier" options and will make sorting through trick or treat bags a little bit easier…
8 Healthier Candy Options
Raisinets
3 Musketeers Minis
A pouch of Peanut M&M's
Tootsie Rolls
Mini York Peppermint Pattie's
Dark Chocolate i.e. Hershey's Special Dark Mini's
Hershey's Kisses
Mini Reese's Peanut Butter Cups
More Northern Michigan Kids