Traverse City National Writers Series Season Kickoff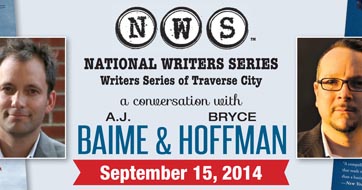 The National Writers Series in Traverse City kicks off their fifth season on Monday September 15, 2014 at the City Opera House. Two authors A.J. Baime (author of Arsenal of Democracy) and Bryce Hoffman (author of American Icon) will be sharing the stage with the dame of automobile journalism and guest host, Jean Jennings. 
Although the event is based around the books, that's only a starting point for the discussion notes Jill Tewsley, Executive Director of the National Writers Series.
"I think It is important for people to know that you don't have to read the book(s) to attend and enjoy these events. Our events are always surprising and entertaining. I can't tell you how many times I have heard our event patrons say that they didn't read the book and they weren't going to come, but that they were so glad they did," she said. "I have been looking forward to this event for some time now. I think it is a perfect catalyst of stories that are going to merge on stage for an unforgettable evening."
Sponsorship from Hagery Insurance and North Peak has also helped generate buzz and interest around this event in the local community.
"We are national in scope, as our name NATIONAL WRITERS SERIES suggests, but one of the things that I truly love about NWS is that it is community-driven and community supported," Tewsley said. "Wayne Lobdell and McKeel Hagerty are not only sponsors of the event but they have been proactive in telling others about this event as well.  Having people like McKeel and Wayne spread the word about NWS events is important because they help us reach new supporters and expose people to NWS for possibly the first time."
As a sponsor, McKeel Hagerty, President and CEO of Hagerty Insurance, says that he is looking forward to an interesting discussion.
"The combination of these two authors at the same event will not only provide unique perspective on two very significant events in the automotive industry," he said. "The discussion will elevate for the audience the significance of industry in Michigan and the role it has played in world history."
The event begins with a reading from an NWS workshop participant, Margot Woughter, who will be reading her essay that was recently published in the NWS Literary Journal.
"I love that we can feature the writing from one of the students that has participated in one of our writing workshops. The National Writers Series features events with some of the finest authors writing today but it supports writing programs that are creating some of the best young writers of the day. And, it is all happening right here in Traverse City," Tewsley said. "The piece is truly breathtaking and not something that attendees will soon forget."
Not only will guests see the discussion but there will also be themed morsels for guests to snack on and a book signing afterwards. The special "Whatta Book Deal" allows ticket holders to purchase a copy of Arsenal of Democracy (hardcover) and a copy of American Icon (paper) for an additional $24. Tickets are available on the City Opera House website or by clicking the link below.
BUY TICKETS
Premium Reserved Seating: $35
Reserved Seating: $25
General Admission: $15
Educator Discount: $5 off ticket price with valid ID
Student Discount:  $10 off ticket price with valid ID
Find out more about the National Writers Series by checking out their website, liking them on Facebook, or following them on Twitter.
More Northern Michigan Books