Mario Batali Helps Preserve Leelanau County Farms
Mario Batali has teamed up with the Leelanau Conservancy to raise funds in an effort to give back by maintaining historic farmsteads in Leelanau County. Read on to learn about Batali's admiration for the Northern Michigan food and drink community and the farmers and land whose legacy Batali has helped to preserve.
---
Scents of garlic chive and allium, perfumes of early summer's ecstatic growth at Healing Tree Farm at DeYoung Natural Area Farmstead, near Traverse City, accumulate in the warm air as farmer Samantha Graves spells out her family's experiment in permaculture guilds. It involves individual, self-regulating ecosystems built around each fruit tree, she explains—elevated, leading edge agricultural principles in action—and standing here taking it all in is Mario Batali, contemporary food icon and local farm champion, his neon orange sandals planted firmly in the healthy black dirt. Batali nods in rapt attention while his boisterous young sons, Leo and Benno, tussle beside an old barn.
Batali, his family and a small entourage from the Leelanau Conservancy are on a tour of three Leelanau farms today, all a part of Batali's responsibilities as the conservancy's Honorary Chair for Farmland Preservation. The program raises money to purchase development rights from farmers (the farmers otherwise retain ownership of the farm) so the land will remain in crops.
Since their first visit to Leelanau County in the 90s, Batali and wife Susi were smitten with the landscape as a quiet, bucolic refuge from their busy life in New York City, and they have returned every summer since. Saturday markets and family farm stands studding the undulating acres of vineyards and orchards between Suttons Bay and Northport speak to Batali as a chef, informing his elemental seasonal approach to cuisine that has built an international empire of restaurants—26 at last count. Of course, he also has a high-profile media presence and a trove of award-winning cookbooks, including the soon-to-be-published America—Farm to Table: Simple, Delicious Recipes Celebrating Local Farmers, whose pages give a bit of national exposure to the produce grown from these Leelanau soils.
Batali and crew wrap up at Healing Tree Farm at DeYoung Natural Area Farmstead and trace the Leelanau two-lanes to Jim Bardenhagen's family farm in East Leland. There, Gloucester Old Spot and Duroc hogs grunt and bump shoulders anticipating a romp through the acres of organic tart Montmorency cherries, orderly rows of which roll toward a distant wood line. "Good shoulder pigs," Batali muses to Jim's daughter Ginger, an accomplished cook, charcutier chef and proprietress of the Hemlock Creek Farm project, where she raises heritage livestock.
The small-scale agriculture movement is a way of life," Batali says when asked why he works to protect farmers like the Bardenhagens. The Batali restaurants "have always purchased from local farmers but the fact that this movement has made it possible for all customers to access local produce is the key. As a restaurateur I love making my customers aware of what's in season and bringing it back to where it all began, the farmer."
For the Bardenhagens it all began with Jim's great uncle, a bachelor farmer who built the family farmhouse and cultivated the land to support the bounty of apples, cherries, table grapes and potatoes it yields today. Bardenhagen's fruit is sold fresh through wholesale channels that supply markets and restaurants locally and nationally, and his hand-harvested Balatons have even found a premium market in Russia, where the cherries are highly prized.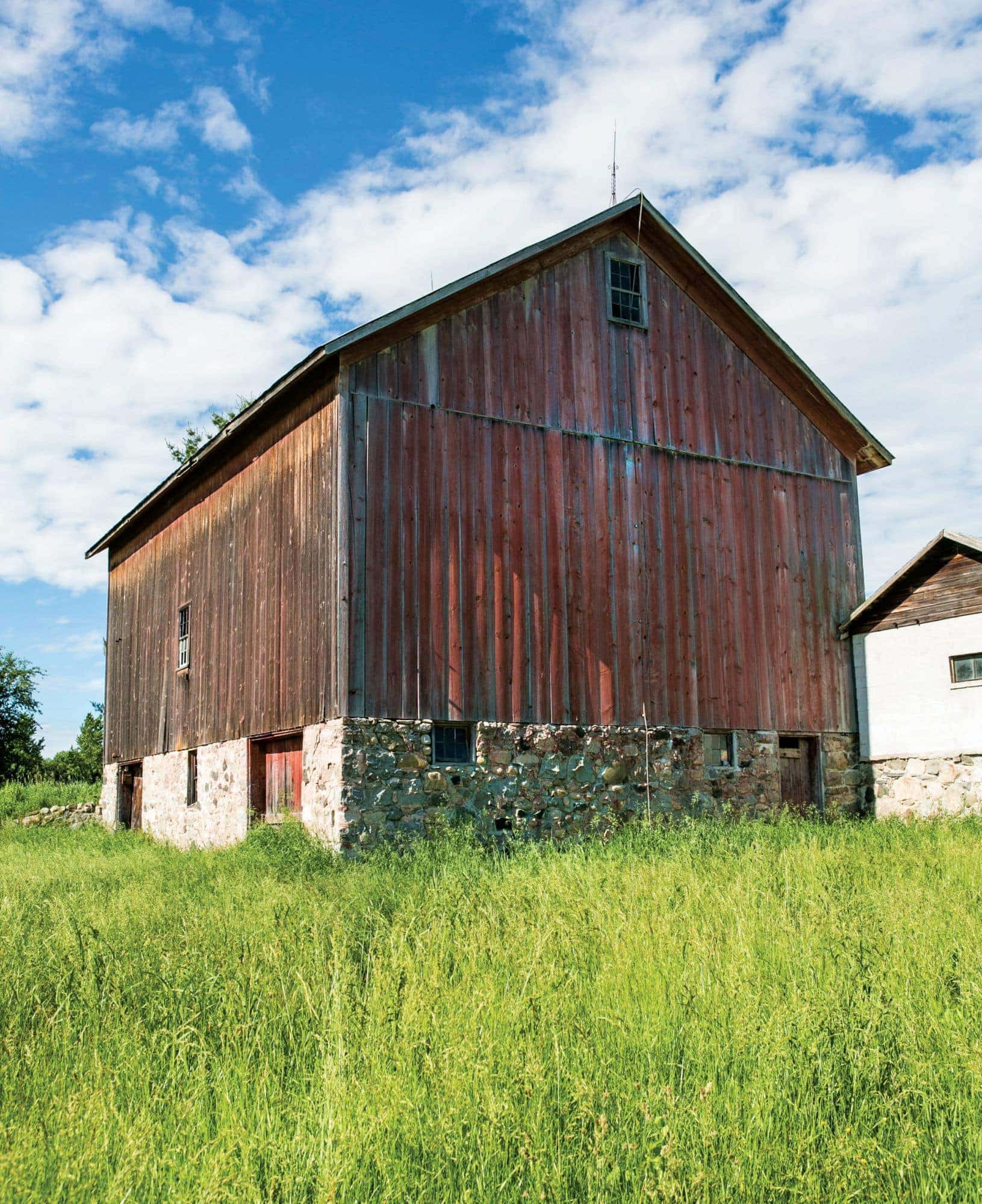 Conscientious, sustainable farming practices and perseverance against market fluctuations and increasingly erratic weather patterns have brought hard-won success for Jim Bardenhagen. That success can endure as a generational legacy thanks to his farm's perpetual protection under the Leelanau Conservancy's Farmland Preservation Program. "I didn't want to have the farm leave the family on my watch," Jim says, as he leads Batali and conservancy director Brian Price through a densely planted apple orchard that can never be developed into a subdivision or fairway. "They [the staff at the Leelanau Conservancy] are doing yeoman's work to preserve farms in the area. With the addition of my brother Gary's farm, we've got solid blocks here in East Leland."
As the cultural appetite for locally produced foods gains momentum, Brian Price and his team at the Leelanau Conservancy see a new paradigm for local farmers and an opportunity to protect the rich landscapes they toil. It was this vision that led the conservancy to enlist Batali's star power for their grassroots fundraising efforts. "Mario's value in working with farmland preservation is to remind people that we are the stewards of a unique resource," says Price. "A local person like me could say that, but it doesn't carry the weight of someone whose experience is worldwide. As a chef, Batali can speak to the ability of our farmers to grow a variety of fruits and vegetables with astounding flavor, and about how these farm families living and working generationally adds legitimacy to the landscape."
The results, too, are legitimate. A private evening of cooking and dining with Mario Batali, the centerpiece auction item at the conservancy's annual fundraiser, has garnered more than half a million dollars in donation support for the farmland preservation grant programs, which match two federal dollars for every one private dollar raised. "I want Leelanau to be as perfect in five decades as it is today," says Batali of what motivates his farmland preservation work. "As a lover of the area I support the conservancy's mission to protect the beauty of the land. As a cook, I want to protect the farms and fish and livestock that I come here to enjoy for two months every year."
While the farmers work to grow a local food supply, they are enabled by Northwest Michigan chefs and national celebrities like Mario Batali and his legions of foodie followers who drive the demand for local, seasonal produce in their kitchens and on their dinner tables. "As a cook, I'm always in the market for what the Italians call promizie, " Batali waxes, "the first piece of produce when it goes into season and is at the height of its flavor. In order to create the most delicious food, we have to be in dialogue with the people who grow it." Local dialogue between Northwest Michigan chefs and the small farms that supply them has exploded in recent years and been given national attention by Batali and high profile publications like Food & Wine Magazine and The New York Times.
Farm-to-table leaders like Cooks' House and Trattoria Stella in Traverse City or destination eateries Blu and Martha's Leelanau Table in Leelanau County habitually make the provenance of their ingredients central to the presentation of the food. Expect to know your rabbit ragout was recently bouncing around Cedar's Bunny Hop Ranch or that Gene Garthe of Northport grew the organic pear that is poached and expertly poised on your plate. "It's a mentality that's pervasive in the Traverse area food scene because the farms and restaurants are in such close physical proximity it's easier to cultivate these relationships," Batali says.
This growing obsession with who and where our food comes from is having a real and positive effect on small farmers across Michigan. "The local food movement has shown farmers that there are fallback positions and diversification opportunities that weren't there 15 or 20 years ago. Consolidators like Cherry Capital Foods have brought new ways to get fresh product to market, and when you couple that with the talk about why local foods are tastier, healthier and better for the local economy, you get farmers who are feeling valued again and being respected for what they do," says the conservancy's Price.
Hungry from a morning spent under the spell of orchards and herb plots, Batali and the conservancy convoy arrive to a lunch prepared by Louise and Dave Lutton at their historic cabin atop a sand bluff on the Lake Michigan shore. Fittingly, the cabin was once used as a seasonal restaurant in an era when serving locally produced food was the norm. On this day many decades later, the Luttons lay out platters of sandwiches on pillowy local focaccia, fresh snap bean salad and, of course, cold bowls of cherries.
While the present moment is delicious, the possibility of the future is more so as the Leelanau Conservancy works to expand an existing base of 5,000 acres of protected farmland with the help of Mario Batali, myriad local allies and end consumers who invest in local foods for the health of themselves and their communities. The work is essential and ongoing, like Samantha Graves's orchard guilds, a closed circuit of sustainability binding the landscape with the people who live in it. Small-scale agriculture and its preservation is a recipe for the future of Leelanau County and all of Northwest Michigan and to echo the man in the bright orange sandals. "Molto!"
This article was first featured in the July 2014 issue of Traverse, Northern Michigan's Magazine.
---
More Northern Michigan Foodie Fun: