Ginger Zee's Wedding Photography
The Inn at Bay Harbor near Petoskey played host to Northern Michigan's wedding of the summer, which joined Good Morning America's Ginger Zee and her groom, television presenter Ben Aaron.  Michael Murphy IV Photography of Petoskey provided MyNorth Media with the following images from their wedding.  Scroll to the bottom of this page for a slideshow featuring more of Ginger Zee's wedding photography.
More of Michael Murphy IV's work can be seen at his website: MichaelMurphyIV.com
---
.
.
.
.
Named one of the 500 Best Hotels by Travel + Leisure, the Inn at Bay Harbor set a picture-perfect background for the ceremony →
.
.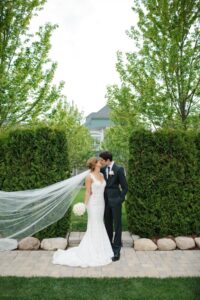 .
.
.
← The couple decided to marry in Northern Michigan, where Ginger—a Grand Rapids native—spent summers as a child.
.
.
.
Click the arrow in the upper-right corner to enlarge the slideshow images; hit "Escape" key to exit full-screen:
---
More on Ginger Zee's Northern Michigan Weddings