Photo by Todd Zawistowski
Northern Michigan Artist Caesar Citraro Paints the Beauty of Emmet County
Citraro spent 20 years working for the Art Institute of Chicago restoring and caring for world class works of art. He's worked on pieces worth millions by artists like van Gogh, Gauguin, and Degas, a history that has tilted his approach to art toward a scientific precision. If you ask him what it feels like to have a multimillion-dollar Degas in his hands, he won't tell you about a network of complicated emotions. "Crumbly," he'll say. "The man used pastels on layered pieces of tracing paper." To Citraro, art is materials and the way they're handled.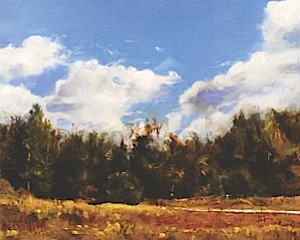 "When you're restoring a piece of paper worth 2.5 million dollars, you can't just bluff it. You gotta be right," he says. This devotion to careful study and knowledge is why he loves teaching painting, why he invites students into his home studio or agrees to meet them with an easel by the Bear River when he could be working on his own art. The precision of creation and talking about how to achieve creation is what drives his work. He explains, "If I'm not there concentrating and focusing when someone says, 'I don't understand this muscle,' then I'm kind of lying. Art is a lot of hard work and process. I come at it like Sharpen your pencils!"
All the corners of his studio are filled with collections—a pile of carefully arranged pine cones, an egg carton filled with a variety of broken eggs and a few fossils, a heap of dried hydrangeas languidly settled into a ceramic bowl. But Citraro bristles if you mention "inspiration."
"You're lucky if you ever truly experience inspiration," he says. "Even then, you might not recognize it. You have to make it an active effort to look for beautiful things. But they're everywhere." Thus, he collects snapshots of beautiful things he finds—sometimes literal photographs, sometimes a pile of twigs and rocks. Packed bookshelves house titles ranging from Bones, to Chinese Mythology, and Secrets of Plant Life. He confesses to wandering around the old stone foundations of long-ago farmhouses that dot the overgrown meadows and abandoned orchards of Northern Michigan, watching sunlight illuminate forgotten dark corners.
Citraro names the colors of paint in a custom blend he's making to touch up a large, close-up leaf, and the string of names is nearly as lovely as the botanical green they create: chromium green light, cinnabar green, ivory black, dark vermillion.
"You give a color a jewel-like quality if you stack all the colors correctly," he says. He steadies his arm against a board to dot his canvas with surgeon precision. "I love oils," he says, small sweeps of his hand bringing light to a curve of the leaf, "because their basic recipe, with a few chemical changes, is the same it's always been throughout history. It's a material with huge possibility."
For Citraro, that possibility comes alive in the cool shadows of the forest floor, or the accidental angles of collapsed fences in wide empty fields, or the inner contours of an iris if you peer in close up. When he finds something beautiful, he makes it his mission to pick up the image and set it down again, carefully, precisely, so everyone can see the gorgeous thing he's found.