Traverse City Events: 2013 Traverse City Film Festival Line Up
State Theatre Centennial Celebration
Gold Diggers of 1933
1933| USA | NR | 97 min.
This year marks the 80th anniversary of the final hurrah before Hollywood began to censor itself. This era, known as pre-Code, is filled with moments so outrageous for their time that you will wonder, "How the heck did they ever get away with that?!" No film better embodies the anything-goes spirit of pre-Code than this lavish backstage musical about a trio showgirls looking for their big break who will stop at nothing to keep their show going – and to find rich husbands. This sharp, funny and cynical treat is a visual and auditory feast replete with coin-wearing, scantily-clad showgirls and songs extolling the virtues of alfresco lovemaking, starring Ginger Rogers, Ruby Keeler and Dick Powell, and featuring the inimitable magic of Busby Berkeley's choreography.
Thu 9 am State Theatre | Sun 12 noon Dutmers Theatre
The Last Days of Pompeii
1913 | Italy | NR | 88 min.
The epically awesome, big-budget disaster film with a love triangle subplot is by no means a recent Hollywood development. It goes back 100 years to the earliest days of feature films – 1913, to be exact. This sweeping Italian saga chronicles the final hours in the lives of a prominent statesman, a gorgeous woman, a pagan priest, a jealous witch and a blind beggar before Mount Vesuvius unleashed her wrath on the unsuspecting people below. With thrilling chariot races, brutal sword-and-sandal gladiatorial duels, and one heck of a spectacular volcanic eruption, you won't believe the opulence and intrigue that awaits in this last of the great tableaux films.
Free Screening!
Wed 12 noon Dutmers Theatre
The Phantom of the Opera (with Alloy Orchestra)
1925 | USA | 93 min.
Roger Ebert called them "the best in the world at accompanying silent films," and we call them festival regulars we love to welcome back to Traverse City every year. In 2013, the incomparable musical stylings of the Alloy Orchestra will accompany Rupert Julian's silent classic starring the man of 1,000 faces, Lon Chaney. An early classic of the horror genre, "The Phantom of the Opera" has been horrifying and fascinating audiences for almost 90 years. We are happy to present "Phantom" on a lovingly restored and hand-tinted 35mm print.
Sun 3:30 pm State Theatre
She Done Him Wrong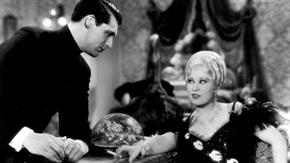 1933| USA | NR | 66 min.
In another pre-Code wonder from 1933, the matchless Mae West plays Lady Lou, a saucy saloon singer who never met a man – or a double entendre – she didn't like. This raunchy comedy follows Lou's efforts to dismantle a former paramour's prostitution ring, and the cat-and-mouse game that ensues when Lou sets her eyes on a stalwart undercover cop, played by an utterly dashing, young Cary Grant, who is out to reform her wanton ways. But sexually liberated Lou won't change for any man, and audiences get to enjoy a film oozing with West's one-of-a-kind wit and eroticism that couldn't have been made in Hollywood even a year later.
Free Screening!
Thu 12 noon Dutmers Theatre