Traverse City Events: 2013 Traverse City Film Festival Line Up
Michael Apted & Under the Radar
56 Up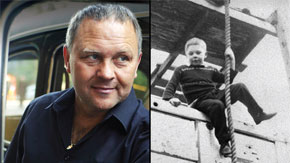 2012 | UK | NR | 144 min.
The latest installment of Michael Apted's acclaimed "Up" series revisits its 14 British subjects in their middle age, nearly 50 years after Michael Apted began filming them at age seven in one of documentary filmmaking's crowning achievements. As they enter their autumn years, Apted's subjects reflect on the paths their lives have taken, and what choices and turns of chance have determined who they are today. Whether you're new to the series or you've been following it all your life, you will be captivated by this portrait of raw humanity elegantly put to the screen. In Person: Director Michael Apted.
Sat 6 pm State Theatre
7 Up Series
Featuring: Seven Up!, 7 plus Seven, 21 Up, 28 Up, 35 Up, 42 Up, and 49 Up
Since its inception in 1964, Michael Apted's groundbreaking "Up" series has followed the trails and tribulations ofo a group of British children from across the country and a variety of backgrounds, taking a snapshot of their lives every seven years. This awe-inspiring series of films captures the evolution of the human spirit like installment of the "Up" series at the Dutmers Theater from Friday at 3 om to Saturday at 3 pm , culminating with a screening of the latest film in the series, "56 Up."
Seven Up! with 7 Plus Seven: Fri 3 pm Dutmers Theatre
21 Up: Fri 6 pm Dutmers Theatre
28 Up: Fri 9 pm Dutmers Theatre
35 Up: Sat 9 am Dutmers Theatre
42 Up: Sat 12 noon Dutmers Theatre
49 Up: Sat 3 pm Dutmers Theatre