Traverse City Events: 2013 Traverse City Film Festival Line Up
Midnight
Cockneys vs Zombies
2012 | UK | NR | 88 min.
With local London police otherwise engaged in a little thing called the zombie invasion, a gang of bank robbers on a mission to save their grandfather's home from redevelopment get more than they bargained for when they stumble upon ground zero of the zombie-apocalypse. Meanwhile, their grandfather mounts an army of fellow pensioners to defend against the undead and prove that elderly Eastenders are still tough as nails. This clever, classic zombie flick is a riotous and blood-spattered horror comedy.
Thu 12 midnight State Theatre
The History of Furture Folk
2012 | USA | NR | 86 min.
This lo-fi sci-fi film tells the (possibly exaggerated) true story of two aliens who are sent to Earth to exterminate the human race, only to abandon their missions after discovering Earth's incredible invention of something called "music." Future Folk comes in peace as the universe's first Hondonian bluegrass duo, but their days of playing in a small Brooklyn bar come to a halt when their fellow Hondonians return. It's up to our bumbling heroes to prevent an intergalactic takeover in this quirky and absurd tale with an outstanding soundtrack that will win you over with its warmth, charm, and outright hilarity.
Sat 12 midnight Old Town Playhouse
Journey to the West
2013 | China | NR | 110 min.
From the brilliantly warped mind of Hong Kong legend Stephen Chow ("Shaolin Soccer," "Kung Fu Hustle") comes an offbeat take on a timeless Chinese tale that fuses elements of classic monster movies with romantic comedy and martial arts. Hot on the trail of a series of mythical demons, the wisecracking Tang Sanzang–a wannabe demon hunter whose weapon of choice is singing nursery rhymes–undergoes a transformative journey chock full of jaw-dropping kung fu kick-assery. With gut-wrenching violence, plenty of laughs and elaborately constructed action set pieces that would make Rube Goldberg blush, this spectacular epic smashed Chinese box-office records on its way to Traverse City.
Sat 12 midnight State Theatre
Unhung Hero
2013 | USA | NR | 84 min.
When Patrick Moote's girlfriend rejected his marriage proposal on a Jumbotron and footage of his humiliation went viral online, he thought he could sink no lower – until his (now ex-)girlfriend revealed the reason for her refusal was the inadequate size of his member. Bound and determined to put the embarrassment behind him once and for all, Patrick embarked on a global journey to consult experts about his size issue (with advice ranging from surgery to pumps and pills to, er, weight training). A hilarious, personal and humble film about a man's quest to be comfortable in his own skin, "UnHung Hero" asks the question: does size really matter?
Wed 12 midnight State Theatre | Sat 9 pm Old Town Playhouse
The Shining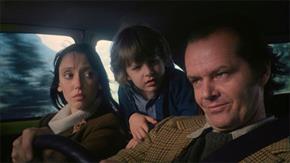 1980 | UK | R | 142 min.
Stanley Kubrick meets Stephen King in this bravura vision of a descent into madness that took the horror genre to new heights. Writer Jack Torrance (Jack Nicholson) takes a job as the caretaker in a resort hotel and moves his family high into the Colorado mountains. As the only residents of the hotel for the winter, what starts as a nice, quiet place to get some writing done takes a very sinister turn after his psychic son Danny begins to see gruesome images of the ghosts who inhabit the hotel, and a dark force gains influence over Jack. Required viewing for cinephiles, the film's iconic imagery has inspired legions of impassioned fans to deconstruct the film, as explored in "Room 237." Catch it before the show; you'll never see "The Shining" the same way again.
Fri 12 midnight State Theatre
Shorts for Midnight
Brimming with twisted humor and tales of terror, this year's collection of midnight shorts is worth staying up for. Nick Moran stars in "82" as a postman who's been casing his neighborhood, but his suburb isn't all it seems; a twisted hsitory (and dystopian future) for the pand bear is envisioned in the animated "Pandas;" an elementary school class plays an April Fool's joke that goes horribly, horribly wrong in "Fool's Day;" and a quaint 1950s dentist hides a horrible secret from his patients in "The Root of the Problem"
82 2012 | UK | 6 min.
The Captain 2013 | Australia | 6 min
Dance Till You Drop 2013 | USA | 4 min.
Fool's Day 2013 | USA | 19 min.
Oh Sheep! 2012 | Germany | 7 min.
Pandas (Pandy) 2012 | Czech Republic | 13 min.
Root 2012 | USA | 12 min.
The Root of the Problem 2013 | USA | 14 min.
Yardbird 2012 | Australia | 13 min.
Fri 12 midnight Old Town Playhouse