Northern Michigan Morning Hikes and Afternoon Beach Spots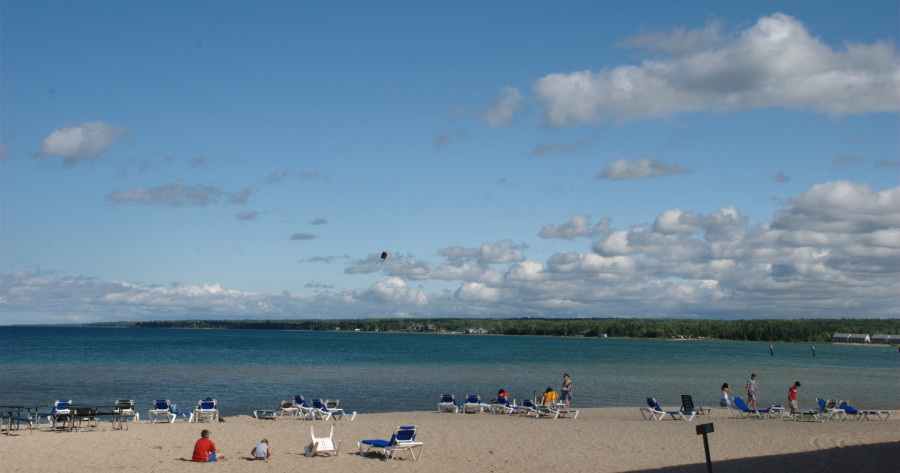 To name only one beach and trail combo worth visiting inside the national lakeshore would be doing the place injustice. Do some exploring, and you'll stumble upon your next favorite spot.
When Leelanau County locals want to show off their region, they bring guests first to the Sleeping Bear Dunes National Lakeshore, most often starting at the Pierce Stocking Scenic Drive, which weaves through the dunes. A one-time logger, Pierce Stocking used to walk the spectacular bluffs and wanted to share the beauty with others. He envisioned a clever route that let the geographic drama gradually unfold.
A pull-off early in the route offers a distant peek of the ethereal blues of the Glen Lakes; another pull-off delivers views of an undulating dunescape with towering ridges. But we're betting it was at the Lake Michigan overlook where Good Morning America viewers cemented their decision to name this park the Most Beautiful Place in America. Here, the dunes drop 450 feet steeply down into glittering Lake Michigan, and all the cameras come out—though few can capture the top-of-the-world feel.
Marvel at the tiny specks of people on the beach below, then work your climbing muscles at the Dune Climb—the main attraction for kids (of all ages) who love scaling its heights, then tumbling back down the soft sand.
The park's beauty and fun unfold elsewhere, too, in ways both subtle and spectacular. Follow hiking trails to pinnacle overlooks—Empire Bluffs and Pyramid Point among the favorites. Canoe or kayak through the park on the gorgeous Platte or Crystal Rivers. Or travel back in time with a stop at Glen Haven, a tiny preserved town of museums and an old-time general store, adjacent to the beach recently named most beautiful on the Great Lakes. Fit it all in by setting up camp at popular D.H. Day Campground on the mainland, or escape to one of the rustic hike-in campsites on North or South Manitou Islands.
To visit the islands, buy ferry passage from Manitou Island Transit at the Fishtown Pier in Leland and map your daytime or overnight adventure: climb a lighthouse tower, hike to a shipwreck that pokes above the waves, wander the beach for hours. Visitor Center, corner of M-22 and M-72, 231.326.5134, nps.gov/slbe.