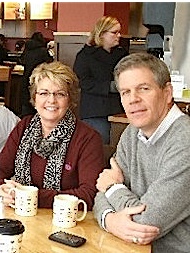 Northern Michigan: GT Pie Co. Owners Voted Michiganians of the Year
Northern Michigan: Mike and Denise Busley, owners of the local and much-beloved Grand Traverse Pie Co., were recently nominated in Detroit News' annual top ten Michiganian of the Year awards for their devotion to community betterment.
Since 1978, the Detroit News has annually opened a nomination ballot giving readers the chance to select outstanding citizens in our communities who have helped make living in Michigan a richer experience. Titled Michiganians of the Year, awardees are chosen by their good works and examples set. This year's 2012 award list saw Traverse City's very own Mike and Denise Busley recognized.
"Mike and Denise Busley were an obvious choice," says Neal Rubin of the Detroit News. "They are so involved and committed. I've written about them a few times. Once was when they built a mobile bakery and trucked it to Detroit so they could teach poor kids how to make pie. More than an enjoyable afternoon for the kids, it connected them to agriculture and food in a way you don't get when you pick up a pie at the store. Their commitment to Michigan products is inspiring to all of us, and I'm consistently astonished and impressed by their work. This connectedness they believe in is brought into their business, and the Grand Traverse Pie Co. has become a way to do the things they want to do."
Wanting to know more, we chat with the Busleys about the award, their work that earned this recognition, and of course, pie.
How does it feel to be recognized as a Michiganian of the Year?
Mike: It's a little surreal when you consider the names on the list. Denise and I get up and try to do what we do every day, and don't have the scope of influence of a CEO or governor. We are representative of small businesses trying to help the community, and there are so many great people in this community interested in making a difference. My way is to spend time in the shop, strengthening the culture and foundation of the community by selecting as many great, local suppliers as I can; Denise on the other hand devotes 100% of her time working with children. It's a blend, that's who we are; if they recognize us for that, I feel honored and blessed.
What does this kind of recognition mean to Grand Traverse Pie Co.?
Mike: Grand Traverse Pie Co. is not about Denise and I only. It's our franchise's collective effort of teamwork that has generated visibility. There are a lot of good people behind the Grand Traverse Pie Co. name, and I give all of them a big thanks from me.
Denise: The Grand Traverse Pie Co. was built on hard work and kindness. The award is humbling, but its really about the children and the community. We've worked hard at the business and supporting the community, and it's really about the community awareness brought to light in this recognition.
How did Grand Traverse Pie Co. lead to this work you do for children and the community, and can you tell us more about this effort?
Denise: It's been a gentle transition. Owning a small business, trying to get to the core of a community, you start believing in the togetherness and connectedness of people. Peeling away at that onion, trying to get to the core, I found that the roots of our communities are our children.
I've never understood things like bullying or meanness, and why people can't feel that connectedness to others. A series of synchronistic introductions led me to devote my time to a campaign of awareness and education for children. I started reading, learned a lot being a parent, and then one day was at my son's school and saw a banner touting the old "Become a Youth Friend" program. I've never been a fan of the term mentoring, and this idea of becoming a friend to a child resonated with me.
Since then I've mentored, or become a friend, to individuals and worked with groups like the Traverse Bay Children's Advocacy Center to raise awareness about child abuse prevention regionally and beyond. It is so important. We have to take care of our children, it's just so important; and while everyone has to help, our community needs to be properly educated, first. Sites like advocatesforyouth.org and taalk.org provide valuable information, and I am working on forming a new non-profit, called Zero Tolerance, dedicated to initiating programs and curriculum in schools advocating education and awareness. We are currently building a website for Zero Tolerance, so in the next couple of months check out teenzero.org. There's a lot of work to do for our children, but it's exciting what we're on the cusp of.
Does the business and community work intertwine? Does a pie hold any meaning?
Denise: Pie opens people's hearts and conjures up childhood memories. It used to be that anger propelled change, but now we are moving towards a society where love propels change. I believe that love conquers all. In its purest form, in its energy and essence, it is the most powerful force and can illuminate every dark corner. Whether it be a puppy, a baby, or something yummy like a lovely, flaky, crispy, gooey wonderful pie, it opens your heart and that's when love can come out. When we feel love we can celebrate togetherness and connectedness, open our hearts and make the change. What better entrance into people's hearts than pie?
When speaking with Mike and Denise, even over the phone, their energy and passion for what they believe in resonates profoundly. Mike for his employees and local purveyors, Denise for the children and pie; together they are a force of light for the community and absolutely deserving of their recognition. I think I shall never eat a slice of pie the same–somehow, it will be better.
Find more ways to get involved in Northern Michigan at
MyNorth.com
.