Circle of Blue's Carl Ganter Wants To Change How We Think About Water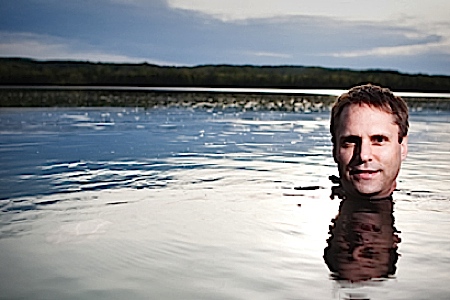 First off, even as a high schooler, Ganter impressed the people at Contact Press Images, not only with his curiously effective brand of low-key moxie, but also with his shooting ability. They invited him back the next summer.
"Carl's work was always excellent and adventuresome. He was always looking for new ways of shooting something," says Karen Mullarkey, Newsweek's former director of photography who has also shepherded Annie Liebowitz and photographers at Sports Illustrated. She recalls Ganter had an important, deeper side to him. "He was always aware of miscarriages of justice." Mullarkey still works with Ganter on Circle of Blue's large reporting projects.
The first week as an American studies freshman at Northwestern University, Ganter was invited, along with 49 of the world's top photojournalists, to shoot A Day in the Life of Hawaii. He landed two images in the final book; some photographers had none. His roommate in Hawaii was the editor of National Geographic. Other assignments came steadily along.
"It was like living in two separate worlds," he says. "I'd be in New York over the weekend on assignment and then back at school on Monday morning." The notion of being comfortable working on a global stage and forming relationships with world-class talent was set in motion.
"We're talking about revisioning the world's water future, so this is a project of hope."
When Ganter graduated college, he kept busy with assignments through the agency he'd visited as a teen, but after a couple of years he realized he also wanted to be more involved with the entire story. "With most magazine assignments, the photos and the reporting are done completely separately," he says. He wanted to blend the two.
He returned to Northwestern's Medill School of Journalism to pursue a master's degree and independent study in investigative journalism, and worked with his professor on a story about a murdered 7-year-old girl whose mother and adopted father were charged with the crime. Juries judged the mother not guilty, but convicted the father and sent him to prison.
Ganter, his professor and three Chicago journalists saw glaring problems with the case and immersed themselves for a year and a half. After they broke the story, pointing to whom they perceived to be the real killer, the father was eventually exonerated. "This was one of my greatest days," Ganter says, "driving Cyndi Dowaliby [the mother] to the front gate of the prison in Joliet and seeing her husband David walk from the main door across the yard to the gate to freedom." Ganter was about 25 at the time.
"I had always known that journalism could make a difference, but this changed my DNA. This was proof that it not only can, but does, change people's lives." Eventually the work helped prompt the university's law and journalism schools to found the Center for Wrongful Convictions, devoted to freeing innocent people, and the governor of Illinois to place a moratorium on the death penalty.
Another moment of awareness came when Ganter was covering the AIDS epidemic for Time magazine in Southeast Asia, where he learned the importance of focus. One day a protest march filled the Bangkok streets with people demanding political change. Ganter switched gears to shoot the violence that suddenly ensued, in which at least 44 people were killed.
But he realized a day later that rather than continuing to pursue the uprising, he needed to return to the AIDS drama. "I learned that there will be skirmishes that can be violent, tragic and important. But you have to take the perspective to think, How will this fit? Is this a distraction? And the big story there was AIDS." He used the chaos as an opportunity to access places that had been off limits. And, over time, as Ganter watched the world respond to AIDS, pouring money into research, prevention and treatment, he was again struck by the power of journalism to bring about change.