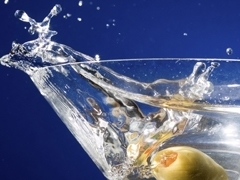 Summery Sips in Traverse City
A glistening Grand Traverse Bay. Summer breezes. A chance to relax. There's no better time to check out these four Traverse City spots and sit back with the perfect summer sip.
Café Habana
Serving up Cuban and Latin-inspired food, Cafe Habana is enthralling, dark and chandeliery on the inside. But on a summer's eve, we like it on top, drinks on the rooftop deck in that lingering post-solstice light. Order a sangria and toast that TC feeling. 423 S. Union St., Traverse City. 231-929-4150. CAFEHABANAS.COM/TRAVERSECITY.
Top of the Park
With its 10-story perch, this is downtown Traverse City's most celebrated venue for watching the sunset (from indoors), enjoying a view of the city and falling in love with that luscious Grand Traverse Bay. Order the trademark blingbling. 300 E. State St., Traverse City. 231-946-5000. PARK-PLACE-HOTEL.COM.
Firefly
Located on the banks of the Boardman River in Traverse City, this spot offers up a mondo martini list and an enchanting river scene—two of our favorite reasons to sit a spell on the Firefly's patio. Inside is gorgeous too. Quality, eclectic menu to accompany your beverage of choice. 310 Cass St., 231-932-1310. TCFOOD.COM.
Red Ginger
This downtown Traverse City Asian restaurant serves fabulous frou-frou drinks for the ladies in a swanky, urbane vibe (exposed brick, wood and lovely tile) that brings in a steady clientele of TC scenesters. We like the bonafide sushi bar. 237 E. FRONT ST., 231-944-1733. EATATGINGER.COM.
Quick Links to More Fun in Traverse City
Click below to read the Digital Traverse City Vacation Guide filled with ideas, tips and links to hundreds of websites