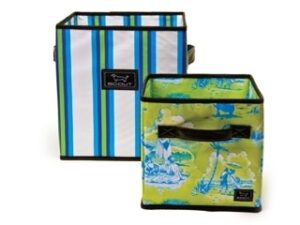 Photo by Todd Zawistowski
Northern Michigan Style: Big, Bold and Bright for Summer
Am I Blue?
The straight back and stately deep-blue hue will suit your Navy man's nautical style, but the sassy mix of lines straight and ornate are all you, lady. Claim it and a floral-and-gingham-print pillow for your own. Chair, $535 (other colors available); pillow, $36, Anchor Cottge, Suttons Bay, 231-271-6614, anchorcottage.net.
Think Inside the Box
Colorful and easy to clean, these poly-woven, water-resistant bins give each kid in the cottage a place to keep his own flip-flops, mask and snorkel, beach toys and towel. You can keep the peace, and the children can heft their own load to and from the beach. $14.95+ (Variety of sizes and patterns available). The Front Porch, Suttons Bay, 231-271-6895, frontporchsb.com.
Petal Power
On the exerior, flower petal shapes in sunlight white. On the inside, a surprise pop of summer's freshest green. With a pot so pretty, dirt just doesn't seem right. Instead? Plunk this vessel by the front door, and use it as a handy holder for summer's grab-and-go yard essentials: scissors for cutting flowers from the garden, sunscreen, bug spray, shades or a hat. $24.95. The Pennington Collection, Northport. 231-386-9890, penningtoncollection.com.
Hot on the Grill
As long as summer's cookin', you don't need to. But should you decide to slice watermelon, scoop ice cream or steal a burger from your husband's grill, this punchy print apron by Vera Bradley has you covered. $28. The Front Portch, Suttons Bay, 231-271-6895, frontporchsb.com.
Check out more articles about Home and Cottage Style.
Make Your Shopping Day an Experience with these Quick Links to Fun in Leelanau County