Photo by Todd Zawistowski
To Catch a Crayfish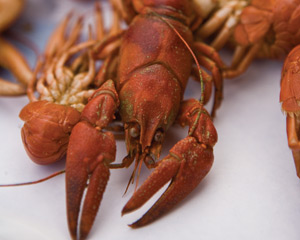 The first thing you'll need to do is purchase a fishing license, then check the Michigan Fishing Guide for the state's several restrictions on the use and sale of rusty crayfish. Finding crayfish of the sort that yield more meat than can fit on a thumbnail requires big water and big rocks—lots of big rocks. Up North, boat harbors protected by rocky breakwalls are the best, because they not only have the underwater boulders that monster crayfish like to hide beneath, but also are typically well lighted places, which is important, since the best crayfishing is done at night.
I really haven't found a better method than hand lining—arguably the most fun you can have with a chicken neck and a string. After dark, big crayfish that would never show themselves in the day come out into the open to feed and do whatever crayfish do. Under the lights in my favorite spots, I can actually see the crayfish I'm trying to catch. I just drop the bait, wait for them to take hold and gently pull them to the surface, where I scoop them up one after the other with a long-handle dip net. I don't consider it a good night of hand-lining unless I pull in about 30 to 40 crayfish an hour, more than enough for my favorite pasta sauce or pot of jambalaya.
Oh, and I never skip this critical step—crayfish taste best if flushed out with clean water for a day. I hose mine down first then place them in a cooler with an aerator bubbling and filled with enough water to cover them. When the water looks murky, dump out the old and fill it with fresh. (No aerator? Just change the water frequently.) Repeat until the water is clear, and your crayfish glisten like the culinary gold they are.
Crayfish Recipes and How To's