The phenomenal Mike Moran graces our Brick Wall Studio and shows what has earned him such a strong following. This Traverse City native takes a break from the constant touring of the summer to share his song "The Difference".
Mike Moran is featured in the February issue of Traverse, Northern Michigan's Magazine." Beth Milligan asks the Traverse City musician about the road that led him to where he is today and where he is headed. She begins:
"An easy charisma, smart, evocative lyrics and a Dave Matthews-esque listenability made Mike Moran a luminary of Northern Michigan's music scene during the past seven years. Transplanted from Pontiac, the 29-year-old singer-songwriter has released three albums and opened for national artists including Bob Dylan, Willie Nelson and Martin Sexton—all since moving to Traverse City in 2002. Traverse, Northern Michigan's Magazine checked in with Mike at his temporary new digs in San Diego to discuss the secrets of his songwriting success, the music scene in Traverse City and the move out West that could make—or break—his burgeoning career…"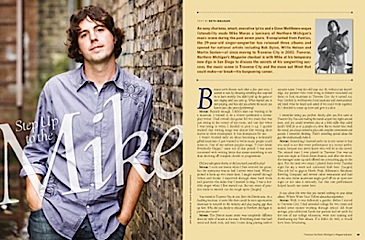 Read the whole interview with Mike Moran. Buy the Mike Moran issue of Traverse, Northern Michigan's Magazine Now!
Check out local musicians playing in MyNorth's Brick Wall Studio