Your evening: Take in a retrospective of Fred Petroskey's work, one of our region's most remarkable portrait painters, and then continue the inspiration with a stop by Aerie, Grand Traverse Resort's splendid restaurant atop the tower. Pastry chef Carolyn Riley is one of the best around (suggestion: the panna cotta and a Blackstar Farms Sirius White Dessert Wine).
Selections in the Petroskey show are designed to highlight his non-commissioned work, mostly portraits, but also landscapes and cultural scenes (like the Bluebird Bar, Leland). "In this sense, the show is very much Fred," says Museum Director Gene Jenneman. "Work he did for himself when he wanted to interpret his subject or the community around him."
The idea for the show came last summer when Jenneman learned that Petroskey (shown here celebrating the new year with his wife Molly), a longtime faculty at Northwestern Michigan College, was to be the subject of a book, called Petroskey, a Leelanau Portrait, by G.R. Kastys. The show coincides with the book's release, and all sales through the museum bookstore during the show's run will benefit the museum.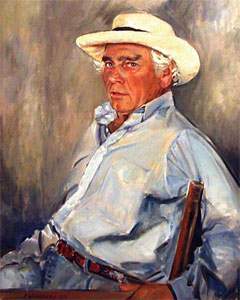 Bonus: The Petroskey show runs concurrent with a display of Andy Warhol polariod portraits, some of which formed the basis for some of his more well-known portraits, like Martha Graham and Arnold Palmer.
Show dates: Currently through April 5, 2009.Hours: Monday thru Saturday 10 a.m. to 5 p.m., Sunday 1 p.m. to 5 p.m.
Tickets: $4 adults; $2 children
dennosmuseum.org, 231-995-1055
Northwestern Michigan College1701 East Front Street
Traverse City, Michigan 49686