On November 1, 2008, the Traverse City region hosted one of the largest kitchen tours in the country. Missed it? Here's your chance to take a peek. Be sure to use the comment box to tell us which kitchens you liked best.
Russo, Cheboygan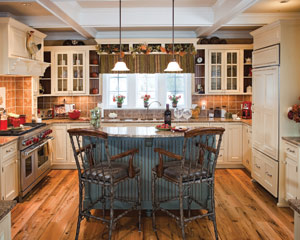 Designer: Jethany Lee, CKD, Preston Feather Building Centers, 800-968-2501.
A natural-toned, sophisticated palette defines this kitchen in a new home on Burt Lake. Custom buttermilk-yellow maple cabinets and a rustic recovered-oak floor set a stage that is complemented by earth-colored granite counters, mocha-tiled backsplash and a distressed sage-green island. The island's carved turnings and beadboard accents create a furniture feel. The beadboard accent on the interior of the cabinets was a custom application applied on site to bring natural warmth to the kitchen. With its efficient, semi-open layout and cottage-style elegance the Russo kitchen was designed for Up North living.
Freismuth, Indian River
Designer: Dawn Whyte, Designs by Dawn, Petoskey, 231-347-1977.
This kitchen built for two cooks combines traditional styling with a trendy two-tone finish on the cabinetry. Generous crown molding with dentil detail contributes to the traditional style, as do the wood-paneled refrigerator and wooden hutch with its arched glass doors. The hutch provides stylish, convenient storage for serving pieces near the dining table. A marble and metal backsplash and stainless steel farmhouse sink seamlessly blend tradition and trend. Granite countertops, stained maple floors and a generous island with an antique glaze over ivory paint complete this kitchen's timeless appeal.
Morales, Alanson
Designer: Jethany Lee, CKD, Preston Feather Building Centers, 800-968-2501.
This home's setting on Pickerel Lake helped define a kitchen redo that is as bright and cottage-casual as it is efficient. The centerpiece is a distressed cayenne-red island with charming turned legs, beadboard doors and a maple butcher-block top. The island's warm, spicy red contrasts with off-white stained cabinets accented with a vanilla glaze. The homeowners hand selected their granite, a stone called Gold and Silver marked by black, white and gold veining. The granite adds an unexpected touch of contrast and sophistication to the kitchen.
Patton, Harbor Springs
Designer: Brodie Smith, North Country Cabinets, Inc., Petoskey, 231-348-2869.
Do the dishes at this kitchen sink and you get a view of sailboats bobbing on Little Traverse Bay. But that's only part of the charm of this elegant cottage-style kitchen that includes chef-grade appliances like a 48-inch range, 42-inch refrigerator and bonus veggie sink. The French country–style range hood, granite countertops and a walnut-topped banquet stand out like jewels against white-painted cabinetry with inset doors and a rubbed finish. The cabinetmaker calls the finish the Michigan cottage look.
Scholl, Petoskey
Designer: Dawn Whyte, Designs by Dawn, Petoskey, 231-347-1977.
Whimsical details and natural materials combine to make a fun, functional design statement in this kitchen. A custom quilted stainless refrigerator front, island legs turned to mimic a pearl necklace, beaded detail in the backsplash tile and bun feet on the cabinet bases pop against the wide-plank red oak floor, maple butcher-block counters and simple white cabinets. Luna Pearl granite countertops flecked with black and white crystals and vintage glass cabinetry knobs are as magical as they are sophisticated. Open shelving supported by oversized corbels provides convenient storage for black-and-white dinnerware that contributes to the cottage appeal.
Fettig, Petoskey
Designer: Jilll Keene Brecheisen, Preston Feather Building Centers, 800-968-2501.
With its walnut floor and display of fine craftsmanship, the Fettig kitchen exemplifies the grand scale of the rest of this home with its soaring arched ceilings and grand windows. Elegant and traditional, yes, but this kitchen makes a fresh statement with its mix of cabinetry—stained maple with an off-white glaze. Crown molding, a glass-fronted wall-mount cabinet that echoes the feel of an antique piece and honey-toned granite add to the richness of this room. But don't be intimidated by good looks: from the efficient galley design to the two-tiered island and walk-in pantry, this is a kitchen that cooks.
Banks, Petoskey
Designer: Liz Firebaugh, CKD, Signature Kitchens, Petoskey, 231-439-0100.
This kitchen remodel mixes organic materials and old-style craftsmanship with a modern aesthetic. Natural maple cabinets are punctuated with cherry inserts. Polished granite counters contrast with the subtle sheen of brushed stainless appliances. Shine of another kind is the focus of the commanding backsplash, a distressed copper and tile frieze. The frieze theme is repeated in the smaller tiles where crimped edges mimic the craft of an old-fashioned tinsmith. There is, however, nothing nostalgic about the display area at the end of the island; thick glass shelves and recessed lights bordered by stainless columns evoke the ambiance of an upscale art gallery.
Corrington, Bay Harbor
Designer: Jill Keene Brecheisen, Preston Feather Building Centers, 800-968-2501.
A newly renovated kitchen is the heart of this beautiful Bay Harbor home. Light painted finishes on cabinetry keep the room feeling spacious while the dark walnut floor creates contrast and richness. The cooking area features a beadboard hood and tumbled marble backsplash. Cream granite countertops complement the cabinetry and backsplash without overpowering the space. Guests can take a seat at the counter while the cook puts the final touches on a meal. Details such as an integrated double drawer dishwasher, crown molding, turned spindle legs at the sink and mullion glass cabinet doors bring warmth and style to this custom kitchen.
Sutton, Charlevoix
Designer: Liz Firebaugh, CKD, Amy Sutton, Signature Kitchens, Petoskey, 231-439-0100.
With its black-and-green glazed cabinetry, silver sea green granite countertops and hickory floor laid in 4-and-5-inch planks, this efficient, semi-open kitchen blends with the sophisticated Up North-lodge feel of the rest of this home on Lake Michigan. Glass door cabinetry mounted at the ceiling creates unity between the kitchen and adjoining living room, while a large architectural column anchoring the corner of the kitchen smoothes the transition between the two rooms. Ample bar stools with easy access to the serving bar round out a space that performs equally well for cooks and guests.
White, Charlevoix
Designer: Liz Firebaugh, CKD, Denise White, Signature Kitchens, Petoskey, 231-439-0100.
The heart of this kitchen in a gracious home on Lake Michigan is a light-filled cooking and entertaining area with lake views. The focal-point hood with its new-cum-old motif blends beautifully with the limestone and copper tile backsplash. Designed to incorporate several of the owner's cherished antiques, including two corner cabinets, this space centers around a multi-level island that allows family members and guests to mingle with the cook. But when the entertaining really gets cooking in this house, the homeowner heads into an ultra-efficient prep kitchen tucked behind the main kitchen to "cook up a storm."
Pond, Kewadin
Designer: Sara Busby, CKD, Sara Busby Design, Elk Rapids, 231-264-9411.
This kitchen in a home tucked into the woods on the Lake Michigan shore was custom-designed to fit the couple: he is a chef; she is an artist. For him, high-end appliances, two cooking islands, a bonus prep sink, pullout pantry and wine refrigerator. For her? A large slate chalkboard mounted on the wall in the dining nook where she creates a fresh piece of exquisite—if temporary—art each season. Natural-toned granite, an easy-on-the-upkeep limestone-style ceramic floor and white and natural maple cabinetry all work together to lend the kitchen a sophisticated cottage look that is a perfect fit for these nature-loving homeowners.
Pentland, Elk Rapids
Designer: Sara Busby, CKC, Sara Busby Design, Elk Rapids, 231-264-9411.
From its perch on a wooded bluff overlooking Lake Michigan to its cedar-clad exterior and interior, this 30-year-old home has a close relationship with nature. That connection is borne out in a renovation marked by shades of green—from the soft-green glazed cabinets to the countertops and full-height backsplash, made from an ancient Brazilian stone called green marinace that reminds the homeowners of a creek bottom. This relaxed, natural look belies an efficient workspace with high-end appliances, bonus prep sink, desk area (with a lake view) and layered soft accent lighting custom designed around the cedar beamed ceilings.
Waskiewicz, Traverse City
Designer: Angela Goodall, Kitchen Choreography, Traverse City, 231-932-9700.
This is a kitchen fit for a classic, turn-of-the-last-century, downtown Traverse City home. A space that originally included the master bedroom, master closet, galley kitchen and dining room was transformed into an efficient, eat-in kitchen for a young family. Throughout the project the designer stayed true to the home's original personality. The cabinetry is a soft ivory cream with small accents of beadboard, furniture legs and feet. The countertops are Green Mountain soapstone with a front apron sink—a style that was often used in homes of this generation. Every inch of space is utilized so that this kitchen functions as the center of family life.
Kronberg, Traverse City
Designer: Wendy Sue Plamondon, Susan Knox, Wooden Hammer Annex, Traverse City, 231-943-7801.
A dark, outdated space became a bright, airy, cottage kitchen with views of East Bay and Old Mission Peninsula orchards. Warm neutral walls are a fresh backdrop to the pearl-colored painted cabinets, New Venetian Gold granite countertops and hardwood floors in warm mahogany. State-of-the-art appliances surround the homeowners, who love to cook. Sunday mornings, the homeowners make blueberry pancakes on the professional dual-fuel range with griddle. The range is topped by a paneled hood with an arched valance and chunky corbels. The arch, a repeating element, is also seen on the travertine tile backsplash and the sink base.
Colling, Traverse City
Designer: Jennifer Henderson, Northwood Kitchens, Inc., Traverse City, 231-941-1470.
A hand-scraped cherry wood floor and a burnished finish on the oak cabinets and cherry island lend this kitchen a sophisticated country home ambiance. Note how the multiple-step trim molding, extending to the ceiling and corbel accents, adds to the room's substantial feel. A wood-paneled refrigerator and antiqued-pewter cabinet hardware round out this wonderful example of a traditional kitchen that is perfectly comfortable Up North.
Stuck-Mertz, Traverse City
Designer: Sandra Bargiel, CKD, Bay Cabinetry, Traverse City, 231-946-6882.
The homeowners' design leanings are toward modern, though the existing home's exterior has strong transitional lines and the interior has a country feeling. The solution for this new kitchen was a transitional style utilizing both traditional and modern forms in a clean, but not sterile, way. Detail such as the square recessed cabinet panels and the warmth of the stained cherry cabinetry softens its modernity. The cabinetry's horizontal lines and thick floating shelves provide linear movement creating a calm, Zenlike space. The multi-level island is designed for three specific functions: food prep, home office space and dishware cabinet.
Amos, Suttons Bay
Designer: Sandra Bargiel, CKD, Bay Cabinetry, Traverse City, 231-946-6882.
This state-of-the-art kitchen was meticulously designed to blend with its accurate reproduction of a Federal Colonial period farmhouse. Butter-yellow cabinetry, molding, trim and wainscot contrast with mossy green plaster walls—a color palette that is authentic to the Federal Colonial period. The honed Indian Absolute Black granite countertops echo soapstone that was used during the colonial era. A beadboard ceiling and wide-planked pine flooring anchored with walnut pegs pulls the historic look together. Don't miss the butler's pantry with its Old World glass doors that connect the kitchen to the dining/library and living room.
Haring, Lake Leelanau
Designer: Paula Kersten, CID and Northern Lumber Company, Suttons Bay, 888-271-3804.
Butter-cream painted cabinetry that stretches to meet the natural granite counters helped transform a cramped, barely-functional cottage kitchen into an efficient space that exudes country sophistication. Note the designer's sleight of hand in incorporating a new required structural beam into the hood design. Other touches to look for? The handsome, yet practical maple end-grain chopping nook, tumbled marble backsplash, the double-drawer dishwasher camouflaged in cabinetry and warm-toned red oak floor.
Grove, Manistee
Designer: Pamela Schindlbeck and Jennifer Kolanowski, Pamela's Interior Designs, Inc., 231-723- 8688.
Preserving the period look of this 1927 Sears Craftsman-style kit home was paramount in this kitchen renovation. The 10-by-12-foot space also required a carefully planned design that features new Arts & Crafts–style cherry cabinets, a hammered copper sink from Mexico, a Hoosier-style cabinet and an antique bar installed against the wall in lieu of an eating island. The hand-cut Jeffery Court slate tile on the backsplash with its deco accent pieces reflects the Craftsman theme, as does the faux-copper ceiling by Jaima Brown Home. The original maple floor was discovered underneath the vinyl floor and refurbished