Photo by Todd Zawistowski
Best Eats 2008 in Traverse City, Petoskey, Charlevoix and more
9: Pork Buns Pillowy-soft steamed buns hold marinated, meltingly tender roasted pork kissed with authentic char siu sauce. Red Ginger, 237 E. Front St., Traverse City, 231-944-1733.
10: Seafood Lasagna Sweet-spicy peppadew peppers give an intriguing edge to the decadent layers of crab meat, shrimp, fresh spinach, and delicate Alfredo. Love it paired with the cooling Snug Harbor breezes on the deck. Gull Landing, 438 S. Hancock St., Pentwater, 231-869-4215.
11: Pecan Pie Bar Wedding cake wizard Kelli Bly makes her pecan pie in a 9-by-13-inch pan by filling a buttery graham crust and studding it with dark chocolate chunks. Le Serving Spoon, 130 W. Ludington Ave., Ludington, 231-843-6555.
12: Rhubarb Pie
Walk into this homey spot across from Crooked Lake the last weeks in May, and find the pie chefs washing and chopping tart rhubarb straight from nearby gardens. Tuck into the bumpy crust for that unmistakably Michigan-in-springtime sweet-tartness. The House of Pies, 4577 N. U.S. 31, Oden, 231-347-6525.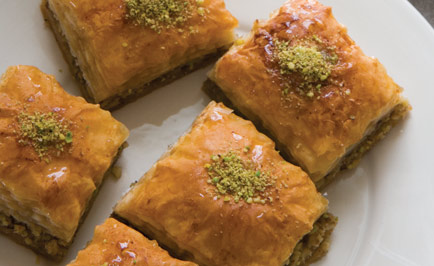 Middle Eastern Baklawa
Todd Zawistowski
13: Middle Eastern Baklawa
Nadia Saco carries her sister-in-law's homemade baklawa–the Middle Eastern spelling–at the counter of the 14th Street Mobil Station. Nada Saco prepares pans of crackly, buttery phyllo layered with nuts, fragrant rose-water syrup and cardamom, cuts the pastry into diamond-shaped pieces and anoints each jewel with a dusting of finely ground pistachios. 429 West 14th Street, Traverse City, 231-941-0909.
Wild Boar Wings
Todd Zawistowski
14: Wild Boar Wings
The shards of juicy Jamaican-jerk-rubbed pork are so delectable eaten right off the shank. Scovie's Waterfront Grille, 230 Ferry Ave., Charlevoix, 231-547-2960.
Foccacia
Todd Zawistowski
15: Foccacia
These delicious olive oil–bathed crusts look like kaleidoscopes patterned with fresh garlic, fresh rosemary, Parmigiano-Reggiano, pitted Kalamatas, and intensely tomato-y Romas. The Wine Shop, 100 River St., Elk Rapids, 231-264-9000.
Maple-Frosted Apple Walnut Pie
Todd Zawistowski
16: Maple Frosted Apple Walnut Pie Five of our favorite words. The mini pies are perfectly tart-sweet with a little saltiness in the maple-glazed crust. Crunchy, bitter walnuts are the ultimate foil. Suzie's Pies, 8483 M-119 (Harbor Plaza), Harbor Springs, 231-881-6841.