Now you can wake up and smell the coffee at the P.H. Hoeft State Park—brewing in an electric coffee maker. The park has just opened a year-round, renovated lodge that sleeps eight people, sits 150 yards from the Lake Huron shoreline and is equipped as a comfortable cottage get-away.
The lodge, built in 1929, was a catalog-ordered Sears, Roebuck and Company prefabricated bungalow with six rooms. The house was continually occupied by a park service employee until January 1, 2006 when the park service did away with most park housing to reduce costs.
"We weren't sure what to do with the lodge," says Blake Gingrich, park supervisor for P.H. Hoeft. "We tried to figure out whether it should be a park store or a nature center. When we landed on the idea of turning the lodge into a rental we all set about modifying it. It turned out beautifully."
Renovations to the lodge include new oak tables, chairs, bunk beds, three queen size beds, four Adirondack chairs and a game table.The well-equipped kitchen includes a refrigerator, electric stove, microwave, coffee maker and toaster. Linens/towels are supplied along with dishes, utensils, pots, pans, a Weber grill, (charcoal not provided) a fire pit (wood for sale in the park) and a picnic table. Guests are expected to clean the lodge prior to their departure.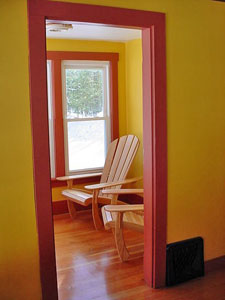 Smoking and pets are prohibited inside the lodge. Weekly rates are $580. Sunday through Thursday the cost is $80 per night. Friday and Saturday nights are $90 per night. Reservations between Memorial Day and Labor Day weekends require a two-night minimum. A three-night continuous stay is required for holiday weekends.
The maximum stay for the lodge is 15 days, the same as the campsites, however Gingrich says the park service is open to working with renters. "If some people want to rent the lodge all through deer season, for instance, we'd try to work with them," says Gingrich. "We'd rather have it occupied."
The lodge is just one more way to set up camp in this peaceful, sunrise side of the state that boasts many recreational opportunities. The Black Mountain State Forest Recreation Area and Ocqueoc Falls are only 15 minutes from Hoeft. The Herman Vogler Conservation Area, a nine-acre impoundment that attracts a variety of waterfowl and wildlife, is four miles from the park. Hoeft is a perfect backdrop for a snowmobiling, cross-country skiing, hiking, hunting or fishing adventure. A paved non-motorized trail leads from the park to Rogers City and a new trail from the park to 40-Mile Point Lighthouse Park will be constructed this fall by Michigan Department of Transportation. The park has over four miles of hiking and skiing trails.

Reservations can be made directly with the State Park. The lodge will undoubtedly be popular so next year the park will offer the option to ensure you get the lodge when you want it by reserving on the first business day of the year for the new calendar year.

For more information or to make a reservation, contact P.H. Hoeft State Park at 989-734-2543.—Deb Fellows