Chuck and Linda Gremel found a gorgeous piece of land on a hilltop overlooking Lake Charlevoix in Boyne City, but for two years they wrestled with how and what to build on it. Chuck wanted a solid place with lots of angles, fine details and thick millwork. Linda wanted a toasty spot to relax, entertain and watch wildlife. And since their house on the hill would be visible, especially when the leaves are off the trees, they wanted it to fit into the classic Boyne City neighborhoods around it.
As it turned out, the very things that gave this setting its appeal – the height and shape of the lot – were just as problematic for building on it. After many months of wondering how to pull it off, the Gremels saw a home on Lake Charlevoix designed by Jodi Alger Lyons, an architectural designer who grew up in the area. When Chuck approached her with his ideas for his property, they clicked immediately.
Lyons' solution for the lot is a handsome three-story, cedar-clad house with white trim that she calls a Northern Michigan cottage with bungalow lines. She positioned the 2,400-square-foot home to capture all the natural light and views yet nestle into the terrain, none of which was changed for the build. "It was a very difficult lot," recalls Lyons. "The only way to make the driveway happen was to put the garage underneath the house."
Once inside the garage, the Gremels walk through a 9-foot river rock archway to the ground floor, which is outfitted with an exercise room, shower and laundry room. There is also an elevator to the next story, an amenity the Gremels added so the home will make it easier to "age in place" – a term used for homes that allow seniors to live independently despite disabilities.
For the time being, however, the stairs up to the second floor where they do most of their living still get plenty of use. On this main floor, the couple can marvel at the blue of Lake Charlevoix and the serenity of the surrounding woods through floor-to-ceiling windows and doors. On chilly evenings they warm up in front of the river rock fireplace in the living room or relax in a pine-paneled den outfitted with French doors, velvety furniture and padded window seat.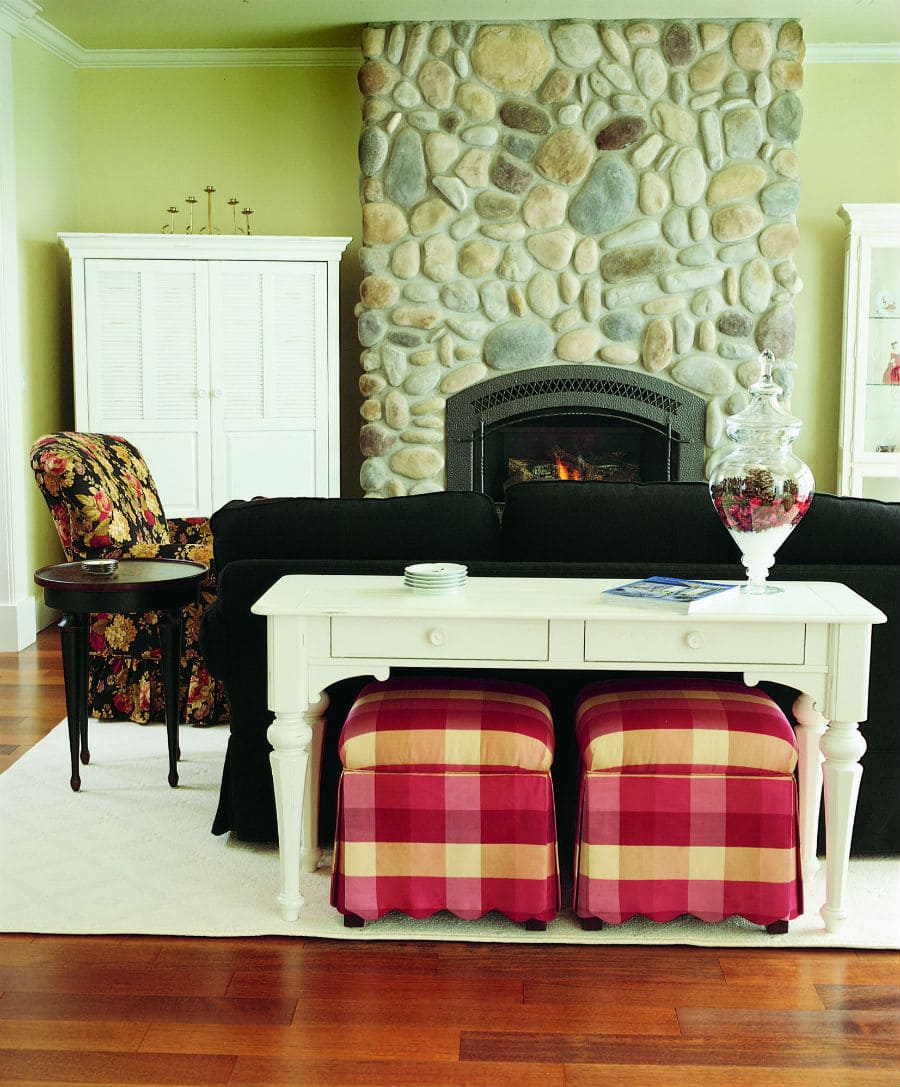 Another set of stairs leads to the third floor, which can be sealed off with glass-paneled pocket doors for energy efficiency when not in use. This top floor is done up in a nautical theme (Chuck keeps his sailboat in Cheboygan's Duncan Bay) with beadboard paneling, vaulted ceilings, cozy nooks and built-in window seats. The centerpiece is a guestroom painted a striking midnight blue. It features built-in twin beds with shiplike storage underneath. In a house filled with places to look out over Boyne City and Lake Charlevoix, Linda especially loves this one.
To top it off, the Gremels' 12-by-12-foot kitchen is an example of how a not-so-big kitchen can work like it is much larger – and why a kitchen designer is an important ingredient in any size project. The stylish efficiency in the Gremels' kitchen is thanks to Petoskey's Liz Firebaugh of Signature Kitchens. Among other accolades, Firebaugh is the recipient of the National Kitchen and Bath Association's 2005 Pinnacle of Design award.
The small kitchen doesn't lack for luxury. It features a tumbled-marble backsplash with fruit-motif inlaid copper tiles (pictured, below) and a cherry-wood island where guests can sit and talk while the meal is being prepared. An especially clever move by Firebaugh is that the upper portion of the island is high enough to hide the mess while people are sitting at the dining table. The vent hood mimics the window, and semi-custom white Decora cabinets, wood fronts on the appliances and a counter-depth refrigerator give a high-end look. The adjacent walk-in pantry, shut off from the kitchen with a pocket door, is great for quickly taking inventory of supplies on hand and keeping large appliances off the countertops and, as Firebaugh notes, it's inexpensive storage compared to cabinets.
Firebaugh's new 200-page hardbound book, Design with Taste, can be ordered at www.signaturekitchensonline.com.
Patty LaNoue Stearns is a regular contributor to Northern Home & Cottage. pattylanouestearns@charter.net
Northern Home and Cottage Resources
Architectural Design
Jodi Alger Lyons, Charlevoix, 231-547-4040
Interior Design
Judy McCue, Expressions of Design, Lake Orion, 248-391-1835
Kitchen Design
Liz Firebaugh, Signature Kitchens, Petoskey, 231-439-0100, signaturekitchensonline.com
Builder
Midlake Builders, Rapid City, 231-322-2829, midlakebuilders.com
Granite
Tan brown from Dixie Cut Stone & Marble, Petoskey, 231-348-5040, dixiestone.com
Tile
Ginivito Flooring, Petoskey, 231-439-9764
Flooring/Stone Work
Wolverine Custom Homes, Wolverine, 231-525-6604, www.wolverinecustom.com
Elevator
ThyssenKrupp Elevator, Grand Rapids, 616-942-4710, thyssenkruppelevator.com
Landscaping
Drost Landscape Design & Construction, Alanson, 231-548-2480, drostlandscape.com
Note: This article was first published in January 2007 and was updated for the web February 2008.
More Northern Home & Cottage Inspiration: