What happens when a career-long insurance industry number cruncher settles on the shore of North Bar Lake? In Ed Cole's case, hundreds of rhododendrons flourish, all nurtured by his quirky brand of analytical artistry.
---
Editor's Note: Ed Cole passed away in November 2015 at age 84. His home, which was built in 1970 before Sleeping Bear Dunes National Lakeshore was established, will be demolished in 2018. Read more about why will it be torn down, and why Cole was able to stay in his home when the Park was formed in this excellent article by Linda Dewey in the Glen Arbor Sun. The MyNorth & Traverse Magazine staff is thankful to have been able to share Cole's beautiful garden with our readers. Scroll and see it for yourself. 
---
In late May and early June, the earth around Ed Cole's home erupts with color. It's then that his flowers are in full bloom—some 200 species of rhododendrons spread across three hills on his property at the corner of Lake Michigan and North Bar Lake, just outside Empire. In a certain light, you might think the blooms were the work of an artist who had painted a kind of living canvas.
That's what you might think.
But what you would find is Ed Cole, a man with spotless clothes and a hat centered perfectly atop his head. A man who steps forward, says "Hello!" and then plunges into discussions of soil treatment and leaf texture. A man whose conversation is not likely to brush the edges of art or aesthetics.
In short, a man who is a retired audit manager.
Not that there's anything wrong with a retired number cruncher. On the contrary, part of what makes Cole so interesting is the way his pragmatic approach to detail has resulted in a garden of such artistry. Just don't expect to catch him genuflecting to his flower petals. More likely, he'll be stepping briskly through the garden and pointing out curiosities with a small, hand-held rake.
"I don't recall seeing this before," he says, pausing over a plant with multiple buds. "One flower is blooming ahead of the others."
So it is. Cole is absorbed by the details of his surroundings. And even though he has accumulated quite a variety of rhododendrons—mostly hybrids, ordered from catalogs—he can tell you the proper name and date of planting for each: He attaches tags to every one before it goes into the ground.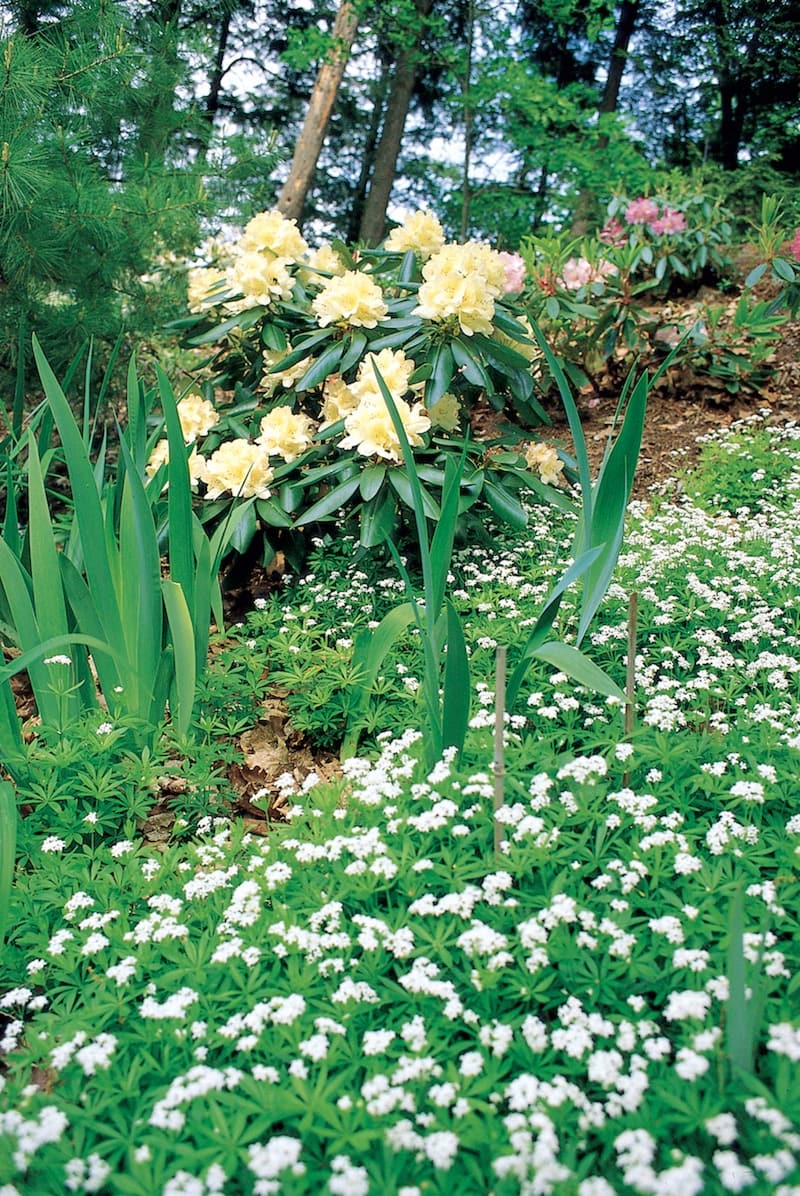 He twirls and points his rake as if it were an extension of his arm, unaware that it swings perilously close to a bystander. "I thought the deer would eat these up, but they didn't," he says, moving past the place where he began planting back in 1984.
"Hm," he says, straightening over a rhododendron called Canary Island. "Doesn't look like I put a label on that one."
Hm, indeed. It's about as perplexed—or frustrated—as Cole seems to get. Then he moves on to the next observation, the next problem to be solved.
Back when he started, the problem was to improve the landscape around his house. Ever the planner, Cole had purchased the property in 1965 as a retirement spot. He was acquainted with Northern Michigan from his time spent here as a teenager during the '40s. And this property was special. To the west, there was a dazzling expanse of Lake Michigan. To the north, a sandy shore of North Bar Lake.
But once the house was built in 1969, three bare hills on the property began to attract Cole's attention. One hill rolled down and away from his porch, and the other two were situated by his driveway. When he retired in 1984 and began to live in the house year-round, the hills attracted his full attention. Cole doesn't single out any reason why he chose rhododendrons to cover the hills, except to say that his efforts at growing the flowers in St. Louis, where he lived earlier, ended up in "varying degrees of failure." Still, this outcome only spurred his preoccupation.
"I think the fact that something is hard to grow makes it more interesting," he says, speaking not only of rhododendrons but of the many unusual trees he's planted around his property. "You see a lot of fo cedars around here. If they were hard to grow, I might try to grow them. But they're so prevalent. It's interesting to try to grow something that's a little different."
In other words, rhododendrons presented a lot of problems because they need particular soil conditions, temperature, drainage, nutrition and moisture.
First off, there were the soil requirements. Because the ground on his property is relatively neutral, Cole had to add a mixture of sulfur and pine mulch to make it more acidic, the way rhododendrons like it. Then he had to figure out how to keep them moist without overwatering. The parent species is accustomed to the mist of places that are perpetually cool and dark. They grow most dramatically in mountain valleys of the Himalayas, where they reach over 100 feet tall and often carry giant leeches on their leaves. Fortunately—for those of us who don't like leeches—most of Cole's rhododendrons are only a few feet high.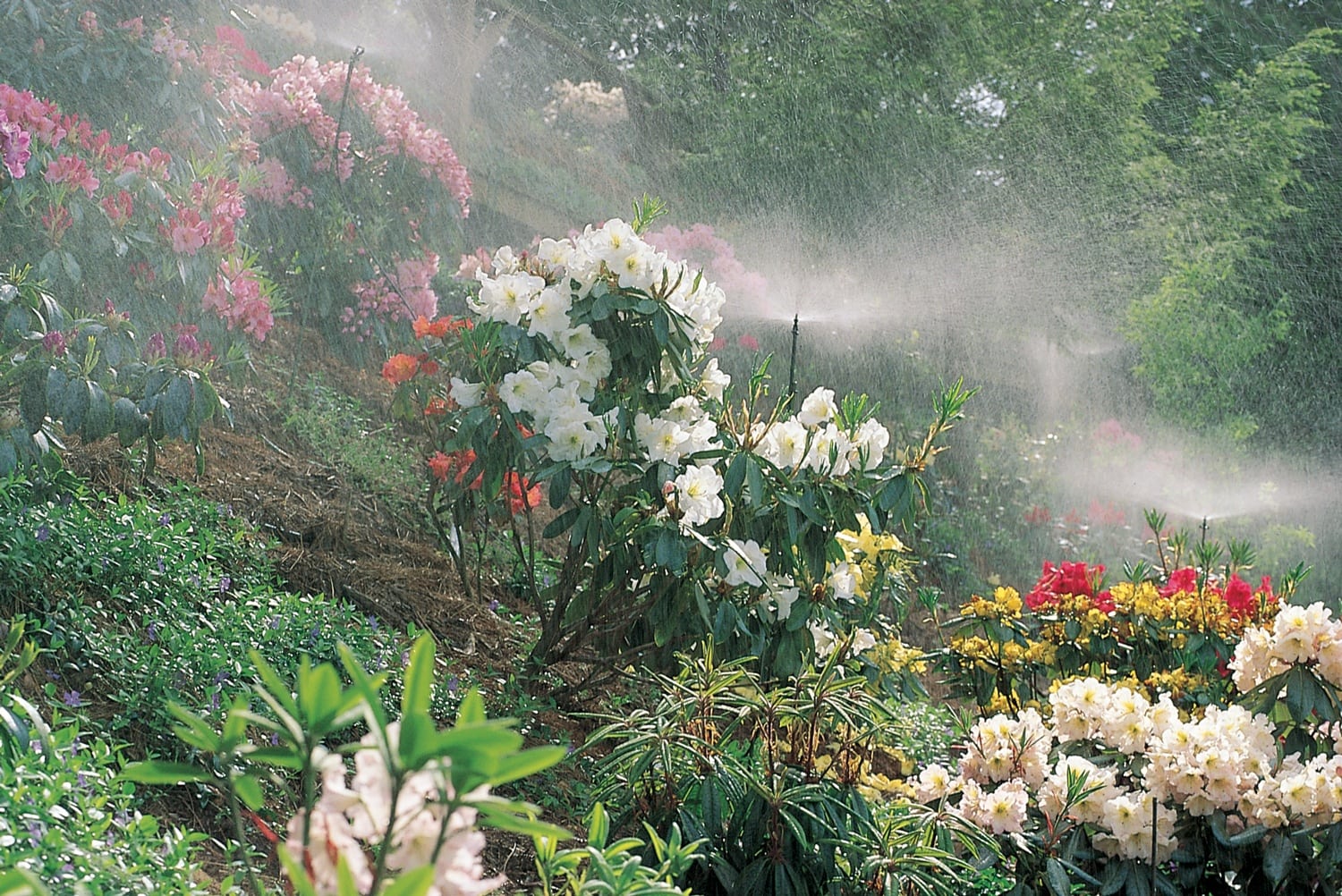 Although rhododendron hybrids can be fairly hardy, their roots are still shallow, which means that overwatering can result in nutrients washing away. Cole's solution? Abandoning a traditional sprinkler system in favor of one that sends out a fine mist of spray. By mounting the tiny jets atop thin metal poles, Cole was able to simulate misty conditions without drowning the root systems. Drainage and temperature problems were easier to deal with, due to the naturally loose ground and the presence of Lake Michigan, which helps prevent false warm-ups and sudden cool-downs.
The result, then, is a colorful collage in three parts. In addition to the rhododendrons that blanket the two roadcuts by his driveway, Cole has two tiers' worth on the big slope that descends to the north of his porch. A boardwalk built across that slope creates the upper and lower levels. Even on that steep angle, the plants do fine.
Asked whether it would have been easier to plant them in level rows, Cole acknowledges that yes, it probably would have been.
But easy just isn't one of his goals. Problem-solving is.
At a meeting of the American Rhododendron Society, he once met the author of a book on rhododendrons. Cole had read the book and he brought up a question: the text described a plant that was both its own twin and its own mother. "I had an intellectual problem trying to figure out how one's twin brother or sister could also be one's parent," he says. "So I went to the author and he resolved it." In other words, a mistake had been made in the text.
Problem solved.
Of course, there's  more to Ed Cole than the way he's kept his garden happy and healthy. There's the way his garden seems to have returned the favor. That's most apparent when he sits in a swing seat on his porch, comfortably pushing himself forward and back with his feet. Or when he spots a neighbor's dog on his boardwalk, breaks into a smile and exclaims "Hello, Alex!" Or when, without bitterness or anger, he mentions having been a widower since 1975.
Pressed with the question, he acknowledges there might be artistic or philosophical aspects to his garden. But he'd rather not dwell on them. To do so, he says, would run the risk of elevating its importance beyond the limits of his religious beliefs. It might also lead some down the path of self-absorption, if not obsession. Even now, he takes off one day a week to keep his hobby in perspective.
"I'm careful to ask myself if I'm doing too much puttering—if I'm becoming enslaved to the garden," he says.
But despite all the work he puts in, that hardly seems possible. Enslaved by the garden? More likely, it keeps him free.
This article was featured in the April 1999 issue of Traverse, Northern Michigan's Magazine. 
Growing Rhododendrons
To build your base of rhododendron knowledge, talk to other enthusiasts as well as experts at the nurseries in your area. But remember that what works for one person might not work for you. As Ed Cole points out, "People have a tendency to describe their own experience, which is influenced by their soil and other growing conditions." With those cautionary words in mind, here are a few basics to help you get started or keep going.
Know Your Soil
Most importantly, know its pH and whether it's well drained. Testing kits for pH can be purchased but are sometimes thought unreliable. Double-checking with specialists at nurseries or gardening clubs is a good idea. Rhododendrons prefer soil with a pH of 5.5 to 6.5, although some sources indicate that a lower pH is okay. Any pH above 7.0 indicates alkaline soil, which is unacceptable. Lowering the pH can be accomplished with sulfur or with acidic organic mulches like conifer needles, both of which Cole has used.
To see if your soil drains well, scoop a hole and pour water into it. If the water disappears quickly, you're okay. Some gardeners mix in gravel to coarsen their soil and improve the drainage. Rhododendrons have shallow root systems, so altering their beds doesn't have to be an overwhelming task.
Know Your Climate
Most rhododendrons are given a rating to indicate the temperature extremes they can tolerate. Make sure you buy one that's hardy enough for the warmest and coldest days of the year and remember to keep them moist.
Know Your Geography
Rhododendrons do best facing north or northeast, where the sunlight isn't too intense. But they vary in this regard, too. The bigger the leaf, the more shade the rhododendron generally requires. Speaking of leaves—and blossoms—it's not a bad idea to remove the withered ones. That way, the plant's energy remains devoted to developing next year's bud rather than producing seed.
---
More Beautiful Gardens in Northern Michigan